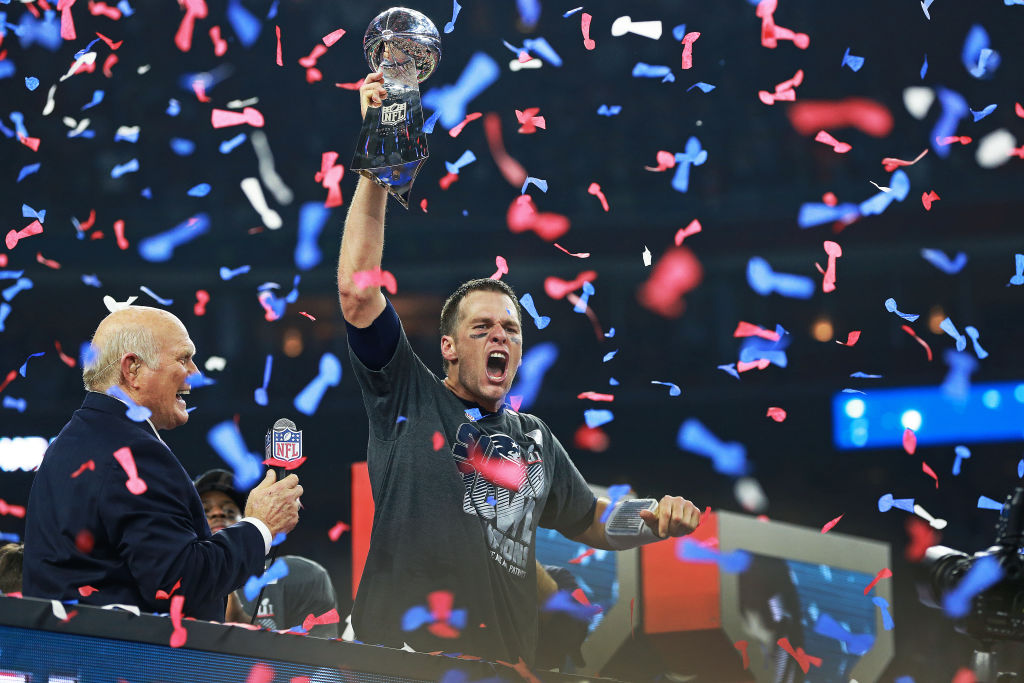 What Tom Brady Decade Was Most Dominant?
Tom Brady made two NFL All-Decade teams with the New England Patriots. But in what decade was the future Hall of Famer most dominant?
Tom Brady beat Father Time. That much was confirmed Monday when the newest Tampa Bay Buccaneer became the first quarterback in NFL history to be named to two NFL All-Decade teams. Of course, Brady's inclusion on both decades underscores just how dominant he was in his 20-year run with the New England Patriots.
Looking back on Brady's career in New England, it's a tale of two decades. The former sixth-round flyer out of Michigan managed to defy the odds and win three Super Bowl titles in his first four years as a starter. Then, the Patriots didn't win another championship for a decade. Does Brady's last six years of unprecedented success make up for some playoff failures earlier in the decade? Or was the first decade of Brady's career more dominant? Let's take a closer look.
Tom Brady and his first decade of Super Bowl championships
We all know the story. Mo Lewis nearly ended Drew Bledsoe's life and in stepped a gangly, unproven kid who had to fend off Drew Henson and Brian Griese in college. While Brady didn't exactly light it up early in his career, he certainly showed the leadership qualities necessary to become a franchise quarterback. And boy did he make good on that potential.
New England captured its first of three titles in a four-year window with Brady behind center. However, the younger version of Brady played in a run-first offense that complemented one of the NFL's best defenses. As such, Brady's early-career numbers simply don't jump off the page. In his first six NFL seasons, TB12 averaged 3,593 passing yards and 25 touchdowns. Those were solid numbers at the time, but certainly nothing to write home about.
Everything changed in 2007 when Bill Belichick pried Randy Moss away from the Raiders for a fourth-round pick. Brady and his newest weapon set NFL records for touchdown passes and receptions, and his MVP campaign that year still stands out as one of the best single seasons by a quarterback ever. Unfortunately, Brady missed the 2008 season with a torn ACL and was rusty in his first season post-injury. In his first NFL decade, Brady threw 225 regular-season touchdowns, took home one MVP award and won three Super Bowl rings.
Patriots won three more titles with TB12
Tom Brady's final decade in New England included many ups and downs both personally and professionally. On one hand, his numbers went through the roof. He won the MVP award in 2010 after leading the NFL in passer rating, touchdowns and QBR. However, the Patriots routinely came up short in the playoffs, including a second Super Bowl loss to the New York Giants in 2011.
From a statistical standpoint, Brady's numbers quarterback rating actually dropped from a league-leading 111.0 in 2010 all the way to 87.3 in 2013. Some speculated that Belichick could move on from the three-time Super Bowl champion. To add more fuel to the fire, the Patriots drafted Jimmy Garoppolo in the second round of the 2014 NFL draft. That only motivated Brady to re-up his commitment to the game, and Patriot Nation was rewarded with arguably the greatest stretch of quarterback play in NFL history.
From 2014-2017, a fired-up Brady overcame Deflategate, nagging injuries and a constantly changing cast of weapons to win three more Super Bowl titles. He earned MVP honors for the third time in 2017 when he led the NFL with 4,577 passing yards. And though his individual stats declined in his last two years in New England, he delivered a beautiful strike to Rob Gronkowski in Super Bowl LII to set up the game's only touchdown.
By the time he officially moved on from the Patriots, Brady had racked up 316 regular-season touchdowns, two MVP trophies and another trio of Super Bowl rings.
What Brady decade takes top honors?
When it comes to Brady's two decades of dominance, there are a few factors to consider. First, he played in a primarily run-first era throughout his first 10 years in the NFL. Offenses simply didn't throw the ball and quarterbacks didn't rack up gaudy statistics as easily as they do nowadays. However, once Brady paired up with Moss and Wes Welker, it was evident just how lethal he could be with Pro Bowl weaponry.
Looking back at Brady's second decade in New England, there was a clear change in the offensive approach. The Patriots transitioned from the Moss-Welker era to a two-tight end attack centered around Rob Gronkowski and Aaron Hernandez. When that abruptly ended, Brady became more reliant on Julian Edelman and Danny Amendola to move the chains. No matter who was available, Brady seemed to make magic happen in the most pressure-filled moments.
Considering his advanced age and the ever-changing NFL landscape, Brady's second decade stands out as arguably the greatest stretch of play by any NFL quarterback. He battled back from a devastating knee injury, overcame numerous personnel changes and managed to deal with Belichick's abrasive coaching style. He got revenge for the Deflategate debacle. And he even forced the Patriots to move on from his likely successor. The last 10 years of Tom Brady's career prove he's the greatest of all time. Who knows how much longer this magical run will last.