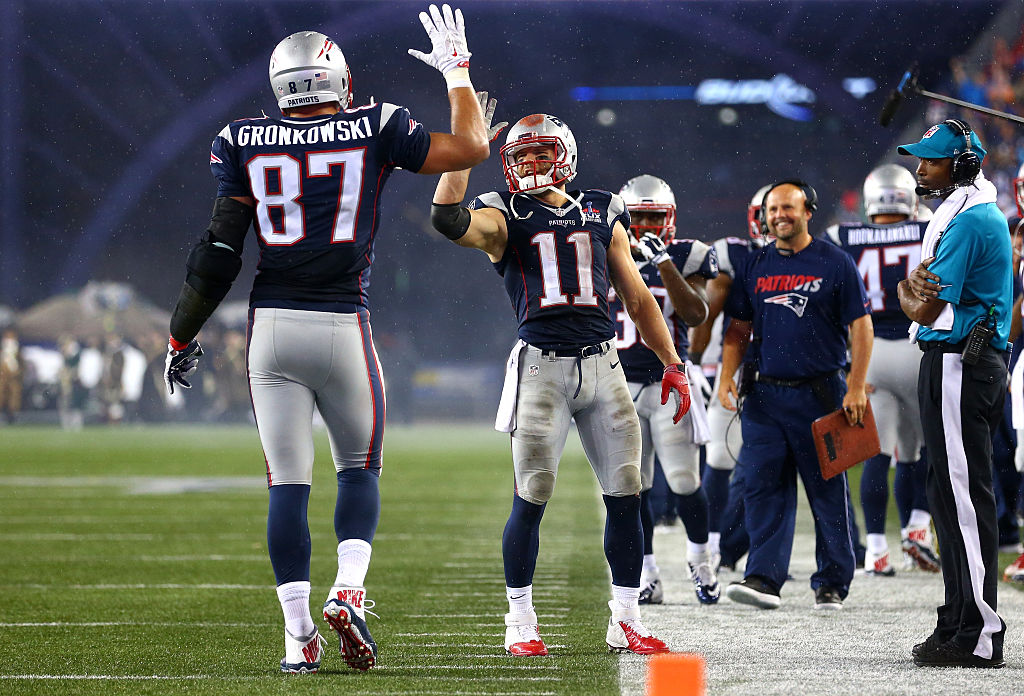 Tom Brady's Best Patriots Pass Catching Duos
Tom Brady will be throwing passes to Mike Evans and Chris Godwin in Tampa. Let's take a look at the best pass-catching tandems in his NFL career.
Tom Brady has attempted 9,988 passes in his career. All of them came as a member of the New England Patriots. But after 20 years of leading the NFL's greatest dynasty, his next pass will be his first as the quarterback of the Tampa Bay Buccaneers.
After expressing his displeasure with New England's lack of receiving options last year, the promise of playing with Mike Evans and Chris Godwin certainly had to play a factor in Brady's decision to bolt from Bill Belichick. The young wide receiver duo got a major upgrade at the quarterback spot after dealing with the turnover machine known as Jameis Winston.
Brady's newest tandem ranks as one of the most talented in his two-decade career. But will it top the talented tandems from his Patriots career? Let's take a look at the best catching-duos from Brady's 20-year run with the Patriots.
Troy Brown and David Patten (2001-2004)
From a statistical standpoint, Troy Brown and David Patten don't jump off the page. The former established a reputation as a versatile, team-first player who wasn't afraid to mix it up on both sides of the ball. Brown recorded just one 1,000-yard campaign in his 15-year career. However, that one season just happened to come in 2001, when the Patriots won their first of six Super Bowl titles.
Patten operated as the team's deep ball artist. He caught 51 passes for 749 yards and four touchdowns in that first Super Bowl campaign. And while he caught just 41.9 percent of his playoff targets, his touchdown reception in the Super Bowl proved to be a game-changing play. From 2001-2004, Brown and Patten totaled 420 catches, 5,258 yards and 29 touchdowns. Most importantly, they won three Super Bowl titles.
Randy Moss and Wes Welker (2007-2010)
Patriots fans still have nightmares about the way the 2006 season ended. Reche Caldwell was the team's top receiver and the pressure of the moment proved too big for the wide-eyed wideout. Luckily, Belichick took advantage of the trade market and brought in two of the most talented receivers Brady has ever played with.
In 2007, Randy Moss and Wes Welker joined the Patriots with little expectations. They quickly made everyone realize just how wrong they were. Moss set the NFL touchdown record by hauling in 23 scores, and Welker recorded the first 1,000-yard season of his young career. Despite their physical and stylistic differences, the duo proved to be unstoppable in their brief run together.
Moss reminded everyone why he is arguably the most devastating receiver in NFL history. And Welker built a reputation as the league's preeminent slot receiver. Though Brady and his tandem came up short in the Super Bowl, Moss and Welker racked up gaudy statistics and forced teams to make drastic defensive adjustments. With Moss threatening secondaries deep and Welker working the middle of the field, the duo racked up 691 catches, 8,440 yards and 72 touchdowns in three-plus seasons together.
Rob Gronkowski and Julian Edelman (2010-2018)
New England transitioned to a two tight-end system for a few years before the Aaron Hernandez saga unfolded. And while that attack proved revolutionary, it didn't last long. However, out of the ashes rose a small, shifty slot receiver who quickly drew comparisons to his predecessor. Julian Edelman's transition from college quarterback to seventh-round draft pick to No. 1 receiver is one of the NFL's best success stories. And teamed with the gargantuan Rob Gronkowski, the two led New England to eight consecutive AFC Championship appearances and five Super Bowl berths.
Like Welker and Moss, Edelman and Gronk couldn't have been built more differently. The 5-foot-10, 198-pound Edelman played as if he was a linebacker, routinely taking shots over the middle of the field. The 6-foot-6, 265-pound Gronkowski combined reckless abandon with smooth swiftness that didn't seem possible for a man of his stature.
Brady's two most reliable weapons rose to the occasion in the biggest moments. Gronkowski and Edelman played in the postseason every year in New England and established themselves as Super Bowl legends. While Edelman didn't become a full-time starter until 2013, he and Gronk played together from 2010-2018. In that span, the duo racked up 983 catches, 12,892 yards and 108 touchdowns. But the most important number? Three Super Bowl rings.