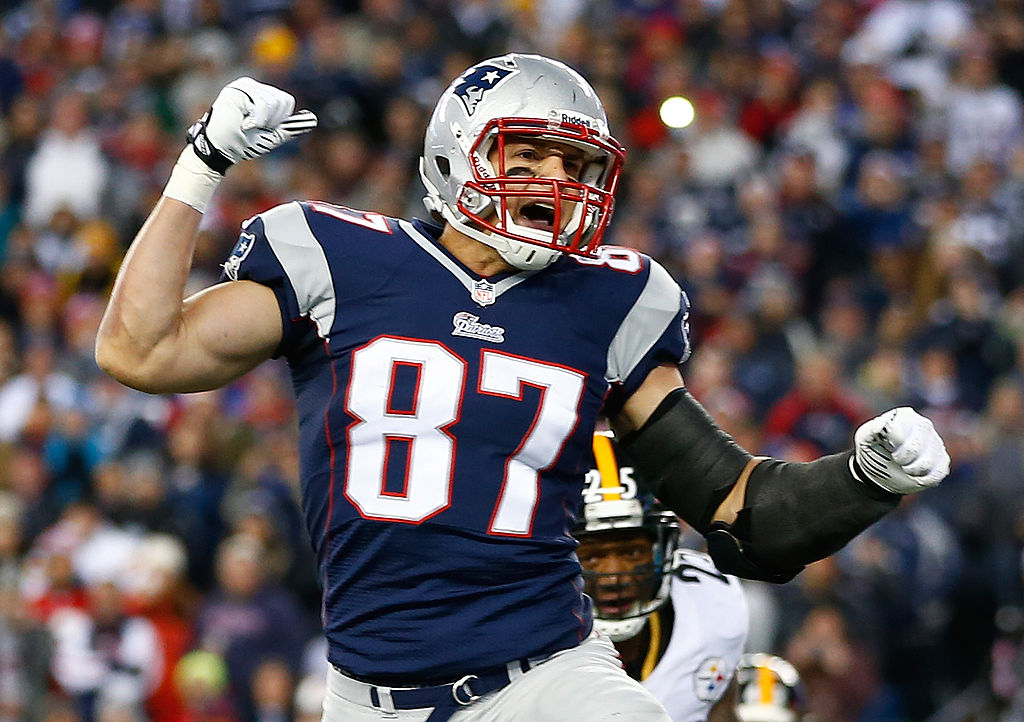 Rob Gronkowski's Life After Football Leads to WWE
Former New England Patriots tight end Rob Gronkowski reportedly signs a deal to join WWE and is expected to make his debut this month.
For former New England Patriots tight end Rob Gronkowski, it may be goodbye to the NFL forever and hello WWE.
Gronkowski, a 6-foot-6, 268-pound tight end who spent nine seasons with the Patriots, has reportedly signed a deal with WWE, which would likely end all speculation of Gronk making a comeback to the NFL.
Gronkowski has previously worked with WWE and there has always been talk of him becoming a wrestler after his NFL days so the move might not come as a complete shock.
Rob Gronkowski's NFL career
Rob Gronkowski was arguably the premier tight end of his era. Gronk played all nine of his NFL seasons with the New England Patriots and won three Super Bowls during that span.
Selected with the 42nd pick in the second round of the 2010 NFL draft, Gronkowski came out of the University of Arizona and made an immediate impact with the Pats, playing all 16 games in his rookie season and catching 10 touchdown passes. Gronk followed up his first season by playing all 16 games again and finishing with 17 touchdown receptions. He was selected to the first of his five Pro Bowls that season.
Gronkowski also had Pro Bowl seasons in 2012, 2014, 2015 and 2017. He was also named First-Team All-Pro after the 2011, 2014, 2015 and 2017 seasons. After missing nine games due to a forearm injury during the 2013 season, Gronk had a bounce-back season in 2014 with 12 touchdowns in 15 games and was named the NFL's Comeback Player of the Year. He eclipsed the 1,000-yard receiving mark in four of his nine seasons with the Patriots.
Gronk was also named to the NFL's 100th Anniversary All-Time Team.
Early retirement from the NFL
At the young age of 29, Gronkowski announced his retirement after the completion of the 2018 season. In March of 2019, he announced his decision via Instagram. Gronk has since opened up to offer a little more insight into his reasons for retirement.

"In order to do something bigger in life … I felt like I had to get away from the game and focus on my health."

Rob Gronkowski
Despite his retirement announcement, speculation was always swirling about the possibility of Gronkowski returning to the NFL.
Back in September, Gronkowski left the door slightly open on the possibility of making a return to the NFL.
"When that time comes down in the future, if I have the desire to play football again, if I feel passionate about football again, if I feel like I need to be out there on the field, I will go back to football," he said.
Gronk's deal with the WWE
According to published reports, Rob Gronkowski has signed a contract with WWE and will be wasting no time getting things started.
Gronk is expected to make his first post-NFL appearance during the March 20 episode of Smackdown on Fox. The former tight end is also expected to appear at Wrestlemania 36 next month.
Back in 2017, Gronk made his WWE debut at Wrestlemania 33 when he helped his good friend Mojo Rawley win the Fourth Annual Andre the Giant Memorial Battle Royal.
Terms of Gronk's deal with WWE have not been announced.