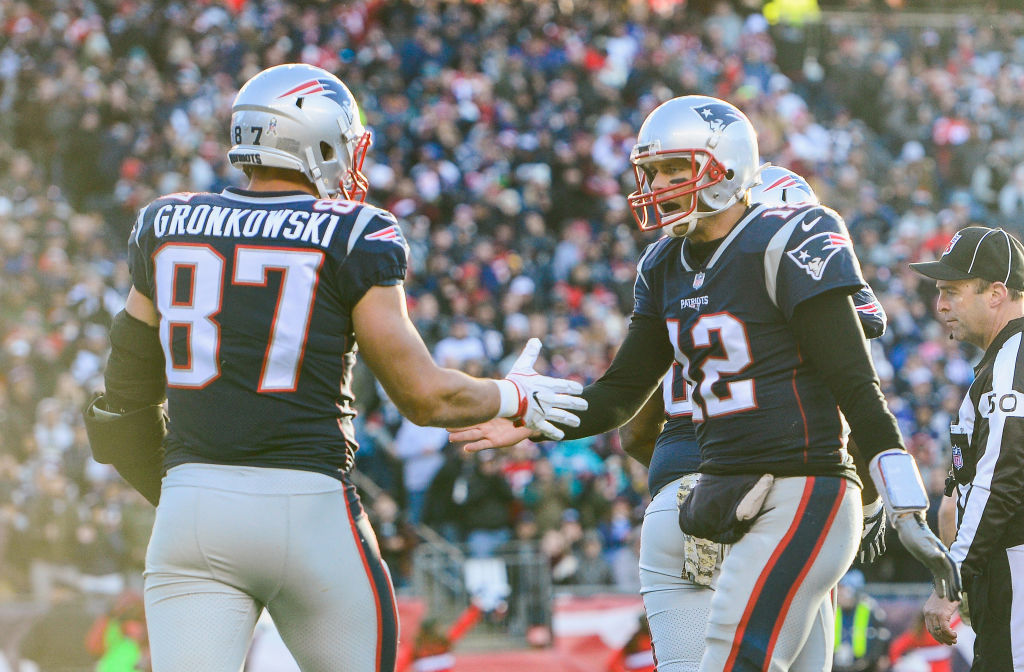 Who Were Tom Brady's Best Teammates With the Patriots?
In 20 years with the Patriots, Tom Brady played with a number of talented teammates. Here are the best Patriots players from the Brady era.
Tom Brady won six Super Bowl titles in his 20-year career with the New England Patriots. He took home three MVP awards in the regular season and four more in Super Bowl victories. He's set endless records, overcome a torn ACL and even beat out Bill Belichick's hand-picked successor.
But all those individual accomplishments wouldn't be possible without great support. Despite Belichick's cold and calculated team-building methods, the Patriots have had no shortage of talented players come through One Patriot Place. From Hall of Fame receivers to physical freaks in the trenches, Brady played alongside some all-time greats.
Randy Moss, WR (2007-2010)
In terms of pure talent, there isn't a better receiver in NFL history than Randy Moss. Blessed with height, length, speed and underrated intelligence, Moss dominated NFL defenses for more than a decade. Unfortunately, the Hall of Fame wideout spent a large portion of his career playing for losing teams. That all changed when he joined forces with Brady and Belichick.
After watching the offense come up comically short in the 2006 AFC Championship, Belichick reloaded at the position. He sent a fourth-rounder to the Raiders for Moss and a second-rounder to the Dolphins for Wes Welker. Moss had toiled away in Oakland and nobody knew if he had anything left in the tank.
The 2007 season turned out to be one of the best of all time for Brady and Moss. The two broke touchdown records and completely took the league by storm. Sadly, Brady missed the 2008 season with a torn ACL, and Moss only got to play another year and a half with Brady before Belichick traded him. But in their short run together with the Patriots, Brady proved just how unstoppable he could be when given a true No. 1 wideout.
Rob Gronkowski, TE (2010-2019)
If Moss was 1A, then Rob Gronkowski was certainly 1B. The freakishly gifted tight end played his entire career with Brady as his quarterback and put together a Hall of Fame resume of his own. Despite a litany of injuries, Gronkowski caught 79 touchdowns in just 115 games.
The two All-Pros did their best work in the postseason. With Brady behind center, Gronkowski totaled 81 catches, 1,163 yards and 12 TD in 16 postseason games. Of course, he saved his best moment for last in Super Bowl LIII with a fantastic 29-yard diving catch to set up the game's only touchdown.
Ty Law, CB (2000-2004)
The eldest member of this list, Ty Law played an instrumental role in establishing New England's winning culture. The 2019 Pro Football Hall of Fame inductee set a physical tone from the cornerback position. Law played the first half of his career with Drew Bledsoe behind center, so he got a major upgrade once Brady took over. Law earned first-team All-Pro honors in 2003 and won three rings in his Patriots career.
Richard Seymour, DL (2001-2008)
Belichick probably put it best in his letter supporting Richard Seymour's Hall of Fame candidacy:
"Richard Seymour was unquestionably one of our key players and I do not believe we would have won three championships without him."
And looking back on his time in New England, there's no doubt Seymour earned that honor. Tipping the scales at 6-foot-6, 310 pounds, the long-armed lineman played every position up front, including nose tackle. An instant-impact player, Seymour ranks as one of the best draft picks in Belichick's tenure. He earned three consecutive first-team All-Pro selections from 2003-2005 and was named to the NFL's 2000s All-Decade team. From a defensive standpoint, there may not have been a more dominant defender to play with Brady.
Vince Wilfork, DT (2004-2014)
They didn't come much bigger (or better) than Vince Wilfork. The burly nose tackle arrived as a first-round pick and left as one of the best nose tackles in NFL history. Paired with Seymour and fellow first-rounder Ty Warren, the Patriots boasted a behemoth defensive line that set up linebackers like Tedy Bruschi and Mike Vrabel to make plays. While nose tackles don't garner much Hall of Fame consideration, Wilfork may just break that trend and join Brady in enshrinement in Canton someday.