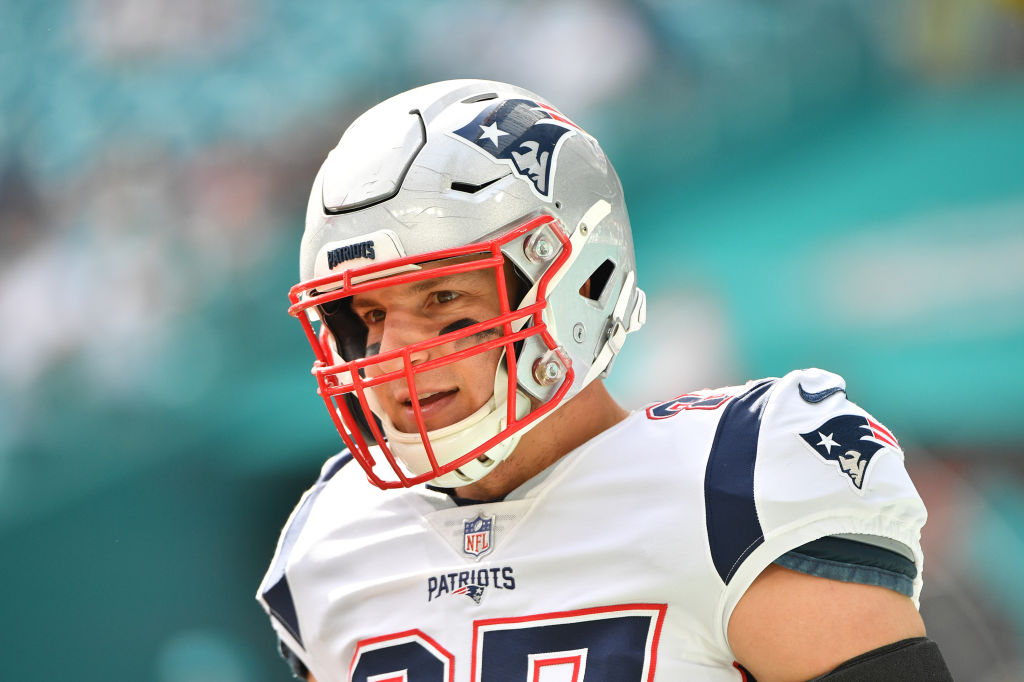 How Rob Gronkowski Blew his 1 Shot to Impress Bill Belichick
Rob Gronkowski was a key contributor to the New England Patriots dynasty. One fateful nap, however, almost cost him his job.
While the NFL has seen plenty of colorful characters, Rob Gronkowski was truly one of a kind. While he had the personality of an overgrown frat boy, Gronk was no slouch playing for the New England Patriots. Whether he was catching Tom Brady touchdowns or blocking players with relative ease, Gronk's blend of size and athleticism made him arguably the best tight end in NFL history.
Gronkowski, however, almost blew his chance in New England before the even joining the team. In fact, one fateful nap almost changed the course of NFL history.
Rob Gronkowski's college career
From an early age, Rob Gronkowski was already a force of nature. He grew up playing hockey before transitioning to the hardwood; in high school, he played football, basketball, and baseball. When the time came for him to move on to college, Gronk decided to focus on football and enrolled at the University of Arizona.
As a Wildcat, Gronkowski showed some potential but was far from the finished article. He caught 28 passes for 525 yards and six touchdowns during his freshman year, earning some national attention. After learning the ropes of playing tight end at a high level, he hauled in 47 catches for 672 yards and 10 TDs as a sophomore. At that point, however, Gronk's upward trajectory would stop. Despite starting the year on the watchlist for the Lombardi Award, back surgery forced the tight end to miss the entire season.
Despite that injury and only two years of college experience under his belt, Gronkowski decided to enter the NFL draft. One of his interviews, however, turned into a miserable failure.
Rob Gronkowski's pre-interview nap
In the lead-up to the 2010 NFL draft, the New England Patriots invited Rob Gronkowski in for a pre-draft interview. The big tight end, however, didn't exactly win the team's brass over.
"Rob was kind of a shot in the dark," Bill Belichick explained during an NFL 100 All-Time Team discussion. "He came up on his pre-draft visit, had a bad visit. We put him in a room, came back, (and) he was asleep on the floor. Didn't make a very good impression." While that could have been the end of the road, the Patriots decided to give Gronk a shot.
"[He] went to Arizona, didn't do much as a freshman," the Patriots head coach continued. "Had a decent season as a sophomore, caught 30 passes, and missed his junior year with back surgery, and then came out early for the draft. There wasn't much to go on. We traded up for him, and we just kind of bet he would come through."
From a shot in the dark to an all-time great
Bill Belichick and the Patriots organization might have taken a shot on Rob Gronkowski, but their bet paid off in a major way.
From the moment that Gronk joined the New England Patriots, he became a valuable cog in their offense. He developed a strong relationship with Tom Brady, pulling in 10 touchdown passes during his rookie year and never looked back; the pair would work together for nine NFL seasons, finding the end zone 79 times and winning three Super Bowl titles.
This season, we're seeing just how valuable Rob Gronkowski was to the Patriots. With Julian Edleman as the team's only true receiving threat, opposing defenses are forcing Tom Brady to look elsewhere; things would probably be a lot different if he had a massive tight end to target.
Who would have thought that falling up in a job interview was a recipe for success?