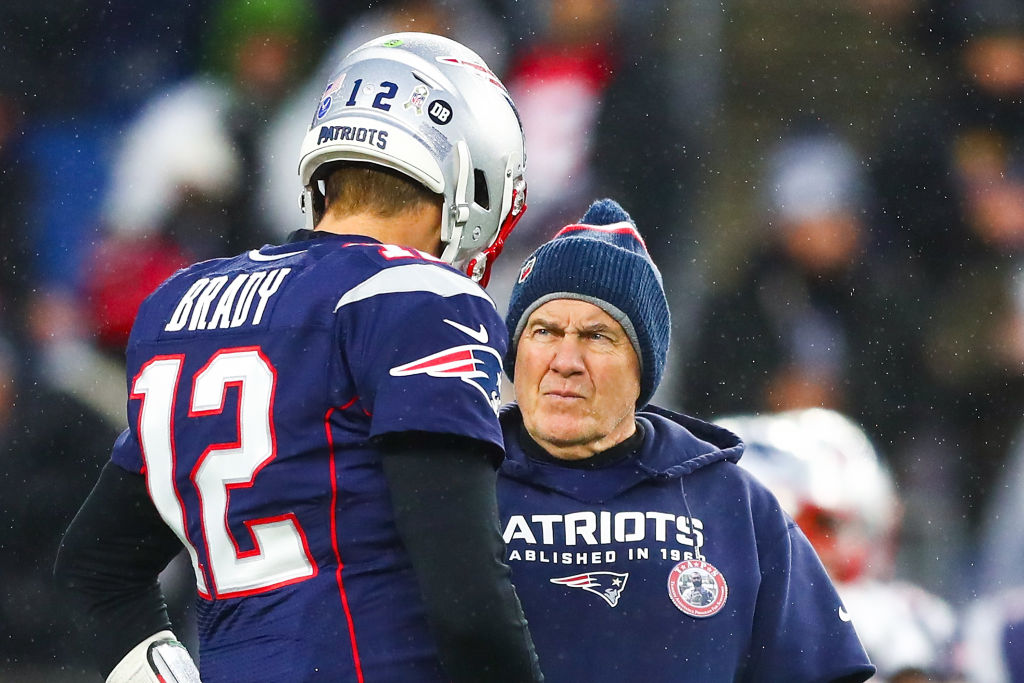 Is Everybody Wrong About Tom Brady Taking a Shot at Bill Belichick?
Tom Brady did not exactly give widespread praise to Bill Belichick in his Players Tribune piece. Did he intentionally take a shot at the Patriots head coach?
Tom Brady and Bill Belichick may no longer work for the same team, but that hasn't stopped speculation about the relationship between the two NFL legends. The greatest quarterback of all time shocked Patriot Nation when he left behind the cold confines of Gillette Stadium for the sunny skies of Tampa. Of course, the decision didn't exactly happen overnight.
Belichick's coaching and player management style took a toll on the legendary quarterback. After all, that was bound to happen after 20 years of marriage. Since signing with the Tampa Bay Buccaneers, Brady has begun to air out some of his thoughts behind his relationship with his former head coach and his mindset today. Only he didn't exactly give Bill Belichick the praise he probably deserved.
Tom Brady and Bill Belichick had unprecedented run with Patriots
Since Tom Brady arrived in Foxborough, he made it his mission to prove the NFL world wrong for letting him last till the 199th pick of the 2000 NFL draft. Of course, it was Belichick who took a shot on the former Michigan Wolverine. Ironically, like his quarterback, Belichick spent years re-writing his own career narrative. Before Brady arrived, he had a disappointing 41-55 career record that included five losing seasons in Cleveland. His first year in New England resulted in a 5-11 record and definitely didn't earn him any leeway with a fan base desperate for a turnaround.
Once Drew Bledsoe's injury opened the door, Brady promptly took over the starting job and went on to become arguably the most successful professional athlete of all time. He and Belichick routinely turned lesser players into productive ones in New England's system. The powerful pair overcame numerous obstacles, including Spygate and Deflategate. They overcame devastating Super Bowl defeats at the hands of Eli Manning and the New York Giants. And they managed to co-exist and dominate a league designed to promote parity.
Brady and Belichick broke countless records together. They won six titles in nine Super Bowl trips. From any objective measure, they established themselves as the greatest quarterback-coach duo of all time. But for all of their successes, both the quarterback and the coach had their faults. Brady's commitment to the organization waned in recent years due in large part to his wife and family. At the same time, Belichick's refusal to give the three-time MVP a multi-year extension left Brady with no choice but to explore free agency. And so, the marriage ended in a quiet divorce in March before TB12 decided to open up about his experiences this week.
Brady's veiled shot at Belichick
No one expected Belichick to reveal his feelings, but that didn't stop his former quarterback from doing so. On Monday, Brady published a lengthy introspective piece in The Players Tribune that provided some interesting context behind his decision to leave the Patriots:
But more than any one physical place, it's the relationships I made in New England that I'll miss the most. Of course, it starts with the entire New England Patriots organization, and Robert Kraft and the entire Kraft family. It extends to countless other individuals who played such a valuable role in my 20 years as a Patriot. Teammates and coaches, past and present. Old friends, new friends, the neighbors we went trick-or-treating with every year. But mostly, I'll miss the fans.

As for Brady's shoutout to his old boss? There was none. He mentioned Belichick's name once in his entire diatribe and it essentially had nothing to do with his NFL success:
When the Patriots drafted me back in 2000, I was 22. I remember I was sitting in my parents' house in San Mateo, California, growing less and less confident that the phone would ring. But late in the draft it did. By the way, in the sixth round it's not like Coach Belichick himself was on the other end of the line — I think it was his assistant, Berj. "We just wanted to let you know you've been picked by the New England Patriots," Berj said.

Given their 20-year marriage, it certainly seemed strange that Brady couldn't come up with anything else to say about the NFL's greatest coach. However, considering Belichick nearly traded Brady, perhaps those old wounds never healed.
Two NFL legends will forge new legacies without each other
Despite his one throwaway line about Belichick, Tom Brady didn't really disrespect his former coach. Both have publicly expressed their gratitude for each other this offseason. In fact, after Brady officially moved on from New England, Belichick released a praiseworthy statement about his longtime quarterback. The two simply are wired differently than 99 percent of the population, so trying to read between the lines can be next to impossible.
All of this leads us to the 2020 NFL season. This marks the first time in two decades that the Patriots will have a new starting quarterback. Belichick and his staff will have to re-tool on the fly with little cap space and no clear answer at quarterback. Their top receiver will be 34 this season. The Patriots already lost several key defensive players this offseason and still have to figure out what they're doing on offense.
For Brady, the allure of playing with Mike Evans and Chris Godwin in Tampa seems to have rekindled his motivation. Not paying state income tax on his $25 million salary isn't a bad way to live, either. Whether he can coax a few more years of dominance out of his 42-year-old right arm remains to be seen.
This fall, the greatest quarterback in NFL history and the best coach of all time will have to forge new paths with new players and coaches. They'll have to really see what life is like without the other. Any last-minute regrets won't matter. The marriage is over and a new relationship has begun. Now we'll be able to see if Brady was the driving force behind those six titles. Or maybe Belichick will get the last laugh. Either way, the two made NFL history together and gave Patriots fans two decades of unforgettable memories.