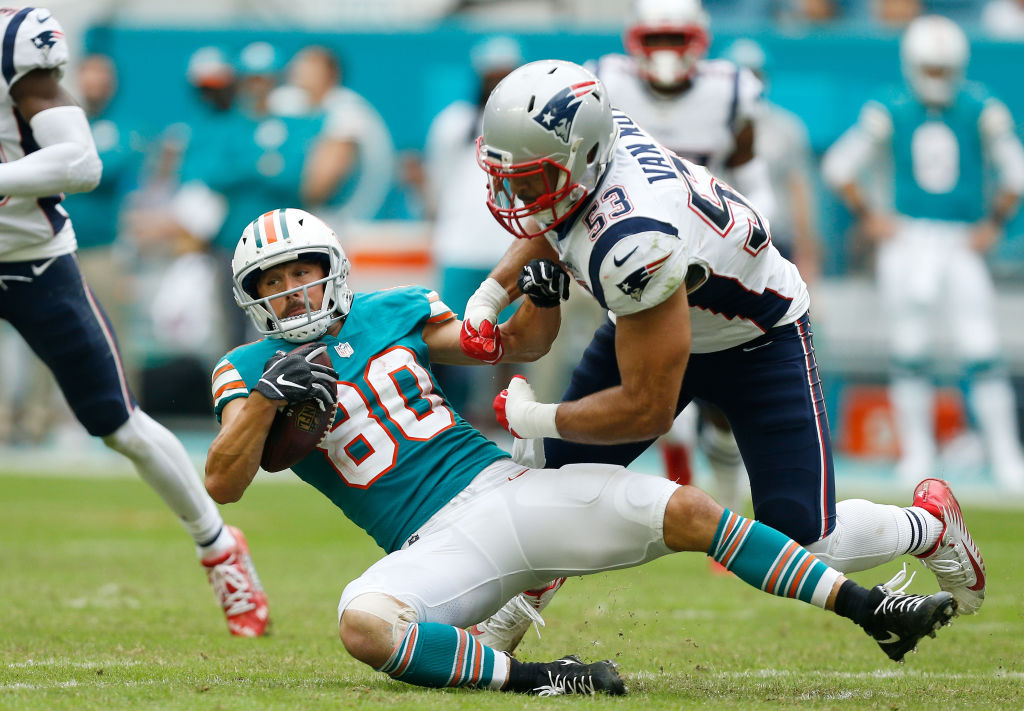 Kyle Van Noy and Byron Jones Signings Show Dolphins Can Compete in 2020
The Dolphins made two big splashes by signing Kyle Van Noy and Byron Jones. The defensive additions should make Miami competitive in 2020.
The Miami Dolphins were supposed to go 0-16 last season. After all, their strategy seemed to be selling off assets in order to #TankForTua.
Ultimately, the Dolphins did tear down most of their roster. Yet, by the end of the season, first-year head coach Brian Flores steered his team to a 5-4 finish, including a stunning Week 17 win against his former boss, Bill Belichick.
Miami's long-term rebuilding plan centered around accumulating draft capital makes a ton of sense. So does goes after a few premier free agents to boost the league's worst defense. And after adding Kyle Van Noy and Byron Jones on Day 1, it's time to start taking the Dolphins seriously. In fact, Miami may just be ready to compete for a playoff spot in 2020 given the changing landscape of the AFC East.
Kyle Van Noy resurrected his career in New England
The Detroit Lions drafted Kyle Van Noy with the 40th pick of the 2014 NFL draft. Strangely, they didn't seem to have a plan on how to deploy the former BYU standout. Van Noy spent his first two seasons on the sidelines before emerging as a starter in 2016. But after just seven games, the Lions shipped him to the Patriots for a swap of late-round picks.
That trade will go down as one of the best in Belichick's storied career. Finally placed in a system that catered to his strengths, Van Noy went from an afterthought in Detroit to a leader in New England. He played a pivotal role in the Patriots' 2016 title run before breaking out as a versatile, impact player the following year.
From 2017-2019, Van Noy was arguably the Patriots' most consistent defensive player. He moved all around the front seven and wrecked havoc on opposing quarterbacks. Last season, he set career-highs in sacks (6.5), quarterback hits (15) and forced fumbles (3). He also proved to be a clutch performer in the playoffs, recording 5.5 sacks, eight quarterback hits, four forced fumbles and five tackles for loss in 10 postseason games with the Patriots.
Byron Jones and Xavien Howard give Dolphins elite cornerback duo
Just a year after making Xavien Howard the highest-paid corner in the league, the Dolphins one-upped themselves on the first day of free agency. Miami inked former Dallas first-round pick Byron Jones to a record-setting deal to bookend its star defensive back.
The addition of Jones gives Flores two high-end corners. That shouldn't be a surprise, considering Flores' background. Having spent his entire career in New England, the young head coach got tremendous insight into personnel, scouting and coaching. And during his time with the Patriots, Flores witnessed Belichick extend himself for a premier corner on more than one occasion.
The Patriots may not have paid elite money to Chandler Jones or Jamie Collins, but they certainly went all-in on Aqib Talib, Darrelle Revis and Stephon Gilmore. Having a true shutdown corner is a game-changer for a defense, let alone two.
By pairing Jones and Howard, Flores now has two athletic, lengthy outside cornerbacks who can play man coverage. Maybe the prospect of throwing against that pair led to Tom Brady's decision to play elsewhere in 2020.
Dolphins could boast top-10 defense in 2020
The Dolphins smartly rounded out their early free-agent haul by signing former first-round pick Shaq Lawson and fellow pass-rusher Emmanuel Ogbah. Those additions, coupled with their two splash moves, should shore up the league's least talented defensive front.
Miami also holds the most draft capital of any team in the league and could be in prime position to add at least two more starters. Safety is one spot the Dolphins could look to upgrade in free agency or the draft.
Looking ahead at the 2020 season, the Dolphins should be significantly improved on defense. Van Noy and Lawson could form a solid outside linebacker duo. Second-year pro Christian Wilkins should be much improved after a solid rookie season. Young linebackers Jerome Baker (126 tackles) and Raekwon McMillan (72 tackles) will benefit greatly from Van Noy's experience and leadership.
And given their modern-day version of Patrick Surtain and Sam Madison and a defensive-minded head coach, the Dolphins could field a top-10 defensive unit in 2020.