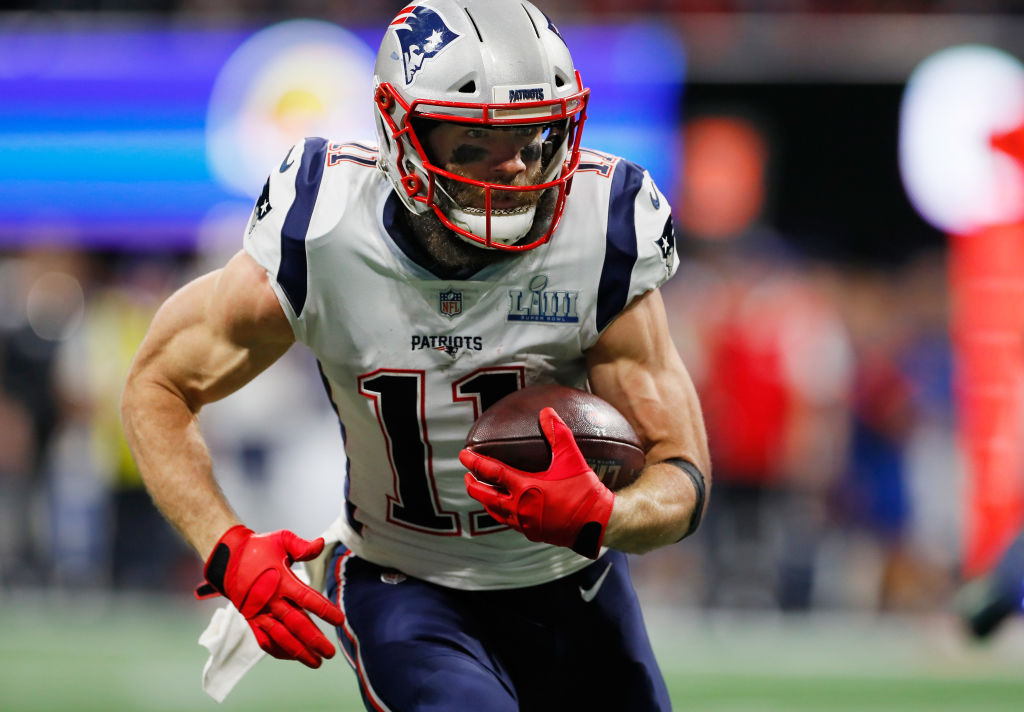 Julian Edelman Headlines NFL's Most Underrated Stars
Julian Edelman has been one of the best playoff performers in NFL history. He's just one of several underrated NFL stars.
The NFL is full of household names like Patrick Mahomes, Tom Brady and Lamar Jackson, but there are a number of star players who don't get quite the same attention. In fact, Brady's longtime battery mate, Julian Edelman, ranks right atop that list. One of the clutch playoff performers in NFL history, Edelman ofter gets overlooked when discussing the top receivers in the game. Even the legendary Jerry Rice has endorsed Edelman.
Of course, Edelman isn't the only underrated NFL star. Whether it's due to playing on a losing team or being overshadowed by more prominent names, some players don't get the credit they deserve. Here are five NFL stars who deserve to be spotlighted.
Julian Edelman, WR, New England Patriots
Statistically speaking, Edelman is far from elite. He has just three 1,000-yard seasons in 11 years in the league. He's never posted double-digit touchdowns. And he's never led the league in any receiving category. Yet, he's still criminally underrated because of his value to the Patriots' offense and his ability to perform in the clutch.
Transitioning from a college quarterback to an NFL receiver took a few years. The Patriots even utilized Edelman as a defensive back earlier in his career out of necessity. But after breaking into the starting lineup in 2013, he's gone on to become one of the NFL's preeminent slot receivers.
Though injuries wiped out his entire 2017 campaign, Edelman roared back in 2018 and delivered a truly historic postseason run, totaling 26 catches for 388 yards. He won the Super Bowl LII MVP and is arguably the best playoff receiver of all time. In 19 career playoff games, Edelman has racked up a whopping 118 catches, 1,442 yards and five touchdowns.
Kenny Golladay, WR, Detroit Lions
If you could create a dominant receiver in Madden, you'd probably come up with someone like Kenny Golladay. Blessed with size, speed and length, the budding superstar hasn't become quite a household name…yet. But if he continues developing at such a rapid rate, he will soon be mentioned in the same breath as Julio Jones, DeAndre Hopkins and Michael Thomas.
The 2016 third-round pick flashed as a 24-year-old rookie with 28 catches in 11 games. By the end of his second season, Golladay proved to be a legitimate NFL starter. And by the end of 2019, the Lions' No. 1 wideout put together a ridiculous stat line of 65/1,190/11. Golladay's 11 touchdowns led the NFL, and with a healthy Matthew Stafford back under center, he should be poised for an even better 2020 campaign.
Justin Simmons, S, Denver Broncos
The Denver Broncos let one perenially underrated defensive back go this offseason. By using the franchise tag on Justin Simmons, they made sure it wouldn't be two. John Elway's decision to retain the 26-year-old safety was a no-brainer. And if Elway's smart, he'll lock up the playmaking centerfielder on a lucrative long-term deal.
Simmons entered the league in 2016 as a third-round pick out of Boston College. He played sparingly as a rookie in sub-packages before starting 13 games in 2017. In the last two seasons, Simmons has rapidly ascended to become one of the best players at his position and a core building block for the Broncos. He recorded 15 passes defended and four interceptions while earning second-team All-Pro honors. It's time to start mentioning Simmons when discussing the NFL's best safeties.
Marlon Humphrey, CB, Baltimore Ravens
One of Ozzie Newsome's final draft picks, it's no surprise that the Hall of Fame general manager dipped into his alma matter to land another star. Marlon Humphrey entered the league as the 16th overall pick and immediately showed why he was considered one of the best corners in the country at Alabama. Despite playing just 55 percent of the defensive snaps as a rookie, the 6-foot, 197-pounder recorded 11 passes defended and two picks.
Last season, Humphrey truly came into his own. As Baltimore's clear-cut No. 1 corner, he locked down opposing receivers. Humphrey stuffed the stat sheet with 65 total tackles, 14 passes defended, three interceptions, two forced fumbles, three fumble recoveries and two touchdowns. With Baltimore upgrading its front seven in free agency, the Ravens will boast one of the NFL's most complete defenses in 2020. And it'll be Humphrey who should stand out in a stacked secondary.
Cameron Jordan, DL, New Orleans Saints
For almost a decade, Cameron Jordan has been one of the NFL's most consistent pass rushers. In fact, the 2011 first-round pick has recorded at least 7.5 sacks in eight consecutive seasons. Jordan's resume includes five double-digit sack campaigns, including a career-high 15.5 last year.
Jordan's versatility and physical style of play make him one of the best defensive linemen in football. Yet, his name rarely gets mentioned when discussing elite edge rushers. Von Miller, J.J. Watt and Khalil Mack deserve plenty of praise, but the Saints boast one of the most well-rounded defenders in the 6-foot-4, 287-pounder. Still just 30 years old, Jordan has plenty of tread left on the tires. And by the time he calls it a career, he may finally get the respect he deserves as one of the NFL's true stars.