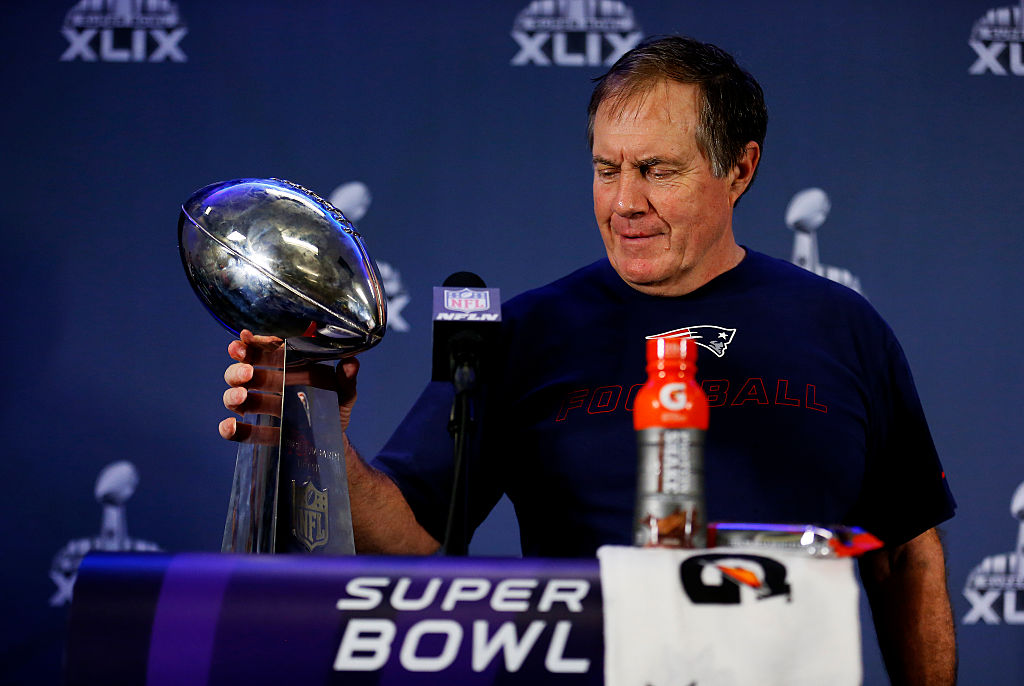 What NFL General Manager Deserves All-Decade Honors?
NFL general managers were left off the NFL All-Decade Team. Bill Belichick, Ozzie Newsome and John Schneider are strong candidates.
The NFL released its All-Decade team on Monday, and strangely it did not include a general manager nomination. While coaches and players ultimately make the most difference on game day, an NFL GM has a long list of job duties that make a significant difference in the win column.
Looking back at the last decade, a few top GMs stand out from the pack. Bill Belichick already earned a spot on the NFL All-Decade Team as a coach, but his bold personnel decisions help set the foundation for three Super Bowl championships since 2014. In Seattle, John Schneider turned a bunch of mid- and late-round picks into the Legion of Boom. Ozzie Newsome built a Super Bowl team earlier in the decade before making Lamar Jackson his final signature draft pick.
With three strong candidates, it begs the question: What NFL general manager was the best of the last decade?
Bill Belichick, New England Patriots
At this point, there's really no argument about whether Bill Belichick is the best coach in NFL history. However, there are some who feel his work as a general manager is overrated. And while the most important pillar of the Patriots organization has had his share of NFL draft whiffs, his overall track record from the last decade shows he's one of the best in the business.
Since 2010, the Patriots have landed a number of foundational pieces through the NFL draft. Belichick made Devin McCourty his top draft pick in 2010 and the veteran just signed his third contract with the Patriots. That same draft class also included All-Decade tight end Rob Gronkowski. He also landed elite players like Chandler Jones, Dont'a Hightower, Jamie Collins, Trey Flowers and Shaq Mason through the draft.
Besides the draft, Belichick has worked the trade wire numerous times to unlock a player's potential. He sent a late-round pick to the Lions for Kyle Van Noy, and he transformed into a valuable edge defender before signing a huge deal with the Dolphins. New England's GM also acquired Trent Brown in a pick swap, and the giant left tackle played a pivotal role in the Patriots' 2018 Super Bowl run.
If there's any blemish on Belichick's GM resume, it's his penchant for blowing second-round picks. New England has had some success in the round, but recently the franchise has missed badly on Duke Dawson, Cyrus Jones, Jordan Richards and Aaron Dobson. Of course, the Jimmy Garoppolo trade return left a lot to be desired. But with three Super Bowl rings and an unmatched run of sustained success, Belichick has a strong case to be the general manager of the 2010s NFL All-Decade Team.
John Schneider, Seattle Seahawks
Since breaking into the NFL world as a Green Bay Packers scout in 1993, John Schneider has assembled what could be a Hall of Fame resume. The longtime NFC executive took over as Seahawks general manager in 2010 and hasn't looked back. While his more recent draft classes leave a lot to be desired, it's impossible to ignore Schneider's incredible run earlier in the decade.
In his first year on the job, Schneider made a bold move by trading for Marshawn Lynch. The charismatic running back ended up making the NFL All-Decade Team after racking up 6,381 yards and 58 touchdowns in seven years in Seattle. Schneider's first draft class ranks as one of the best in NFL history after he landed two members of the Legion of Boom in Earl Thomas and Kam Chancellor. That class also included solid starters in Russell Okung and Golden Tate.
Schneider and his staff knocked the next two drafts out of the park. Richard Sherman went from a fifth-round pick to one of the league's preeminent corners. The following year, Seattle famously took Russell Wilson with the 75th pick. Safe to say that turned out to be an excellent value selection. The Seahawks' 2012 draft class also featured All-Pro linebacker Bobby Wagner.
The Seahawks' strong draft-and-develop model helped them become NFL champions in 2013. And if not for Malcolm Butler, they would have become the first back-to-back champions since Belichick's Patriots accomplished the feat nearly a decade earlier.
Ozzie Newsome, Baltimore Ravens
If not for Bill Belichick, the Baltimore Ravens and Ozzie Newsome may have won multiple Super Bowl championships over the last decade. That speaks to how well Newsome ran the Ravens since he took over general manager duties in 2002. Looking back at the last decade, Newsome balanced solid draft hits with smart trades and shrewd salary-cap management. Under his watch, Baltimore drafted a number of standout players, including Jimmy Smith, Kelechi Osemele, C.J. Mosley, Za'Darius Smith, Ronnie Stanley and Marlon Humphrey.
Of course, Newsome's crown jewel was taking Lamar Jackson with the final pick of the first round of the 2018 NFL draft. That class also included standout tight end Mark Andrews and towering right tackle Orlando Brown. While the Ravens came up short in their Super Bowl quest last season, it's evident Newsome made the right call to make Jackson the face of the franchise. Since 2010, the Ravens have one Super Bowl title to go along with four AFC North titles.
Which NFL GM makes the cut?
Despite some of his early-round draft misses in recent years, Bill Belichick unequivocally deserves the general manager spot on the NFL All-Decade Team. The Patriots won the AFC East every year during the last decade and made it to the AFC Championship in eight consecutive seasons from 2011-2018. New England won at least 12 games every year except for 2018, when they still defeated the Los Angeles Rams in Super Bowl LIII.
Belichick's ability to balance short-term value and long-term costs makes him the clear-cut best NFL GM of the decade and arguably the best in league history.