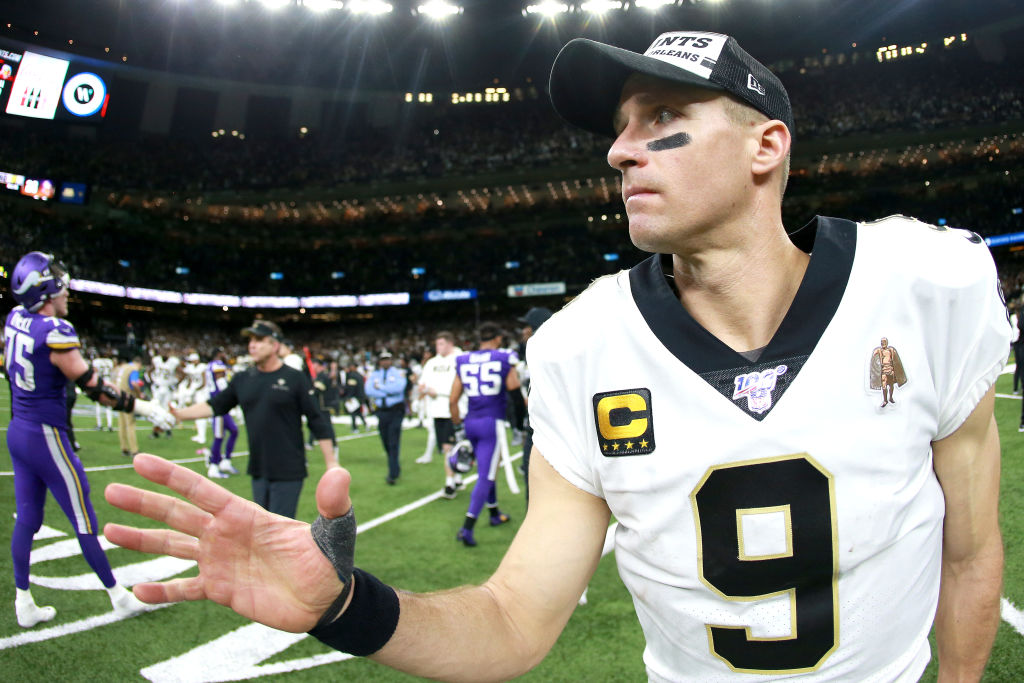 Drew Brees Headlines Biggest Snubs from NFL All-Decade Team
Drew Brees didn't make the NFL All-Decade Team despite putting up record-setting numbers. What other NFL stars got snubbed?
Whenever Drew Brees decides to retire, he'll easily go down as a top-10 quarterback of all time. Statistically speaking, he may even take the top spot. Yet, the 13-time Pro Bowler couldn't even make the cut for the most recent NFL All-Decade Team.
The longtime Saints QB got snubbed in favor of Tom Brady (obviously) and Aaron Rodgers. But Brees isn't the only NFL star who got passed over for questionable candidates. Let's take a look at the biggest snubs from the 2010s NFL All-Decade Team.
Drew Brees, QB, New Orleans Saints
With Brady locking down his second NFL All-Decade Team spot, the other opening went to Rodgers. While the Green Bay Packers star certainly has the statistics to warrant consideration, the spot should have gone to his fellow NFC foe.
For the last decade, Brees has consistently put up eye-popping numbers while leading his team to several deep playoff runs. Since 2010, Brees has led the NFL in completion percentage five times, including the last three years. He led the league in passing yards five times from 2011-2016, and he also led the NFL in touchdown passes in back-to-back seasons in 2011 and 2012.
On the other hand, Rodgers has never led the NFL in passing yards, and his 64.6 career completion percentage is three points below Brees. From a durability standpoint, the two couldn't be more different. Rodgers has missed 18 games since 2010. Before he tore a ligament in his thumb last season, Brees had missed just two games in the last decade.
Greg Olsen, TE, Carolina Panthers
The two tight end spots on the NFL All-Decade team went to Rob Gronkowski and Travis Kelce. The former cemented that spot after winning three championships with the Patriots in a Hall of Fame career. Kelce certainly has put up monster pass-catching numbers, but Greg Olsen should have gotten the nod over the Chiefs star.
Olsen spent the entire decade in Carolina after starting his NFL career in Chicago. In 126 games with the Panthers, the 6-foot-5, 255-pounder racked up 524 catches for 6,463 yards and 39 touchdowns. He also made three straight Pro Bowl teams from 2014-2016 and earned second-team All-Pro honors in 2015 and 2016.
Though Olsen's receiving numbers don't match up to Kelce's, he was the more complete player. Kelce operates as an oversized receiver and does not stand out as a blocker. On the other hand, Olsen played a key role in the Panthers' strong running game that featured DeAngelo Williams, Jonathan Stewart, Cam Newton and Christian McCaffrey.
Josh Sitton, OG, Green Bay Packers
When it comes to offensive linemen, they rarely get individual praise. That's especially the case for guards, who routinely get overshadowed by higher-priced tackles. The NFL's 2010s All-Decade Team featured a strong guard group headlined by Marshal Yanda and Logan Mankins. However, the selection of Jahri Evans seemed questionable with Josh Sitton having a strong resume of his own.
Although it took him a few years to develop, Sitton became a stalwart at right guard for the Packers. He earned four Pro Bowl trips and three second-team All-Pro selections while blocking for Rodgers. His job was particularly difficult since he often faced one-on-one matchups against premier 3-technique defensive tackles.
Harrison Smith, S, Minnesota Vikings
Maybe it's because he plays in a small market. Maybe it's because he's not outspoken. Either way, Harrison Smith got snubbed from the NFL All-Decade Team. Earl Thomas and Eric Weddle rightfully earned spots on the elite squad. However, choosing Eric Berry over the far more reliable Smith seems like a major mistake.
Berry did make five Pro Bowls in the last decade, but his significant durability issues can't be ignored. While Berry played just 89 games since entering the league in 2010, Smith has played in 114 despite getting drafted in 2012. The playmaking, hard-hitting safety has made five consecutive Pro Bowl teams and has shown no signs of slowing down. Berry does have the upper hand with three first-team All-Pro selections, but Smith's longevity and upward career arc made him a better option for the 2010s NFL All-Decade Team.