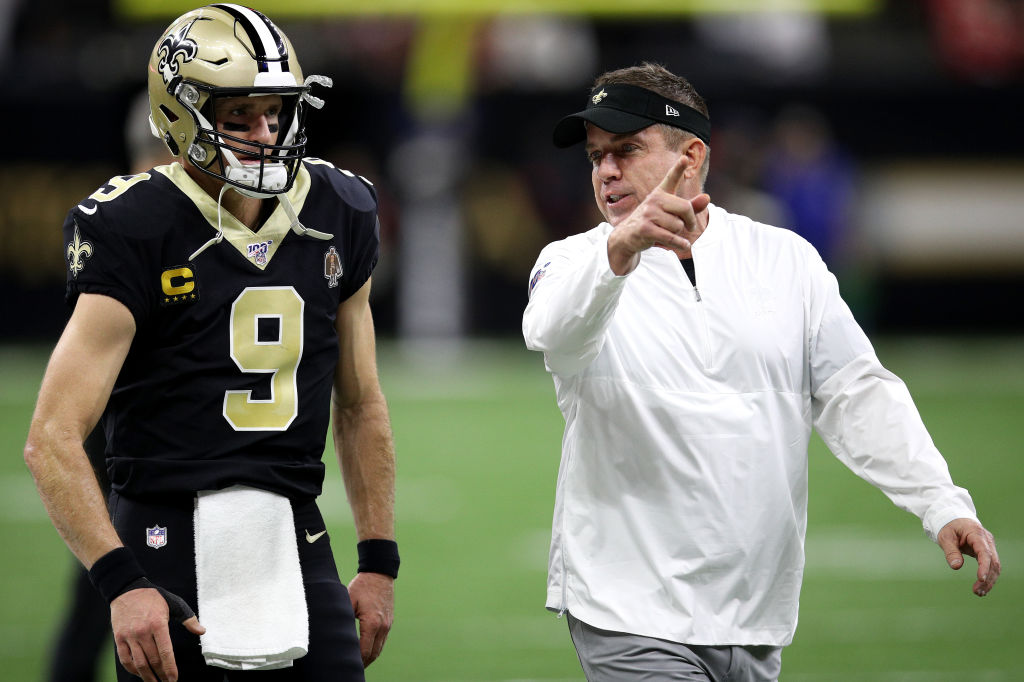 Did Sean Payton Just Reveal When Drew Brees Will Retire?
Sean Payton slipped an interesting note in a recent interview that may have revealed when Drew Brees plans on retiring from the NFL.
Drew Brees might not be back for very long in New Orleans. The future Hall of Fame quarterback signed a two-year deal this offseason to return to the Saints. Yet, head coach Sean Payton dropped a very revealing comment Tuesday morning about his star quarterback's future.
And while the comment may have simply been a slip of the tongue, it also could reveal when Brees plans on retiring. Get ready, Saints fans. The end of the Brees era could be even sooner than you think.
Drew Brees signed two-year contract with Saints
Unlike Tom Brady, Brees never left any doubt about whether he'd play for another franchise. The most accurate quarterback in NFL history did ponder retirement before ultimately signing a two-year, $50 million contract to finish his career with an organization that took a chance on him in 2006.
The 41-year-old quarterback returns to an offense that he and Payton have molded and mastered throughout their 14-year run together. The 13-time Pro Bowler did miss five games due to a torn thumb ligament, but he played at an MVP level in 2019. Brees did fail to top 4,000 yards passing for the second straight year, but he actually led the NFL with a 74.3 completion percentage—just a few points behind presumptive No. 1 pick Joe Burrow.
Brees continued to show masterful touch and decision-making. He posted a stellar 27:4 touchdown-to-interception ratio. His 116.3 quarterback rating actually outranked his career-best mark from 2018. Despite his advanced age, Brees showed no obvious signs of slowing down.
Sean Payton says Brees is coming back for his final season
Sean Payton joined ESPN's Mike Greenberg on Tuesday morning for a long discussion on the Saints' offseason and the upcoming 2020 NFL season. Of course, the topic of New Orleans' quarterback situation came up. Payton gave a rather robust scouting report of backup Taysom Hill, stating, "He's a tremendous blocker. He's physical. I don't think people realize how fast he is. He's probably one of the three or four fastest guys on our team."
However, Payton subtly dropped a major bombshell when discussing his return and Hill's future role with the Saints:
"The unique situation with our team and with our quarterback Drew Brees is he's announced he's coming back for his final season. I think Taysom sees himself as a starting quarterback in this league and we do too."
Payton could simply be hyping Hill's value, as he is a restricted free agent that could draw a trade offer. At the same time, his reference to Brees' final season suggests his two-year contract is effectively a one-and-done deal. After all, New Orleans has consistently found ways to navigate the NFL salary cap in order to add talented players. Still, Payton's comment suggests Brees is only giving it one final shot before he retires.
Saints have succession plan in place after Brees retires
With the Saints in Super Bowl or bust mode with Brees, it begs to question about life after the Hall of Fame QB. Luckily, New Orleans appears to have a talented successor in Hill. One of the most unique athletes in the NFL, Hill lined up at tight end, quarterback, wide receiver, fullback and slot receiver in 2019. The do-it-all weapon also played significant special teams snaps, including kickoff coverage. However, Payton has remained steadfast in his belief that Hill can be a starting quarterback in the NFL.
If Brees intends on retiring after the 2020 season, the Saints will have the opportunity to sign Hill to a long-term deal and hand him the keys to the kingdom. It certainly seems like a risky bet given Hill has only thrown attempted 13 passes in his three-year NFL career. But if anyone knows his skill set and ability to fit in the offense, it's Payton. By bringing back Brees and adding another premier weapon, the Saints are all-in this season. Whether Brees retires with a second Super Bowl ring remains to be seen.