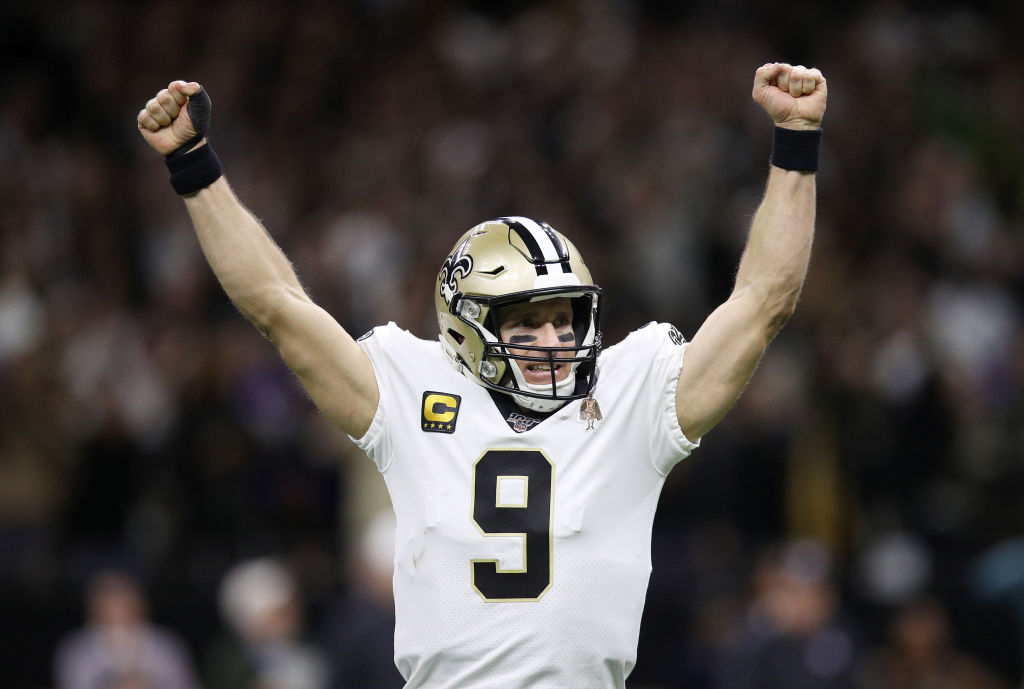 Drew Brees Just Signed a $50 Million Deal and Sealed His Saints Legacy
Drew Brees signed a two-year deal to return to New Orleans. The future Hall of Famer will go down as the best player in Saints history.
While one legendary quarterback announced his departure, another pledged his allegiance. Drew Brees will sign a two-year, $50 million contract to stay with the New Orleans Saints. Then again, should that really come as a surprise?
Outside of Tom Brady, perhaps no other current quarterback is more synonymous with a single franchise than Brees and the Saints. New Orleans took a gamble on his his surgically repaired right shoulder in 2006. And the payoff has been more than Sean Payton could have ever expected.
Brees' new deal provides him with security and the satisfaction of knowing he'll retire as a Saint. It also cements his place as the most iconic player in franchise history.
Drew Brees played at an MVP level in 2019
Apparently 40-year-old quarterbacks can still play in this league. Brees battled back from a torn thumb ligament to put together one of the better seasons of his storied career. With Offensive Player of the Year Michael Thomas routinely shredding secondaries, Brees completed 74.3 percent of his passes. That was just a hair short of his record-setting 74.4 mark from 2018.
In 11 games, the future Hall of Famer threw for 2,979 yards, 27 touchdowns and just four interceptions. His 116.3 quarterback rating was actually even better than his historic 2018 campaign in which he would have won the MVP award if not for Patrick Mahomes.
New Orleans went 8-3 with Brees at the helm, but ultimately they came up short in the playoffs. Still, his incredible combination of accuracy and consistency helped the Saints achieve their third straight winning season. And with a few personnel upgrades, New Orleans should be right back in the fold in 2020.
Drew Brees gave Saints hometown discount to add weapons
At first glance, $50 million for a quarterback who just turned 41 in January seems outlandish. However, the two-year pact actually came in at less than market value. Brees' reputation as the franchise icon and his commitment to bringing another title to New Orleans outweighed the opportunity to make more money elsewhere.
Like Brady did for years in New England, Brees cut his team a hometown discount. That unselfish maneuver will be critical for a team that has never been shy about spending in free agency or on the trade market.
New Orleans ranks near the bottom of the NFL in cap space. But with Brees leaving money on the table, the Saints could look to reinforce their roster with upgrades at wide receiver, cornerback and linebacker.
New deal ensures Brees will finish career with Saints
As we've seen with the Brady-Patriots relationship, nearly all good things must come to an end. However, unlike his peer, Brees won't be playing his final years in another uniform.
With Brees back in the fold, the Saints boast one of the best overall rosters in the NFL. On offense, the talent extends far beyond the legendary QB and his record-setting wideout. Alvin Kamara is a three-down playmaker with 37 career touchdowns in just 45 games. Veteran Latavius Murray plays the complementary power back role and had his highest yards-per-carry average (4.4) since his rookie season.
The offensive line returns four of five starters, including the Pro Bowl tackle pair of Terron Armstead and Ryan Ramczyk. Erik McCoy should build off a promising rookie season as the team's starting center.
Defensively, New Orleans features a tremendously deep defensive line and a number of playmakers on the back end. The Saints feature four former first-round picks up front, including Cameron Jordan and Marcus Davenport on the edge. In the secondary, Marshon Lattimore and Marcus Williams return, though the team could lose Vonn Bell in free agency.
Overall, Brees will be back behind center for two more seasons. Given the uncertainty in Carolina and Tampa, the Saints should be the odds-on favorite to win the NFC South again. And if all goes according to plan, Brees will capture a second Super Bowl title before he wraps up a Hall of Fame career with the Saints.