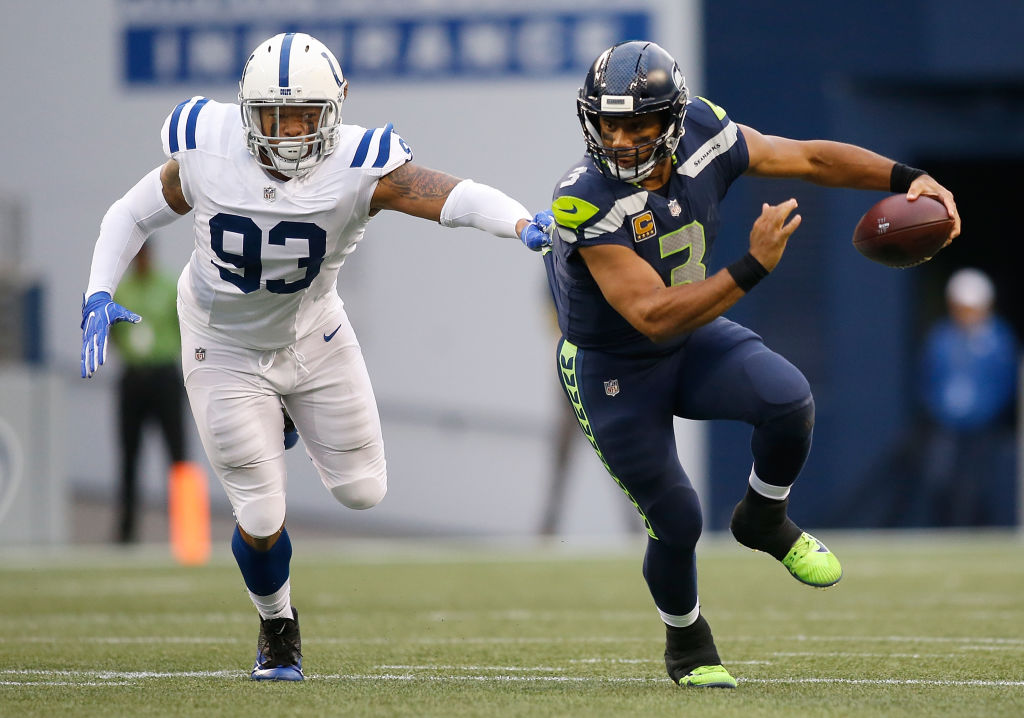 What Would Russell Wilson's Career Look Like if the Colts Drafted Him?
Russell Wilson has established himself as one of the best quarterbacks in the NFL. What would have happened if he was drafted by the Colts instead of the Seahawks?
Since the Seattle Seahawks took a shot on him in the third round of the 2012 NFL draft, Russell Wilson has become the face of the franchise. Along the way, he's earned seven Pro Bowl berths, a Super Bowl ring and the biggest contract in NFL history.
Nearly a decade into his career, Wilson has established himself as one of the best quarterbacks in the game. But imagine if the draft had unfolded differently.
Indianapolis Colts owner Jim Irsay recently noted that his team planned on taking Wilson with its fourth-round pick. Would Wilson still be the MVP-level player who has dragged Seattle on his back at times? Or would he be relegated to bench duty behind an established starter in Andrew Luck?
Wilson is on a Hall of Fame track in Seattle
Despite a prolific collegiate career at both North Carolina State and Wisconsin, Wilson didn't exactly garner top-10 attention heading into the draft. In hindsight, that was a massive mistake.
Coming off a fantastic senior season in which he threw 33 touchdowns and just four interceptions, the dual-threat magician should have been a first-round lock. Instead, detractors pointed to his 5-foot-10-inch frame and crossed him off immediately.
Ironically, despite his smaller frame, the 31-year-old has never missed a game in his eight-year career. Not bad for a guy who has played behind some of the worst offensive lines in football.
It's not just his durability that makes Wilson great. It's his unique combination of poise, production and persistence.
Wilson has routinely pulled off late-game comebacks and carried a less-than-ideal supporting cast to the finish line. Seattle has won double-digit games in seven out of eight years with their franchise quarterback. And with Wilson playing a complementary role earlier in his career, the Seahawks took home a Super Bowl title and nearly won another if not for Malcolm Butler.
In recent years, Wilson's individual success has really shined. He is coming off three consecutive seasons with at least 31 passing touchdowns. His interception total has dwindled from 11 in both 2016 and 2017 to just seven in 2018 and five last year.
With Seattle's defense in a transitionary phase, Wilson has elevated his game and kept Seattle in the hunt despite playing in the brutal NFC West.
Colts drafting Wilson would have been detrimental to his development
Irsay's comments about the Colts' plans to draft Wilson are highly interesting. After all, Indianapolis rightfully made Andrew Luck the first overall pick that year.
Would the Colts really double down at the position after taking the best QB prospect since John Elway?
Ironically the Washington Redskins did just that by trading up to draft Robert Griffin III with the second overall selection before taking Kirk Cousins in the fourth round.
If Irsay's Colts followed the same path, Wilson's career would have turned out quite different. Let's not forget how good Luck was before injuries forced him to retire prematurely. The former No. 1 overall pick never missed a game in his first three seasons. The Colts went 11-5 and reached the playoffs in all three seasons. In 2014, Luck tossed a career-high 40 touchdowns and brought the Colts to the AFC Championship.
Of course, things all changed once Luck's body began breaking down.
However, if Wilson had ended up in Indy, he would have sat on the bench for at least the first three years of his rookie contract. He would not have gained valuable experience or been able to let his natural leadership qualities shine through as a backup.
And even if he had taken over starting duties in 2015 when Luck played just seven games, Wilson would have been a free agent at the conclusion of the season. Could the Colts have afforded to re-sign Wilson and give Luck a lucrative extension?
The scenario would have likely played out in similar fashion to the Tom Brady-Jimmy Garoppolo conundrum. And we all know how that ended once Belichick had to decide on which quarterback to keep.
Where would Wilson have ended up if he started his career with the Colts?
Assuming Wilson rode the bench for three years and filled in for Luck in his abbreviated 2015 campaign, what kind of market would have existed for him in free agency?
It's one thing to consider paying a free-agent quarterback with an established track record. It's another to give guaranteed money to someone with just a half season of experience.
Garoppolo stands out as a reasonable comparison, though he arrived via trade before signing an extension in San Francisco. The 49ers wisely structured the deal to give Jimmy G ample money up front. That strategy has given them the flexibility to get out of his deal this offseason.
Wilson would have likely been offered a similar contract if he hit free agency following the 2015 season.
Looking back at the quarterback landscape at the time, Minnesota stands out as a logical destination. Teddy Bridgewater's devastating knee injury forced the Vikings to trade a first-round pick for the perennially disappointing Sam Bradford. We all know how that story ended.
Houston infamously handed Brock Osweiler a $72 million deal before quickly realizing it had made an egregious error. Would Wilson have commanded as much money on the open market? Could Bill O'Brien have convinced himself to invest millions in a quarterback under 6-foot rather than the physical prototype in Osweiler?
All of this is pure speculation, but it's safe to say that landing in Seattle was the best thing for Wilson's career.