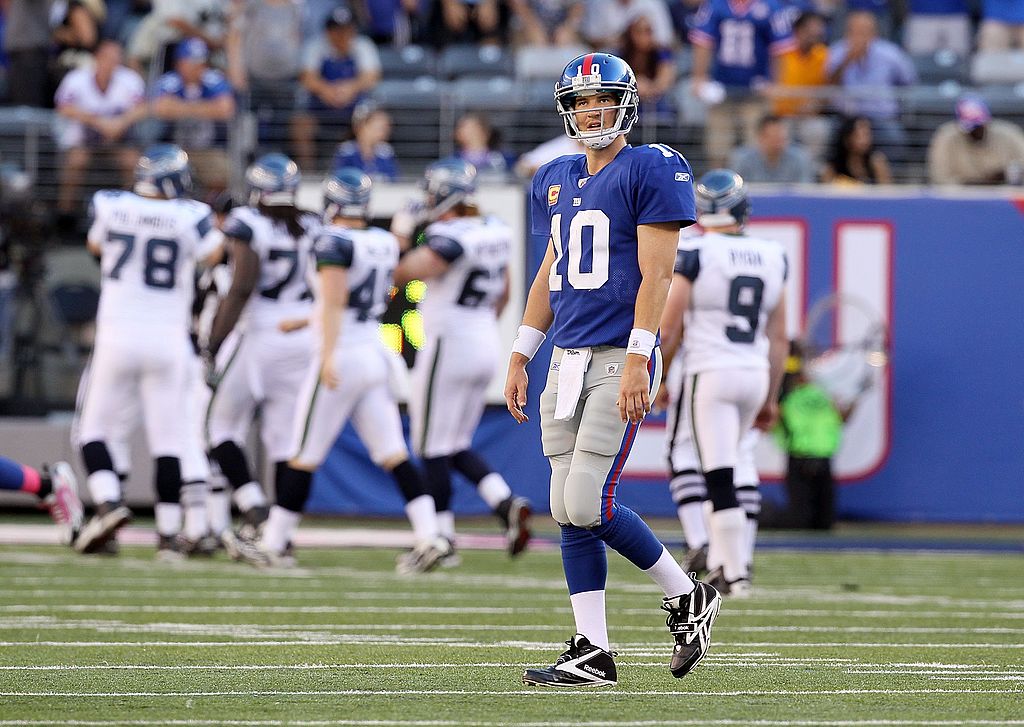 Eli Manning Surprisingly Made $1 Million For Each Giants Interception
Eli Manning earned $252 million in his 16-year career with the Giants. He also threw 244 interceptions in 234 regular-season starts.
When Eli Manning retired, he wrapped up perhaps the most confusing career of any NFL quarterback. On one hand, he toppled Tom Brady and the New England Patriots twice in epic Super Bowl victories. On the other hand, the New York Giants paid Peyton's younger brother a quarter of a billion dollars for 244 regular-season interceptions.
Looking back at his 16-year career with the Giants, Manning certainly has nothing to be ashamed about. After all, he cashed in better than anyone else despite never truly becoming an elite quarterback. His Hall of Fame candidacy may be strengthened by two Super Bowl rings, but that doesn't take away from some troubling stats from his lucrative Giants career.
Eli Manning was traded to the Giants after going No. 1 overall
Turn the clock back to the 2004 NFL draft. The San Diego Chargers held the No. 1 overall pick and needed a franchise quarterback. Of course, they already had Drew Brees on their roster, but he was still years away from becoming an elite player. In a stacked quarterback class that also featured Ben Roethlisberger and Philip Rivers, the Chargers wanted to go with Manning. The only problem was Manning had no desire to become a Charger. He and his father, Archie Manning, publicly stated that Eli would refuse to play for San Diego.
Ultimately, the Chargers still took Manning with the first pick before trading him to the Giants in exchange for Rivers, a 2004 third-round pick, a 2005 first-round pick and a 2005 fifth-rounder. The coveted quarterback had one of the most awkward NFL draft moments of all time when he had to hold up a Chargers helmet with obvious displeasure. Manning took over the starting job from Kurt Warner in Week 10 of his rookie season and never missed a start until Kevin Gilbride benched him in Week 13 of the 2017 season.
The Chargers did fine by landing Rivers, who made eight Pro Bowls and annually graded out as a top-10 QB before he signed with the Colts this offseason. As for Brees? He overcame a potentially career-ending shoulder injury and became an icon with the New Orleans Saints. He just signed a two-year deal to finish his career with the team that took a major flyer on him in 2006. Both Rivers and Brees managed to outlast Manning, but neither contemporary could match his two Super Bowl rings.
Giants icon threw 244 interceptions in 236 games
As one of the NFL's most durable players, Manning impressively started 224 consecutive regular-season games before his infamous one-week benching. Even after he returned to the lineup, he still started every game in 2018 and opened the 2019 season as QB1 before top draft pick Daniel Jones took over. In total, Manning played 236 games (234 starts) across 16 seasons. That longevity, though, didn't necessarily equate to elite production.
Shockingly, Manning made millions despite only leading the NFL in one passing statistic: interceptions. For all of his postseason heroics, the New Orleans native never earned a single first-team All-Pro selection. That shouldn't be too surprising considering he led the NFL in interceptions on three occasions, including a career-high 27 picks in 2013.
In fact, until Jameis Winston became the first member of the 30-30 club, no player had come close to topping Manning's horrific 2013 campaign. Ryan Fitzpatrick tossed 23 picks in 2011, and Brees surprisingly gave away 22 passes the year after the Saints won the Super Bowl. Manning's 244 regular-season interceptions rank 12th all-time, just three spots behind older brother Peyton.
Manning made more money than any player in NFL history
Eli Manning may not have been an elite quarterback, but he got paid like one. In 16 seasons, he earned more money than any player in league history. That's quite a statement when you look at his lackluster production. Still, the Giants never wavered in paying their postseason hero top-of-the-market money. His six-year rookie contract totaled $45 million—a bargain by today's salary standards. That deal also included a $20 million signing bonus and incentives that brought the maximum value to $54 million.
In 2009, the Giants re-upped with their franchise quarterback on another six-year deal. This time the total value exploded to $97.5 million. That didn't seem like a massive overpay, as Manning had just led the Giants to an improbable Super Bowl victory over an undefeated Patriots team. Of course, he can thank David Tyree for that first ring.
New York won another Super Bowl title in 2011, thanks in large part to a miraculous throw-and-catch from Manning to Mario Manningham. Four years later, the Giants signed the iconic QB to his final deal—a four-year, $84 million pact that he played out last season.
In total, the Giants paid Eli Manning $252 million for 244 interceptions and zero All-Pro appearances. Apparently $1 million per interception isn't an overpay if you bring home two Super Bowl titles.