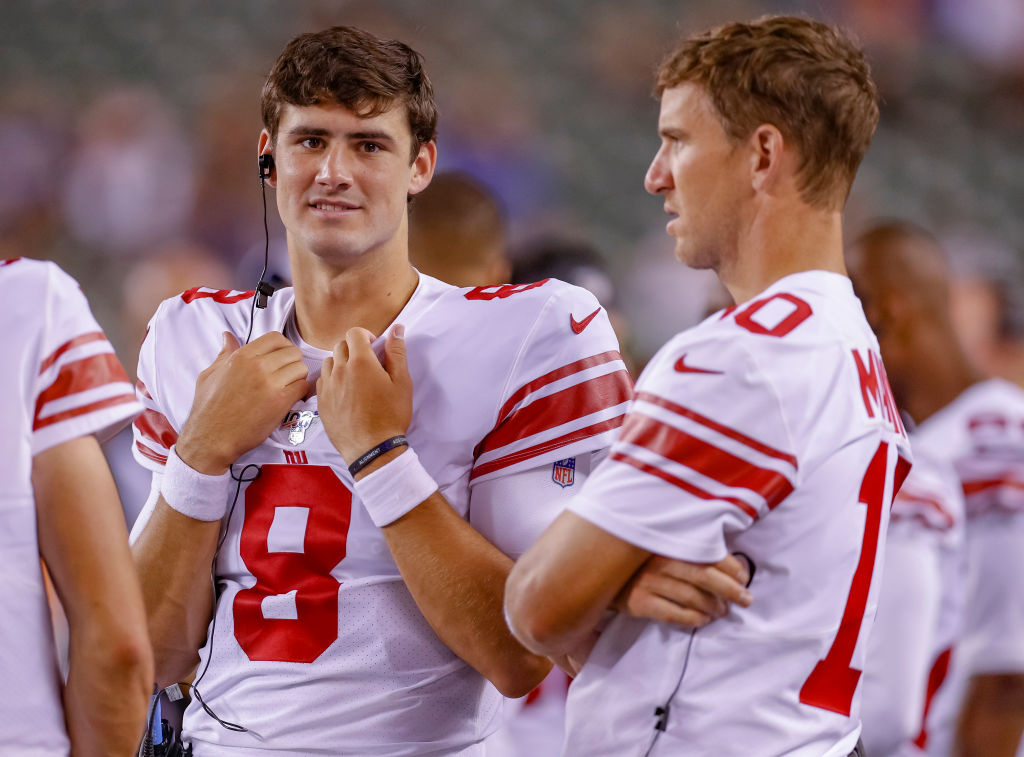 Eli Manning Gave Daniel Jones Hilariously Simple Advice
After Daniel Jones took over for Eli Manning, the two time Super Bowl winner was asked if he had any advice for Jones. Eli kept his advice simple.
New York Giants' quarterback Eli Manning has had some rough years, but his two-time Super Bowl wins, professionalism, and career longevity are undeniable. Back in 2017 after he got benched the first time after a long career of consistent playing, NY Daily News reported CBS chairman and CEO Les Moonves telling TMZ Sports that if the Giants didn't want him, they would "take him in a second" as part of their broadcasting team. That's because even in the worst of times, Manning is recognized for his good sportsmanship and his humor. Read on to learn how Manning used his own grace and style to give Giants rookie quarterback Daniel Jones some hilariously simple advice.
Some background on Eli Manning
Eli Manning comes from a family of football players. He's the son of former NFL quarterback Archie Manning, and his older brother is retired NFL player Peyton Manning. He earned several awards his senior year playing college football at the University of Mississippi, including "Player of the Year."
After a very, very brief time with the Chargers, Manning was traded to the Giants, where he earned considerable accolades along with experiencing his own share of setbacks. In 2017, Manning's performance was officially in decline.
, where he earned considerable accolades along with experiencing his own share of setbacks. In 2017, Manning's performance was officially in decline.
After 13 years in the league, starting 210 regular-season games, he was replaced by Geno Smith, who started the game against the Raiders, wrote NBC Sports. Throughout his career, there were a lot of expectations for Manning to perform, given who his father and brother are. Critics say that he hasn't met those expectations, while his defenders claim that nobody ever could.
Bringing in Daniel Jones
CBS Sports reports that the Giants decided to bring in rookie quarterback Daniel Jones and bench Manning again after the team had a poor season start of 0-2 for the season. Understandably, being benched and watching a new starter take your place is upsetting for Manning.
Plus, there's been a lot of criticism about Manning's performance — as well as a lot of talk about it being the end of an era for his career, with a comeback not likely in sight. Commentators speculate on how Manning should approach what appears to be the last leg of his career, and there have been numerous discussions on what he should bring to his legacy by facing the responsibility of mentoring his replacement.
Meanwhile, the Giants have brought in rookie quarterback Jones, who has a tough job ahead of him. But Daniel Jones is already making progress.
Eli Manning is staying in New York
The 2019 end-of-October trade deadline is coming soon — and there are a lot of reasons why Manning probably won't be traded. As CBS Sports reports, Manning's contract keeps him from being traded.
And reportedly, Manning won't ask to have his no-trade clause waived. Instead, in a recent interview where he discusses his new role, Manning promises to support Jones. The article speculates that the veteran Giants quarterback is indeed thinking about his legacy, wanting to go down in history as a supportive mentor who finishes his career with the New York team.
In addition, CBS Sports notes, he may also be thinking about what's best for his four kids, wanting to keep the family in New York rather than putting his four kids through a move. 
Hilariously simple advice for Daniel Jones
As Eli Manning's career apparently draws to a close, he seems to be concentrating on how he wants to be remembered. So when Daniel Jones came on board, Manning responded to the less than positive turn of events with professionalism, friendly advice, and humor. NESN quotes Manning's hilariously simple advice to Jones: "Throw it to the guy wearing the same color jersey as you."
NESN noted in a similar fashion, "He's not wrong."