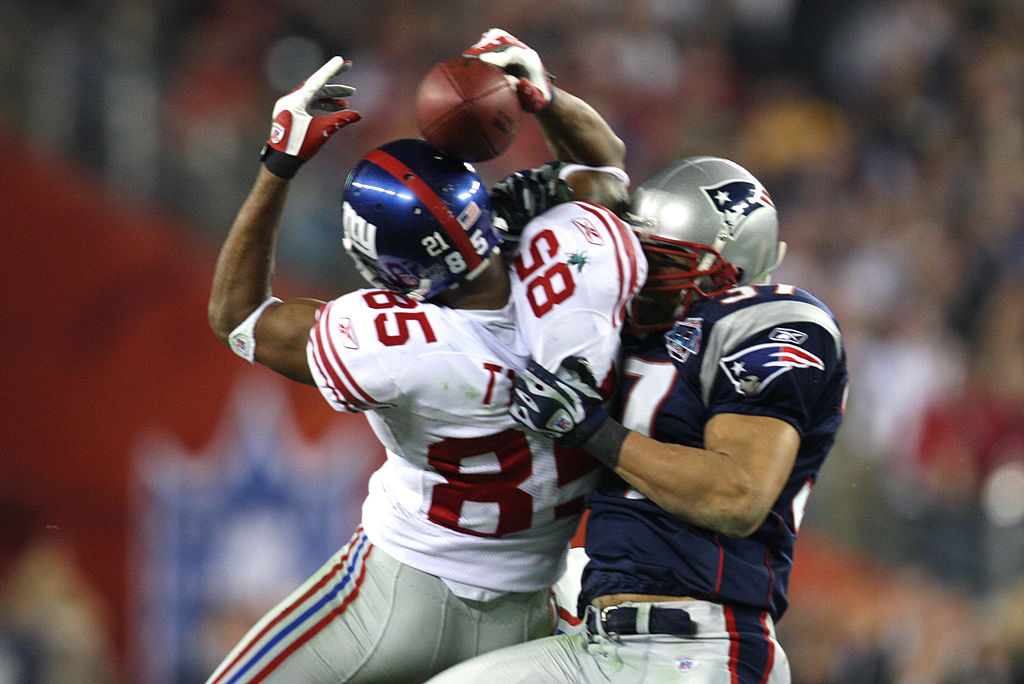 What Happened to Giants Super Bowl Hero David Tyree?
David Tyree became a Super Bowl hero after hauling in a crazy helmet catch against the Patriots. Where is the former Giants wideout today?
David Tyree singlehandedly prevented the Patriots from achieving a perfect season. His miraculous helmet catch against New England in Super Bowl XLII will forever be etched in NFL history. Ironically, his game-saving catch for the Giants would be the last pass he ever caught.
As quickly as he arrived, Tyree disappeared from the NFL radar. But the Super Bowl hero has actually not strayed far from the game at all. In fact, he's still a member of the Giants organization. How fitting for a player who recorded the greatest catch in Super Bowl history.
David Tyree was an All-Pro special teams player
Before he became a Super Bowl hero, David Tyree was actually an accomplished special teams player. At Syracuse, he blocked six punts and racked up 1,214 receiving yards before entering the 2003 NFL draft. The Giants selected Tyree in the sixth round and he quickly showcased the skill that made him a special-teams maven in college.
Operating as New York's fourth receiver, Tyree caught 16 passes for 211 yards as a 23-year-old rookie. And while he caught just 15 passes over the next two seasons, his strong tackling and coverage skills in the kicking game helped him earn a first-team All-Pro spot in 2005.
The 6-foot, 206-pounder caught a career-high 19 passes in 2006. Despite a mini-breakout, Tyree spent the 2007 season buried behind Plaxico Burress, Amani Toomer and Sinorce Moss on the Giants' receiver depth chart. During the regular season, the New Jersey native caught just four passes and certainly didn't seem like a threat to make an impact in Super Bowl XLII.
Giants hero made one of the best catches in Super Bowl history
Heading into Super Bowl XLII, everyone expected the Patriots' record-setting offense to carry them to a 19-0 finish. Thanks to Michael Strahan and the rest of the Giants' defensive line, that never happened. New York harassed Tom Brady all night and held the NFL's No. 1 offense to just 14 points.

While the defense drove the Giants to that 2007 title, it wouldn't have been possible without David Tyree. Few people remember he actually caught a touchdown pass from Eli Manning to open the fourth quarter. However, Brady hit Randy Moss for a 6-yard touchdown with less than three minutes remaining to give New England a 14-10 lead.
What happened next will forever be etched in Super Bowl history. Facing a third-and-5 from their own 44-yard line, the Giants desperately needed to find the end zone. Facing enormous pressure from Richard Seymour and the rest of New England's stacked front seven, Manning miraculously escaped a would-be sack and heaved the ball 32 yards down the middle of the field.
Despite sticky coverage from Pro Bowl safety Rodney Harrison, Tyree managed to pin the ball to the top of his helmet and hold on for dear life. Four plays later, Manning hit Burress for the game-winning touchdown.
Tyree transitioned to a front-office role with the Giants
In a cruel twist of fate, David Tyree's Helmet Catch would be his last NFL reception. He missed the entire 2008 season after suffering a knee injury in training camp. The Ravens did pick him up for the 2009 season, but Tyree didn't get a single target in his final NFL campaign.
That hasn't stopped the Super Bowl hero from continuing to make an impact with the Giants organization. In 2014, the legendary NFL franchise hired Tyree to be the Director of Player Development. It represented a fantastic opportunity for a player who will forever be cherished by Giants fans:
"I'm overwhelmed with joy," said Tyree, who played for the Giants from 2003-08. "I guess you could say it's a second homecoming. I'm grateful to have an experience with Charles Way, seeing his growth, his maturity as a professional. It even, to some degree, has impacted my life personally as a professional. Then having this opportunity to fill those shoes, I'm just grateful for the foundation that's been laid, I'm grateful to be an example and hopefully represent this great organization in the same light and continue the great atmosphere and tradition of a wonderful organization with a premier culture. I'm just thrilled to get in here and serve these players."
Tyree still serves in the same role with the Giants despite several regime changes. Perhaps he'll play a key role in helping turn around a proud organization that has lost its way under Dave Gettleman.