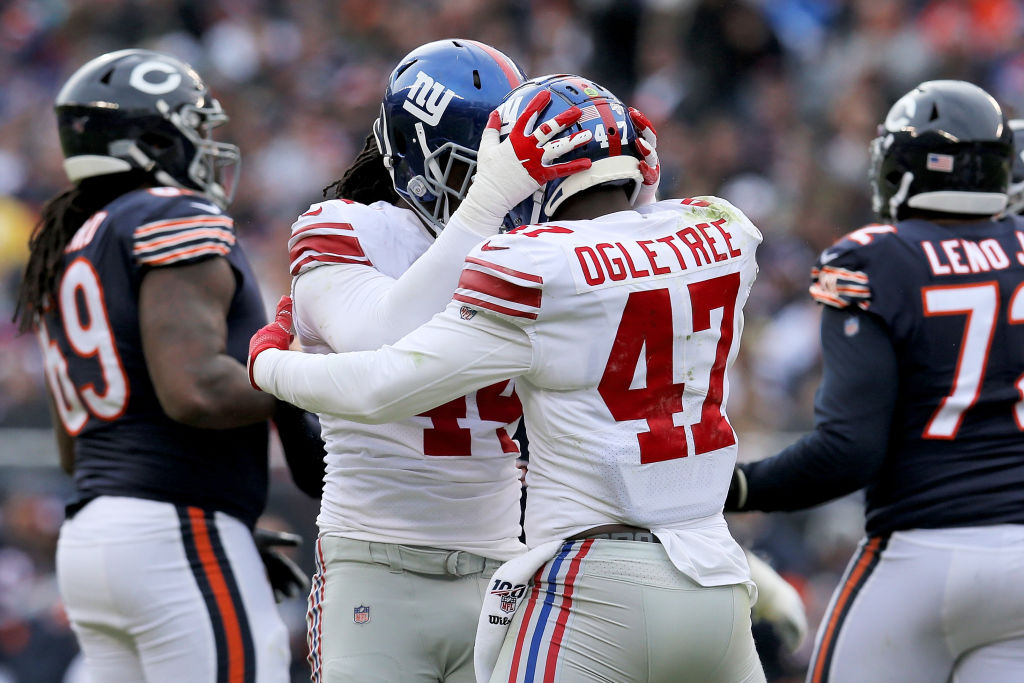 The Giants Are Clearly Pursuing Linebackers in the NFL Draft and Free Agency
The New York Giants linebacker depth chart is dangerously thin. Expect Dave Gettleman to address the position in free agency and the upcoming draft.
The days of Lawrence Taylor and the Big Blue Wrecking Crew demoralizing opposing quarterbacks are long gone. In fact, the linebacker position has been an albatross for the New York Giants for more than a decade. And after watching his team finish with the league's third-worst scoring defense, general manager Dave Gettleman appears ready to hit the reset button at the linebacker position.
While the Giants need help on all levels of their defense, finding quality linebackers in the draft and free agency should be a priority. Of course, the process has already kicked off with addition by subtraction.
Gettleman's early moves to acquire Alec Ogletree and Kareem Martin
In what seemed like a savvy trade at the time, Gettleman sent fourth- and sixth-round picks to the Los Angeles Rams for talented linebacker Alec Ogletree. The 2013 first-round pick developed into a reliable leader for the Rams, eventually earning second-team All-Pro honors in 2016.
The former Georgia standout inked a four-year, $42 million contract extension in October 2017. Yet, less than six months later, Ogletree found himself relocating from the warm weather of L.A. to the cold confines of MetLife Stadium.
Gettleman doubled down literally the next day by signing former Arizona Cardinals linebacker Kareem Martin to a three-year, $15 million contract. Considering Martin had started just 14 games in four years and totaled just 3.5 sacks, the contract certainly looked bloated at the time.
Veteran duo cut after lackluster production
Two years later, it's safe to say neither acquisition paid off for Gettleman. While Ogletree did record 173 tackles in 26 starts, he finished the 2019 season with just one sack, one interception, no forced fumbles and six passes defended.
The inside linebacker's tackle totals plummeted over the last three seasons after he recorded a career-high 136 stops in his lone All-Pro campaign. He certainly did not look like the same player who made an immediate impact with 228 total tackles in his first two seasons in the league.
With a scheduled cap hit of $11.75 million, Ogletree officially got cut last week, ending a disappointing two-year tenure in New York.
The story ended similarly for Martin, who played just five games last season. Though he was expected to take a step forward in a more prominent role with the Giants, the 2014 third-round pick recorded a dismal 1.5 sacks in 21 games before getting his walking papers alongside Ogletree.
Chalk those two transactions as added failures to the long list of questionable personnel moves by the former Panthers general manager.
Giants linebacker depth chart looks thin behind Lorenzo Carter
With Ogletree and Martin gone, the Giants have a disturbingly thin depth chart at linebacker. Lorenzo Carter, a 2018 third-round pick also out of Georgia, recorded just 4.5 sacks in his second season. While he has flashed potential due to his speed and length, he has yet to develop into an every-down force.
Veteran Markus Golden delivered his first double-digit sack campaign since 2016, but that could lead to a robust market for his pass-rushing services.
It'll be up to Gettleman and the scouting department to buckle down on this year's crop of free agents and draft prospects.
When it comes to off-ball linebackers, the Rams' Cory Littleton is easily the top available free agent. The 6-foot-3, 228-pounder has developed into an adept playmaker and tackling machine in Los Angeles. He stuffed the stat sheet in 2019 with 134 tackles, 3.5 sacks, four fumble recoveries, two forced fumbles, two interceptions and nine passes defended.
The 2020 draft class features a standout linebacker of its own in Isaiah Simmons. The former Clemson Tiger absolutely destroyed the combine and could be an excellent fit with the fourth overall pick. The hybrid defender/cyborg would be a much-needed weapon for new defensive coordinator Patrick Graham.
Whether he dives into the free-agent pool or opts for youth in the draft, there is no doubt Gettleman needs to devote significant resources to bolstering the Giants' linebacker group.