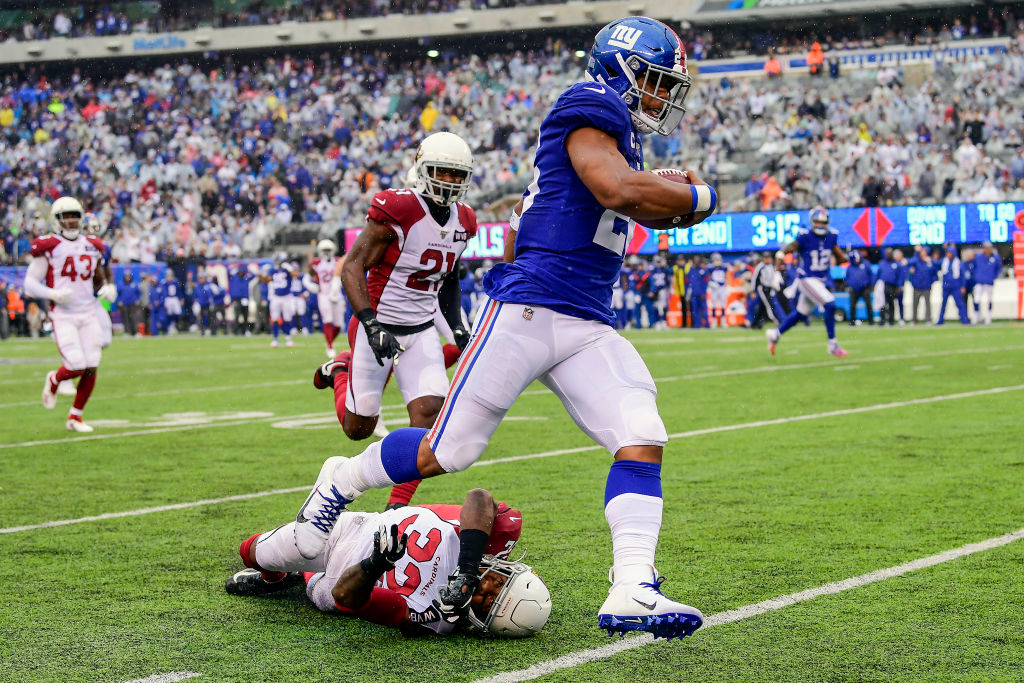 NFL: Even With Saquon Barkley, the New York Giants Remain a Work in Progress
Saquon Barkley may have returned to action on Sunday, but he didn't fix the New York Giants problems singlehandedly.
The New York Giants 2019 season hasn't gone according to plan. First, veteran quarterback Eli Manning was benched in favor of rookie QB Daniel Jones. Shortly after that switch, running back Saquon Barkley suffered a high ankle sprain; tight end Evan Engram would also suffer a knee injury, forcing him to miss a game. It was a tough way to start what was already expected to be a difficult season.
On Sunday, Barkley returned, allowing Giants fans to see their young offensive weapons working together. While there were definitely some positives, the game was far from a perfect outing. Even with Jones and Barkley working together, the Giants still have some work to do.
The Giants' inconsistent performance against Arizona
The New York Giants came into their game against the Arizona Cardinals looking to make a statement. Things didn't get off to a good start, though. The visitors lept out to a 17-0 lead, but the Giants clawed their way back into the game with a Jones touchdown pass and a special teams touchdown. Even as the scoreboard gap closed, the Cardinals still dominated the time of possession, total number offensive plays, and the number of first downs.
In the second half, the rain picked up, turning the game into a slog. The Cardinals pass rush forced a fumble and scored on the ensuing drive; the Giants then missed a field goal, failing to cut into the lead. New York managed to close the gap, but the Cardinals' defense stood strong on two consecutive series to pull out the 27-21 win.
Saquon Barkley's strong return
While the Giants won't be happy with their performances—Jones was sacked too frequently and turned the ball over three times, while their defense struggled to get off the field—they'll have to take some positives from Saquon Barkley's return.
Despite his ankle injury, the running back didn't miss a beat on Sunday. He piled up 72 yards and one touchdown on 18 carries in a soggy, sloppy game; he also caught three passes for eight yards.
While his numbers might not be eye-popping, Barkley's strong showing has to be reassuring for the Giants. Lower body injuries have a tendency to turn into nagging issues, dragging on week after week. Barkley, however, looks to have returned unscathed; there's no reason to doubt his availability going forward. His return, however, wasn't a magical cure to all of the Giants' problems.
Where do the Giants go from here?
The Giants lost in a particularly disappointing manner, confirming a harsh truth about the team: no matter their talent level, the team is still a work in progress. Barkley, Engram, or anyone else cannot fix their problems singlehandedly.
Even with Jones, Saquon Barkley, and Evan Engram all on the field together, the Giants offense still needs help. The pieces are there—a good running back and tight end should make life easier for a rookie QB—but nothing can happen when defenders are living in the backfield. Any time you give up eight sacks in a game, there are major problems.
At this point, the team needs to sort out the offensive line before anything else; if that unit isn't sorted out, Jones and Barkley will be fighting for their lives rather than properly developing. Losses will happen, but the Giants can't allow those losses to damage their prospects for the future.