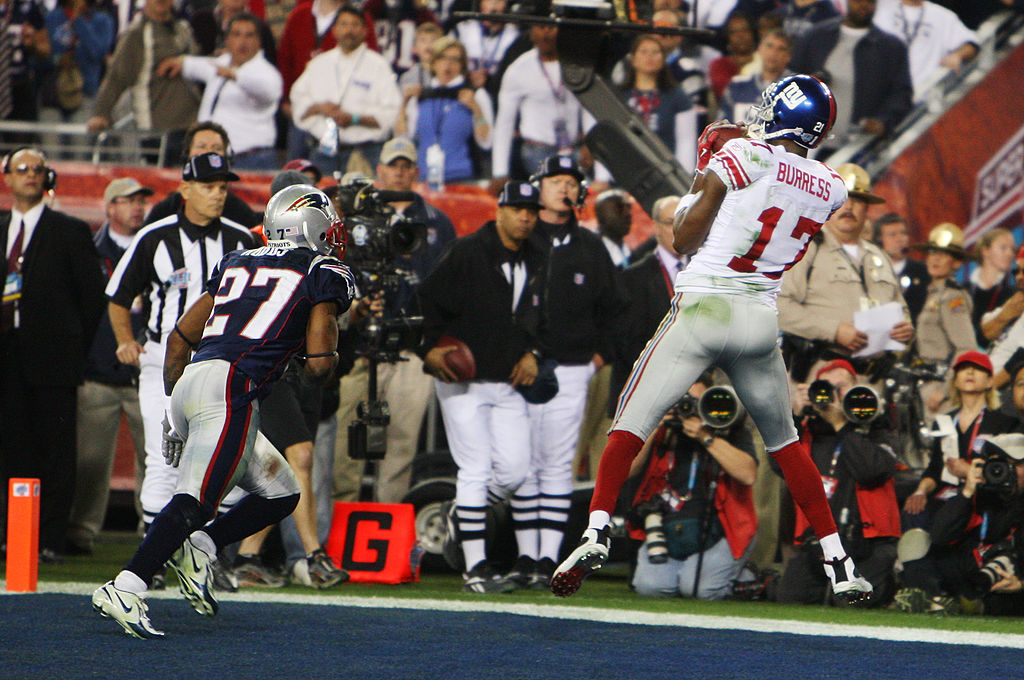 Plaxico Burress Could Have Been an NFL Great Had He Not Shot Himself
Plaxico Burress was a star wide receiver for the New York Giants. However, his career derailed once he accidentally shot himself.
Plaxico Burress was a star wide receiver in the NFL. Burress consistently produced whenever he was on the field for the Pittsburgh Steelers and New York Giants. He even caught the game-winning touchdown pass in a Super Bowl for the Giants. He could have gone down as an NFL great, however, an accidental shooting derailed his career.
Proving himself with the Pittsburgh Steelers
Coming into the NFL out of Michigan State, the Pittsburgh Steelers selected Burress with the No. 8 overall pick in the 2000 NFL draft. After only catching 22 passes for 273 yards in 12 games his rookie season, Burress had a huge year his second season. Catching 66 passes, Burress picked up 1,008 receiving yards and six touchdowns in 2001.
Burress then got even better in 2002 with 78 catches for 1,325 yards and seven touchdowns. He then had a couple more decent seasons with the Steelers in 2003 and 2004 before going to the New York Giants in 2005.
The Giants got a productive receiver in Plaxico Burress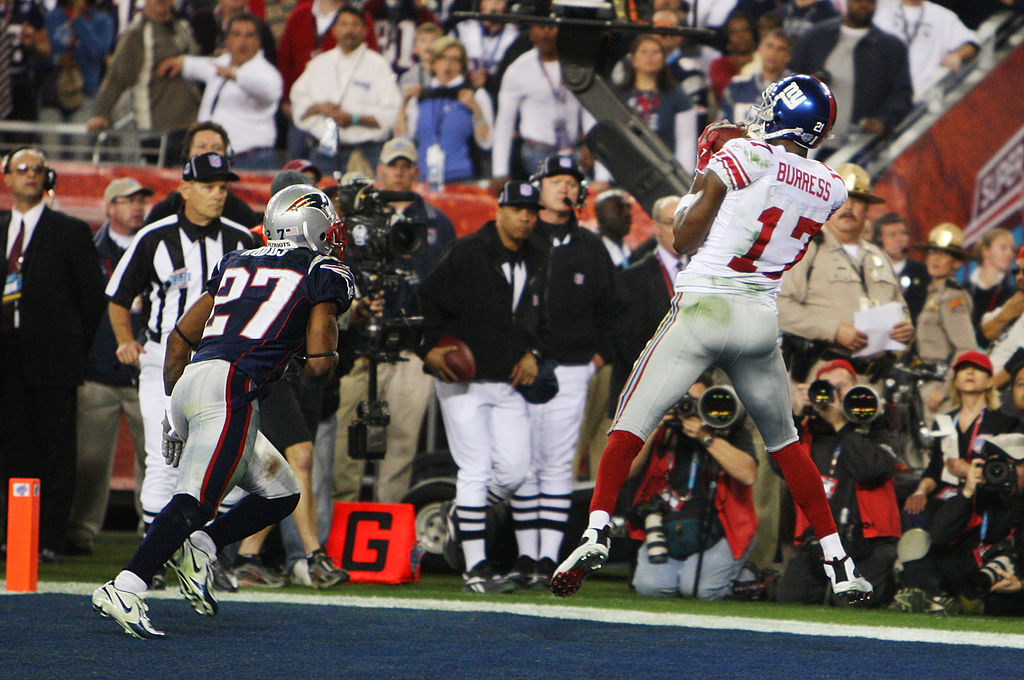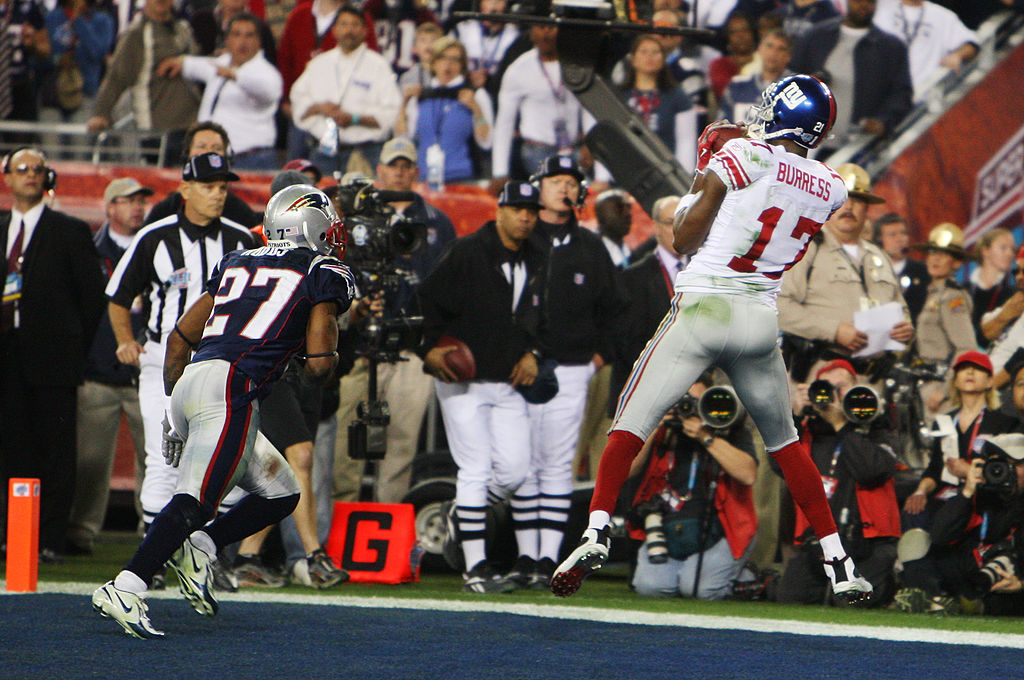 In 2005, Plaxico Burress signed a six-year deal with the New York Giants. Burress had a big year for the Giants in 2005, catching 76 passes for 1,214 yards and seven touchdowns. He then didn't pick up quite as many yards in 2006 as he had 63 catches for 988 yards and 10 touchdowns. However, he was huge in 2007. 
Burress caught 70 passes with the Giants in 2007 for 1,025 yards and 12 touchdowns. He came up big in the playoffs too. In the NFC Championship Game, Burress caught 11 passes for 151 yards in a 23-20 win over the Green Bay Packers, helping the Giants reach the Super Bowl. 
Then in the Super Bowl against the 18-0 New England Patriots, Burress caught the game-winning touchdown pass with 35 seconds left to help the Giants win 17-14.
Burress accidentally shot himself
The Giants started the 2008 season hot as they were 10-1. Burress played well too as he had 35 catches, 454 yards, and four touchdowns in 10 games. Then Burress accidentally shot himself. 
On Nov. 28, 2008, Burress shot himself in the leg in a New York nightclub. Burress did not have a license to carry a gun in New York, according to CBS Sports. New York's tough gun laws resulted in Burress getting into severe legal trouble as he pleaded guilty to a weapons charge and was sentenced to two years in prison. Burress ended up spending 20 months in jail. 
The Giants finished the season 12-4 that season and despite being the top seed in the NFC that year, they were upset by the Philadelphia Eagles in the divisional round. The Giants did not have one player gain over 100 receiving yards in that game either.
Coming back not as effective
Because of the jail time, Burress missed the 2009 and 2010 seasons and the Giants released him in April 2009. 
Burress played with the New York Jets in 2011 and was productive, but wasn't the same receiver he had been. He caught 45 passes for 612 yards and eight touchdowns. He then played in four games for the Pittsburgh Steelers in 2012 but only caught three passes for 42 yards. 
Burress was 35 years old in 2012 so he has not played in the league since. 
What could have been 
In Burress' eight seasons before the year he shot himself, he had four seasons where he gained 1,000 receiving yards or more. He also had two other seasons where he gained at least 850 receiving yards. Additionally, he was a touchdown machine in his last two full seasons with the Giants, catching 10 touchdowns in 2006 and 12 in 2007. He proved he was clutch too with his huge performance in the NFC Championship Game against the Packers and with the game-winning touchdown in the Super Bowl.
Had Burress not shot himself, he could have continued to have big seasons with the Giants as he had just come off a 1,000-yard season in 2007. With the Giants starting the 2008 season hot too, had the Burress incident not happened they could have possibly reached the Super Bowl again. That would have given Burress more opportunities to show his clutch abilities as well.
Burress was a consistent playmaker for the Steelers and Giants. He came up big when it mattered most too. Those two traits paired together could have made him an NFL great. However, the accidental shooting derailed his career and now everyone is just left to wonder what could have been.