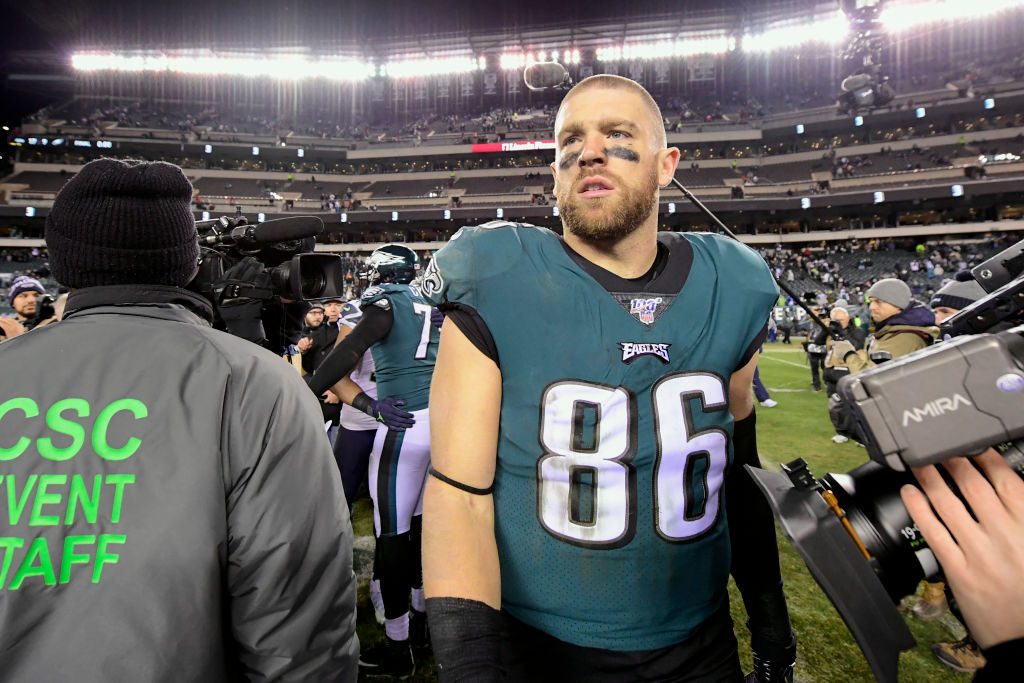 The Philadelphia Eagles' Zach Ertz Was Wise to Refuse a Raise
Zach Ertz turned down a contract extension midway through his existing deal last fall. The Eagles should be in position to offer a lot more money the next time they approach him.
If Zach Ertz is crazy, then he's crazy like a fox. The Philadelphia Eagles tight end raised eyebrows for declining a new contract with a handsome raise during the 2019 NFL season because he wisely saw a better opportunity ahead.
Ertz has now positioned himself to make even more money the next time contract negotiations roll around. Yes, he runs the risk of injury between now and then, but he has his eyes on a potential reward that many players probably did not consider until a week ago.
The Philadelphia Eagles offered more money, but he said no
Zach Ertz, 29, signed a revised four-year contract with the Philadelphia Eagles before the 2018 season, but the team approached him last fall to offer him another extension. Reports said the money was likely better than the $44 million over four years that fellow Stanford grad and tight end Austin Hooper took to jump from the Atlanta Falcons to the Cleveland Browns this week.
If the reports about the money are right, Ertz was in line for quite a bump after playing the final two years of his current deal for $6.6 million in 2020 and $8.2 million in 2021.
Ertz's decision is likely driven to some extent by the realization that the next contract he signs could be the last long-term deal of his career. Having already cashed checks for seven NFL seasons – the extension he signed in 2016 was four years for $42.5 million — and being locked in to make $14.6 million between now and the end of the 2021 season, he has the luxury of waiting for the salary structure to swing further in his favor.
Firstly, the free-agent market drives up contract values every offseason. Each time a team throws money at other quality tight ends as the Browns did with Hooper, Ertz gains more leverage.
Also, teammate Dallas Goedert, another productive tight end, is halfway through his four-year rookie contract and is another candidate for renegotiation. Whatever extra dollars he picks up, Ertz becomes positioned for even more.
The new NFL collective bargaining agreement changes everything
Zach Ertz was likely counting on one more factor when he said no to a contract extension last fall: The Philadelphia Eagles and their 31 counterparts in the NFL will soon have quite a bit more money to spread around.
The new collective bargaining agreement that was approved last week assures long-term labor peace for the owners and a bigger piece of the pie for players. The salary cap for the 2020 season is $198.2 million per team, but that number has the potential to jump by much more than the $10 million leap it just took from the 2019 level.
First, the players' portion of shared revenue climbs from 47 to 48%, which adds $4 million to the players' pot on Day 1 of the 2021 league season.
Second, and more importantly, the NFL is now poised to negotiate its next generation of contracts with the TV networks. All the broadcast networks will be involved, as will ESPN, other cable channels, satellite service providers, and probably streaming services.
On top of all the existing inventory that the NFL has sold to its partners in the past, the league has added a 17th regular-season game and an extra wildcard playoff game in each conference.
In short, money is going to be pouring in, and the Philadelphia Eagles' checkbook will be bulging the next time they sit down with Zach Ertz to talk about a new contract. Assuming Ertz stays healthy between now and then, he stands to make enormous money.
Zach Ertz has produced for the Philadelphia Eagles
Philadelphia Eagles tight end Zach Ertz is a bona fide NFL star, maybe even a future Pro Football Hall of Fame inductee. A full-time starter for the past four of his seven seasons, Ertz already has 525 regular-season catches and 35 touchdowns.
Ertz made 116 catches for 1,163 yards in 2018 and followed that up with 88 grabs for 916 yards last fall. He averages 10.9 yards per catch and has accounted for 317 first downs with just five fumbles in his career.