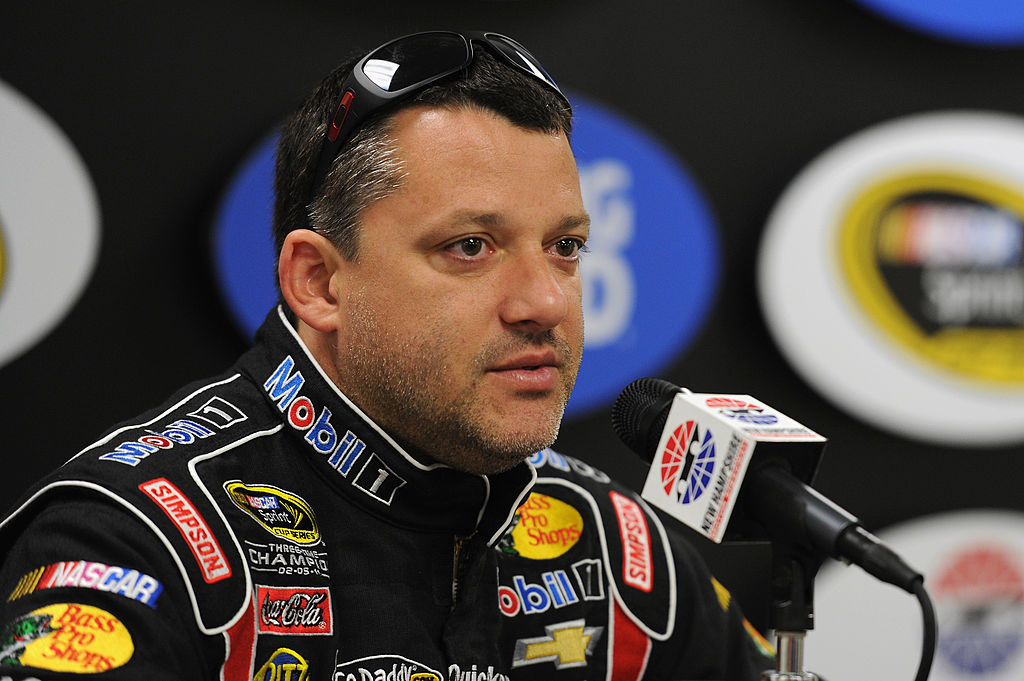 Why NASCAR Star Tony Stewart Was Never Charged in a Fatal Dirt-Track Crash
NASCAR driver Tony Stewart was involved in a fatal accident during a dirt-track race in 2014.
Few sports are as dangerous as auto racing, where high speeds and high stakes come together. NASCAR has had its share of tragedies, including the death of the legendary Dale Earnhardt Sr. at the Daytona 500, but few deadly wrecks have been scrutinized like one involving Tony Stewart in 2014.
Tony Stewart was at the center of a dirt-track fatality
With the NASCAR circuit scheduled to compete in nearby Watkins Glen, New York, the same weekend, star driver Tony Stewart intended to have some fun by going back to his roots and racing a sprint car at Canandaigua Motorsports Park on Aug. 9, 2014.
Stewart had made a similar excursion the previous summer. A multi-car wreck at the track involved Stewart and sent two drivers to a local hospital with injuries.
This time, Stewart's vehicle bumped the car driven by Kevin Ward Jr. on Turn 2, sending the local competitor into the wall.
With the caution flag out and the field coming back toward the wreck, Ward left his car and walked down the track, gesturing angrily at Stewart. As Stewart approached, his car clipped Ward and threw him hard to the track. First-responders transported Ward, who had raced sprint cars since 2010, to a nearby hospital; he was pronounced dead shortly afterward.
With witnesses giving conflicting accounts as to whether Stewart was following proper procedures with the caution flag out, the Ontario County Sheriff's Department began an investigation the following day. Stewart elected to not compete for his Stewart-Haas Racing team for three weeks in the immediate aftermath of the tragedy.
Six weeks of investigations and grand jury testimony
The investigation into the fatal crash involving Tony Stewart concluded in mid-September of 2014. On Sept. 24, District Attorney Michael Tantillo announced that a grand jury had declined to indict Stewart on charges of manslaughter or criminally negligent homicide.
According to Tantillo, videos of the race did not support charges, and lab results determined that Kevin Ward Jr., 20, had enough marijuana in his system to impair his judgment. Tantillo said the grand jury did not hear details of the toxicology report.
Further, Tantillo said that there were too many conflicting witness accounts to proceed with a criminal case. The grand jury heard from two dozen witnesses, including experts in accident reconstructions, over two days and returned its decision after about an hour of deliberations.
"I know 100 percent in my heart and in my mind that I did not do anything wrong," said Stewart, who was 43 at the time. "This was 100 percent an accident."
The family's civil suit never reached court
The family of deceased driver Kevin Ward Jr., filed a wrongful death civil suit against three-time NASCAR series champion Tony Stewart in 2015, contending he intentionally drove dangerously close to Ward after he exited his sprint car.
The case was never heard in court. Instead, Stewart and Ward's parents reached a settlement in the spring of 2018 for an undisclosed sum of money.
Ward's parents subsequently revealed that they accepted the settlement because their lawyers had threatened to withdraw from the case if the family did not take the deal offered by Stewart's representatives. They said they were unable to find another firm to take the case so close to the scheduled start of the trial.