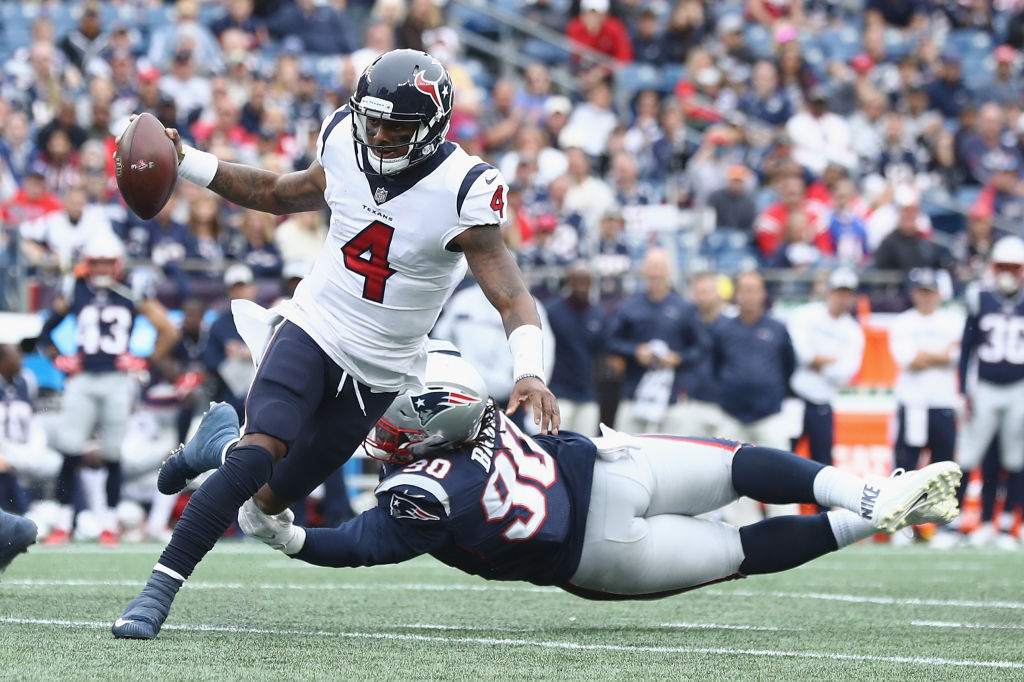 Did Deshaun Watson Send a Trade Signal to the Patriots?
Deshaun Watson sent an interesting Tweet on Monday that may have shown an interest in joining the Patriots. Can New England make it happen?
The Deshaun Watson era in Houston may already be coming to an end. The electric dual-threat quarterback just watched Bill O'Brien trade the NFL's best receiver for a laughable return. Let's just say that didn't sit too well with Texans fans or even the national media.
Meanwhile, the New England Patriots just watched their franchise icon leave for Tampa. The possibility of a Watson-Patriots union may not just be a fantasy. In fact, Vegas already pegs him as the favorite to start for the Patriots in 2021. And if Watson's social media activity reveals anything, he could be preparing for a change of scenery.
Deshaun Watson's Twitter activity suggests interest in Patriots
Reading into an NFL player's social media activity can be a dangerous road. After all, with the coronavirus pandemic keeping everyone indoors, we all have a lot of time to scroll around on Twitter and Facebook. However, Watson quoted Drake's "Emotionless" in a tweet Monday morning, and let's just say the lyrics say an awful lot about his current state of mind.
While the initial tweet sparked widespread rumors about his desire to leave Houston, it was his follow-up to one reply that really kickstarted the possible Patriots connection. Watson liked a reply from Bleacher Report's Tyler Conway that included a photo of Bill Belichick on the phone with the following caption: "I'm just sayin' you could do better, tell me have you heard that lately?"
Now, Watson liking the tweet could mean nothing. It could also signal he's tired of O'Brien's management style and late-game coaching blunders. And that dissatisfaction, combined with his need for a massive contract extension, could open the door for the Patriots to find their Tom Brady successor.
Deshaun Watson is the favorite to be Patriots starter in 2021
It's not just the social media sphere that's making the Watson-Patriots connection. Oddsmakers are betting big on Watson playing the 2021 season in New England. In fact, he's currently the favorite to be the Patriots' starting quarterback in Week 1 of the 2021 regular season.
That may not be such a shock considering New England's current quarterback depth chart consists of an unproven Jarrett Stidham, long-time Brady backup Brian Hoyer, and the uninspiring Cody Kessler. Other interesting names on the betting line include Trevor Lawrence, the star Clemson QB. However, Lawrence should be the No. 1 overall pick in 2021 and nobody is betting on Bill Belichick to tank an entire season just to secure the top draft pick.
Watson ranking ahead of Stidham certainly raises some eyebrows. But Vegas rarely loses, and his presence atop the list raises questions about what trade talks could be brewing for the Texans' star signal-caller.
Could the Patriots trade for Deshaun Watson?
Considering O'Brien's trading track record, there's no easy way to put a price on Watson. This is a coach who just traded two first-round picks for Laremy Tunsil before working out a contract extension. He's also the same coach who traded Jadeveon Clowney for a pair of backup linebackers and a Day 2 draft pick. And he's the same coach who figured it was best to get rid of Watson's favorite target in favor of an overpaid, declining running back and some draft picks.
New England obviously must figure out a long-term solution at the quarterback spot. Stidham flashed in the preseason and has intriguing skills. He also entered the league as a fourth-round pick after a disappointing senior season at Auburn.
Watson would transform the Patriots' offense and provide Belichick and offensive coordinator Josh McDaniels with a true mobile threat. New England does have a solid arsenal of draft capital in 2020, including three third-round picks. And with Brady, Kyle Van Noy and Jamie Collins all departing on pricey free-agent contracts, the Patriots should add several premium compensatory draft picks to their 2021 war chest.
Now it remains to be seen whether the Patriots plan on developing Stidham or swinging for the fences and trading for Watson.
Only time will tell.