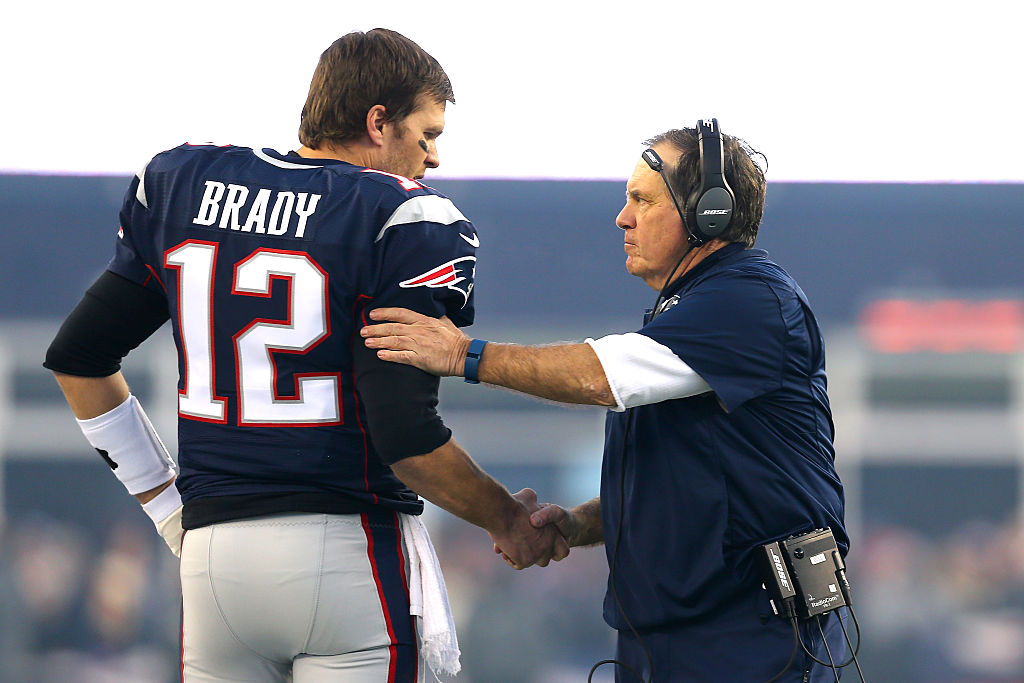 How the Patriots Can Maximize Most Compensatory Picks in NFL to Retool Aging Roster
The New England Patriots were awarded a league-high four compensatory picks in the 2020 NFL draft. Bill Belichick will have to maximize his return to help reshape one of the league's oldest rosters.
The NFL officially awarded compensatory picks for the 2020 NFL draft on Tuesday. In unsurprising fashion, the New England Patriots led the way with four extra selections.
Added ammunition couldn't come at a better time for the Patriots. With Tom Brady's future hanging in the balance and a number of key veterans also set to hit free agency, New England needs to bring on the youth movement…fast.
Bill Belichick rightfully deserves credit for sustaining organizational success for two decades. And if he plans on pursuing Don Shula's all-time wins record, he'll need to maximize his return on a league-high four comp picks.
Patriots among the league's best at collecting comp picks
If there's anyone who understands the economics of the salary cap, it's Belichick. The man simply knows how to play the game and has done so for such a sustained period.
One of the ways New England has been able to continually field a competitive team is understanding the comp pick formula. Essentially, it comes down to your net gains and losses in free agency. The NFL provided a detailed explanation of the comp pick process in its press release:
Compensatory free agents are determined by a formula based on salary, playing time and postseason honors. The
formula was developed by the NFL Management Council. Not every free agent lost or signed by a club is covered by this
formula. No club may receive more than four compensatory picks in any one year. If a club qualifies for more than four
compensatory picks after offsetting each CFA lost by each CFA gained of an equal or higher value, the four highest
remaining selections will be awarded to the club.
Under Belichick, the Patriots have been awarded 43 comp picks, which ranks just behind the Ravens (52) and tied with the Cowboys. New England's tendency to let aging, expensive veterans walk and go bargain-hunting in free agency has played a pivotal factor in their comp pick formula success.
Patriots awarded two premium comp picks for losing stars
Last offseason, Patriot Nation awaited eagerly to see what would happen with Trey Flowers and Trent Brown. Both looked to break the bank after carving out critical roles in New England. For Flowers, his rise began in 2016, when he broke out as a major factor in the Patriots' Super Bowl comeback against the Falcons. His fourth-quarter sack against Matt Ryan pushed Atlanta out of field-goal range and totally swung the momentum in New England's favor.
Flowers followed up with two more strong campaigns, and he was arguably the team's most valuable defensive player in 2018 when New England's defense completely shut down Jared Goff and the Los Angeles Rams in Super Bowl LIII. While Flowers developed into an every-down force, the Patriots predictably did not meet his asking price and he signed a record-setting five-year, $90 million deal to reunite with former defensive coordinator Matt Patricia in Detroit.
Brown arrived via trade after showcasing top-notch pass-protection skills in San Fransisco. The former Florida Gator also displayed enough red flags that the 49ers shipped him off rather than signing Brown to a contact extension. Though he played just one year in New England, Brown took advantage of Dante Scarnecchia's tutelage and locked down the left tackle spot. The 6-foot-8, 380-pound mauler became the second Patriots left tackle in as many seasons to reset the market with a four-year, $66 million contract.
Because New England let its two best linemen walk and subsequently stayed out of the premium free-agent race, the Patriots got the two third-rounders in addition to two sixth-rounders.
Extra draft selections give Belichick flexibility to add young talent
Having a lot of draft picks is great. Capitalizing on them is another. Just ask Cleveland Browns fans how that feels.
Recently, the Patriots have struggled to find success in the draft. Belichick and Nick Caserio have had ample opportunities to land core pieces, but their early-round batting average is shaky at best.
However, the four additional picks—especially the pair of third-rounders—should be extremely valuable come April. In fact, those draft selections could be utilized before the Cincinnati Bengals are on the clock.
New England desperately needs to bolster its lackluster passing attack, and the comp picks can help in multiple ways. First, they could be utilized in a trade to land an established veteran pass-catcher. Belichick could also use the picks as ammunition to trade up or maneuver around the draft board.
Without a second-round pick due to the Mohamed Sanu trade, the Patriots probably don't want such a wide gap from their first pick (23) to their own third-rounder (87). The extra comp picks allow Belichick the flexibility to trade up for a specific player or even trade back to accumulate more draft capital.
No one knows what Belichick has up his sleeve, but Tuesday's boat of bonus picks should give him the ability to bolster an aging roster.