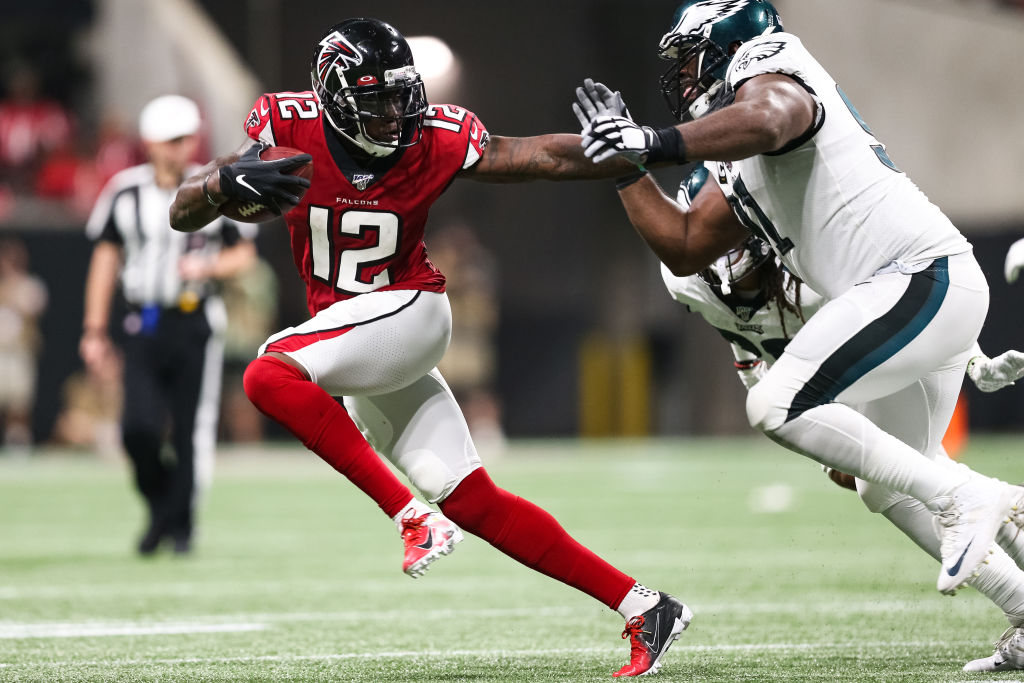 NFL: Mohamed Sanu is Exactly Who Tom Brady and the New England Patriots Needed
On the football field, Tom Brady and Bill Belichick can succeed in the most unlikely circumstances. No matter who leaves New England or who finds themselves in the starting line-up, the Patriots always find a way to keep winning. Things should get a bit easier for the offense, however, with wide receiver Mohamed Sanu joining …
On the football field, Tom Brady and Bill Belichick can succeed in the most unlikely circumstances. No matter who leaves New England or who finds themselves in the starting line-up, the Patriots always find a way to keep winning. Things should get a bit easier for the offense, however, with wide receiver Mohamed Sanu joining the team.
The Patriots consider themselves Super Bowl contenders every season, and this year won't be an exception. But is Sanu the missing piece to the New England Patriots offensive puzzle?
The Patriots injury problems
Despite the New England Patriots' undefeated record, their offense has been a patchwork unit this season. Starting center David Andrews is on injured reserve due to blood clots, along with left tackle Isaiah Wynn, and fullback James Develin. Those three players all play a crucial role in the Pats' pass protection, making things tougher for Tom Brady.
There have also been absences in the skilled positions, too. Wide receiver Julian Edelman is a constant, but, beyond him, there's no consistent option. Antonio Brown was cut, while Josh Gordon, Rex Burkhead, and Phillip Dorsett have missed time; the Patriots have also been without a consistent tight end since Rob Gronkowski retired. While the offense has still been putting up plenty of points, that's more of a testament to Tom Brady than anything else. Trotting out undrafted free agents isn't a long term recipe for success.
"He's playing with what I'm pretty sure collectively is the worst set of skill players in the NFL right now," Peter King wrote in his latest column for NBC Sports. "The men who played 50 or more snaps last week at TE, WR or RB for New England: Ryan Izzo (79), Julian Edelman (72), Jakobi Meyers (56), Gunner Olszewski (50).
Bringing in Mohamed Sanu
On Tuesday, the Patriots decided that Tom Brady simply needed more help. Despite cruising past the New York Jets on Monday night, the team traded for Atlanta Falcons receiver Mohamed Sanu.
Sanu primarily lined up as a slot receiver in Atlanta and has 33 catches for 313 yards and a touchdown this season; during his past three years with the Falcons, he's caught at least 59 passes a season. He'll provide a safe pair of hands for Tom Brady and take some of the pressure off of Edleman. His acquisition will also bump guys like Meyers and Olszewski further down the depth chart, giving them responsibilities more in line with their talent.
Are the Patriots Super Bowl favorites?
For all of the Patriots' injury struggles this season, the Patriots have cruised to a 7-0 start to the season. The addition of Mohamed Sanu can only make them better. One of Tom Brady's biggest strengths is making good decisions to keep the chains moving; he'll love the opportunity to target a reliable possession receiver like Sanu.
The Patriots also have been posting strong defensive performances this season, but they'll have some stern tests coming up. After a date with the Browns, New England will play the Ravens, Eagles, Cowboys, Texans, and Chiefs in a six-week span. Stopping those offensive units will be different than facing Sam Darnold on a rainy night in New York.
The Patriots were already favorites to win the Super Bowl, and it's impossible to argue that adding Mohamed Sanu doesn't make them a better team. It's already a bad idea to bet against Tom Brady; it will be even tougher to pick against him when he has more than one legitimate NFL receiver to target.