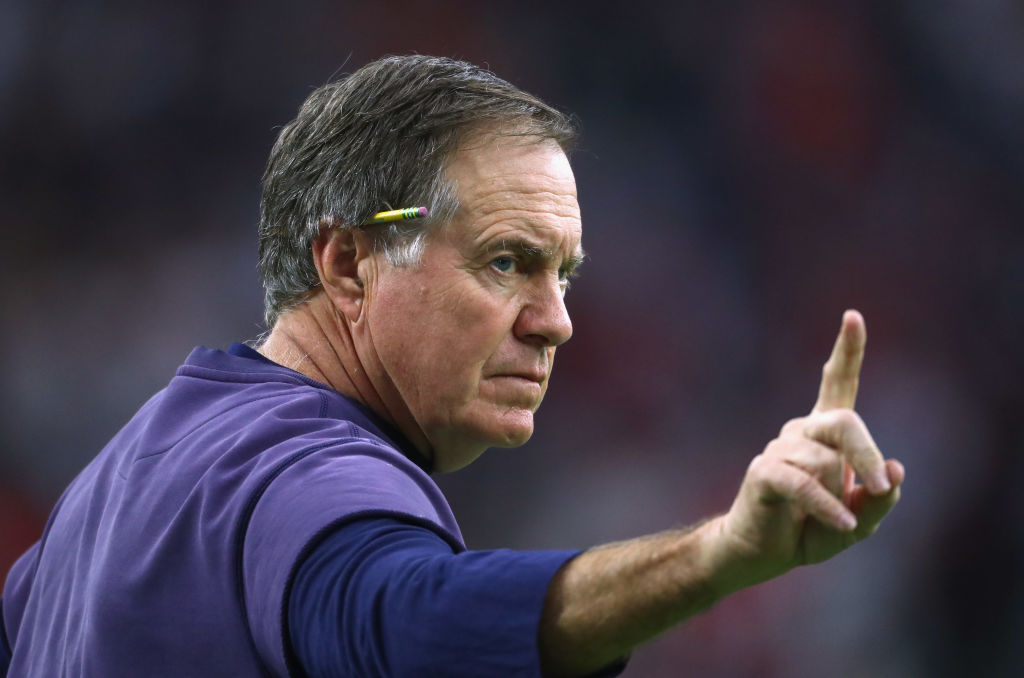 5 Free Agents the Patriots Should Target to Upgrade On Offense
The New England Patriots took a major step back on offense in 2019. Bill Belichick should look to free agency to bolster the Patriots offense.
Despite fielding a historic defense in 2019, the New England Patriots received a rare early playoff exit at the hands of the Tennessee Titans. That blame lies on an offense that took a marked step back even from a down 2018 season.
And if the Patriots dynasty has any hopes of continuing with or without Tom Brady, the offense needs serious reinforcements.
Bill Belichick garners plenty of praise for his coaching prowess, but his work as a general manager has been spotty the last four or five years. New England's shortcomings in the draft have forced Belichick to desperately attempt to rely on Josh Gordon and Antonio Brown.
Unsurprisingly, neither worked.
As free agency approaches, the Patriots obviously must deal with their quarterback conundrum. However, bolstering the offense with better weapons should also be a top priority. Here are five picture-perfect free-agent fits for the Patriots that would upgrade their offense.
Emmanuel Sanders, WR
Oh what could have been. The Patriots actually attempted to sign Sanders as a restricted free agent in 2013, but the Steelers matched their deal to retain him. Years later, the Patriots are once again in a position where they should be hot on his trail.
Sanders had been a mainstay in Denver for years before San Fransisco swooped in at the trade deadline and sent multiple draft picks to the Broncos. While he did not put up huge stats, Sanders certainly played a valuable role for the NFC champs.
Though he will be 33 this season, Sanders would still be a major upgrade in New England. He's regarded as one of the best route-runners in the NFL, and his veteran presence could be a godsend for second-year wideouts N'Keal Harry and Jakobi Meyers.
Robby Anderson, WR
New England's biggest glaring weakness is a lack of team speed. Signing Robby Anderson would fix that. The 6-foot-3, 190-pounder can flat-out fly, and his presence would provide a much-needed downfield threat.
Anderson has fallen victim to Stephon Gilmore in recent matchups, but the 26-year-old has flashed Pro Bowl potential in non-Patriots action throughout his short career. The former undrafted free agent has averaged 55 catches over the past three seasons while hauling in 18 touchdowns.
Though he does have off-field concerns, Anderson checks a lot of boxes because of his age, physical skill set and upside potential. He could be expensive to sign but he would provide more long-term value than Sanders.
Rashard Higgins, WR
If the Patriots go the cheaper route, Rashard Higgins should be a top consideration. Buried behind Odell Beckham Jr. and Jarvis Landry, Higgins barely made a blip on the radar in 2019. However, he posted 66 catches for 884 yards and six touchdowns from 2017-2018.
An adept route-runner, Higgins could be the exact type of player who shines in a different system. A change of scenery and the chance to play with Brady would represent a serious 180 for a kid who's had to endure playing in Cleveland.
Hunter Henry, TE
In a dream scenario, the Patriots would coax Rob Gronkowski out of retirement, Brady would sign a two-year deal and everything would be back to normal. Unfortunately, Gronk's playing days appear over for good and the Patriots cannot afford to go another season without a starting-caliber tight end. In Hunter Henry, the Patriots would be getting much more than that.
Although injuries have prevented him from ever playing a full season, Henry has flashed the pass-catching skills that led the Chargers to select him with the 35th overall pick in 2016. Last season, Henry played in just 12 games but set career-highs in catches (55) and receiving yards (562). Those numbers would have been better than all Patriots tight ends combined in 2019.
Austin Hooper, TE
Easily the top tight end available, Austin Hooper doesn't bring a lot of sizzle. What he does provide is a well-rounded presence as both a blocker and receiver. But at what price?
The 6-foot-4, 254-pounder entered the league out of Stanford—a school known for its ability to churn out NFL tight ends. Though he has never been the full-time starter, Hooper has developed into a reliable weapon in Atlanta. After catching 71 passes for 660 yards and four touchdowns in 2018, he set career-bests in all three categories with a final line of 75/787/6.
Combined with blocking prowess, Hooper would be the ideal free-agent fit to fix New England's hole at tight end. Of course, as the top free agent at this position, he should garner at least $10 million annually. The price may be high, but considering their hole at tight end, the Patriots should consider breaking the bank for the most complete tight end available in free agency.