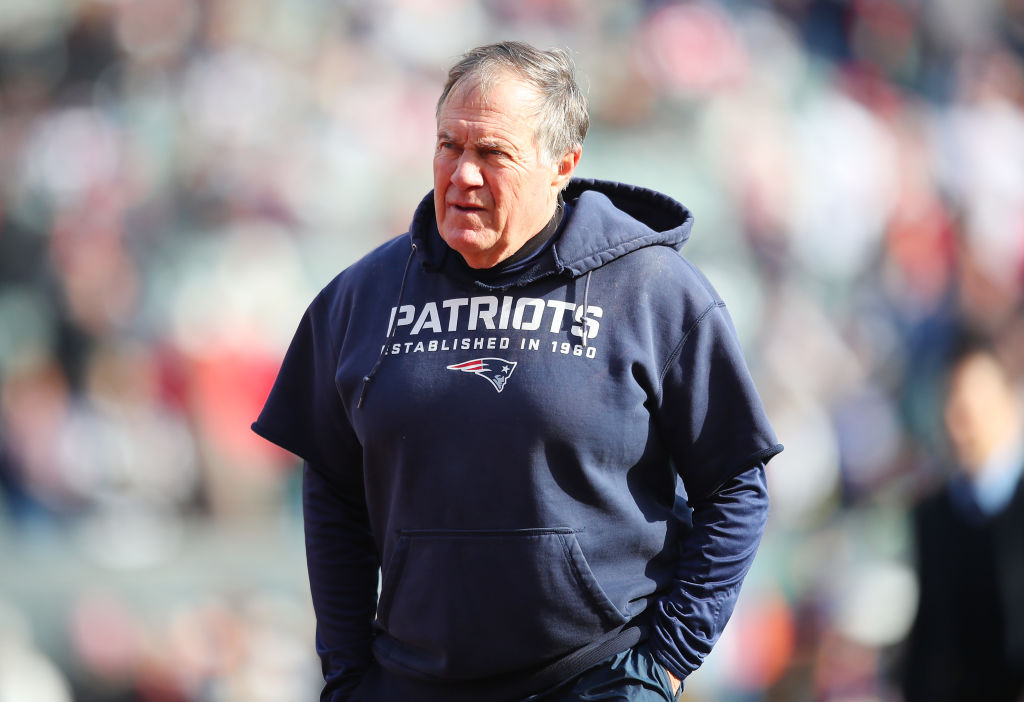 Bill Belichick Proves that Elite NFL Coaches Never Take a Day Off
It might be the NFL offseason, but a head coach's work is never done. Bill Belichick of the New England Patriots knows that reality first hand.
While it's the NFL offseason, a coach's work is never done. The regular season might be a grind, but the spring isn't much easier; there's the NFL Scouting Combine, free agency, and college pro days clogging the schedule. After that, you have the draft itself, OTAs, and preparation for the next season. After two decades as a head coach, Bill Belichick has experienced that reality firsthand.
Although he's arguably the greatest coach in NFL history, Belichick is still grinding out the hard miles. Ahead of the Scouting Combine, he proved that a head coach's work is never done.
Bill Belichick's Hall of Fame coaching career
Growing up, Bill Belichick was exposed to high-level football at an early age. His father was an assistant on the US Naval Academy football staff; his son apparently learned some tricks of the trade.
Belichick played football in college but headed to the sidelines soon after. In 1975, he started out as a special assistant for the Baltimore Colts. After one season, he left the club, spending time with the Detroit Lions and Denver Broncos before taking a job the New York Giants. In the Big Apple, Belichick would make a name for himself.
Belichick joined the Giants' organization as a special teams coach and defensive assistant but quickly earned a promotion. He started working with the team's linebacking corps in 1980 and, by 1985, was calling the shots as defensive coordinator. Teaming up with Lawrence Taylor, Belichick's unit helped the Giants win two Super Bowls, defeating the Denver Broncos in 1986 and upsetting the Buffalo Bills four years later.
On the back of that success with Big Blue, Belichick earned his first head coaching job with the Cleveland Browns. After five unremarkable seasons, however, he left town in 1995, taking assistant coaching roles with the Patriots and Jets. In 2000, however, he returned to New England as the head coach; the franchise ascended to the top of the NFL heap and still hasn't looked back.
A head coach's work is never done
With the NFL Scouting Combine in full swing, every NFL head coach had plenty of work to do in recent weeks. Bill Belichick, however, logged a few extra miles.
While the combine officially began on Sunday, February 23, Belichick apparently took a detour to Murfreesboro, Tennessee. On Tuesday, February 25, the coach was standing on a rainy football field watching Tyshun Render, a Middle Tennessee defensive end and linebacker who wasn't invited to the combine, work out.
Although Belichick didn't randomly drop in to sate his curiosity—the coach has a vacation home nearby and knows the school's quarterback coach—it still illustrates the work that goes into NFL success.
To me, that day was a great symbolization of why Coach Belichick has been so successful," said Middle Tennessee head coach Rick Stockstill told ESPN's Mike Reiss. "He spent a little more than three hours here, between working him out and watching film. Here he is on a rainy, dreary, cold day [but] this is what you have to do—you have to work. He's very meticulous, very detail-oriented."
This season could be a Bill Belichick's toughest test
No one could doubt Bill Belichick's football credentials. This season, however, could be the head coach's toughest test yet.
Despite the club's regular-season success in 2019, the 'Patriot way' started to falter. For years, Bill Belichick and Tom Brady were able to thrive despite any roster turnover; last season, that simply didn't happen. If Brady leaves in free agency, that theory will be put to an even sterner test. Was the coach or the quarterback a bigger part of New England's success?
There's no doubt that Bill Belichick will put in plenty more hard work during the offseason. When the 2020 campaign kicks off, however, we'll see if the effort was worth it.