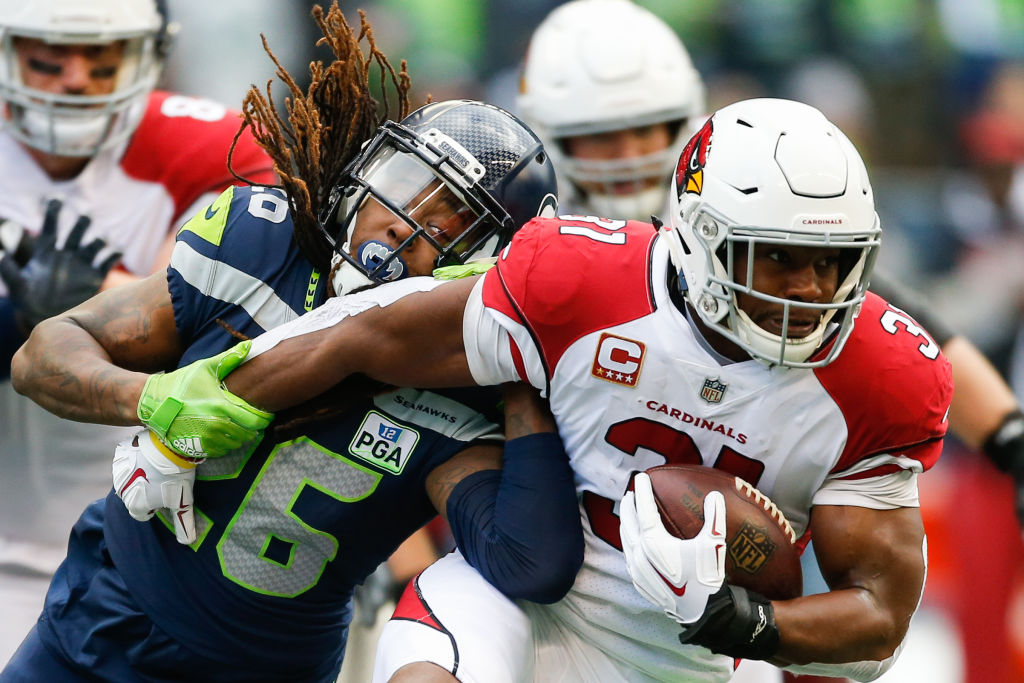 David Johnson Trade Proves Paying Running Backs is a Bad Investment
The Cardinals traded David Johnson to the Texans for DeAndre Hopkins. By moving on from Johnson, Arizona showed why running backs aren't worth the money.
David Johnson once looked like one of the best running backs in the NFL. The Arizona Cardinals even paid him like one.
But after watching their franchise running back decline severely since signing a lucrative contract extension, the Cardinals had enough. On Monday, they somehow managed to free themselves of Johnson's bloated deal and acquire superstar wide receiver DeAndre Hopkins in the process.
However, the entire transaction only reinforces a commonly held belief: Don't pay running backs.
David Johnson experienced early success in Arizona
The Cardinals selected Johnson with the 86th overall pick in the 2015 NFL draft out of Northern Iowa. Despite his small-school status, Johnson rated highly ahead of the draft due to his three-down ability and rare combination of size and speed. The 6-foot-1, 224-pounder displayed excellent explosion at the combine, recording a 4.50 40-yard dash and an insane 41-inch vertical jump.
As a rookie, Johnson showed flashes as a part-time starter alongside veteran Chris Johnson. In 16 games (five starts), the third-rounder ran for 581 yards and eight touchdowns. More impressively, he recorded 36 catches for 457 yards and four more scores.
Johnson enjoyed his breakout (and best) campaign in 2016. Head coach Bruce Arians unleashed the second-year back and he did not disappoint. The do-it-all weapon led the NFL with 2,118 scrimmage yards on a league-high 373 touches. He totaled 20 touchdowns and earned first-team All-Pro honors.
Cardinals signed David Johnson to a $39 million extension in 2018
Despite missing nearly the entire 2017 season with a wrist injury, the Cardinals still decided to lock up Johnson on a three-year, $39 million deal. The contract reflected his status as one of the league's best all-around backs. Unfortunately for Cardinals fans, they had already seen the best of Johnson.
Finally healthy, Johnson started all 16 games in 2018. Yet despite tallying 258 carries, he fell 60 yards short of the 1,000-yard mark. His pass-catching numbers were nearly cut in half from his 2016 season.
It didn't get better last year, either. Even with exciting young quarterback Kyler Murray taking over, Johnson looked sluggish and uninspired. He started just nine games and actually had more receiving yards (370) than rushing yards (345).
Cardinals unload Johnson's contract in exchange for DeAndre Hopkins
As a possible cut candidate, Johnson's future in Arizona seemed all but sealed heading into this offseason. After all, his 2,101 total yards from 2018-2019 were actually 17 less than his entire 2016 season. And with a $10.2 million salary for 2020, Johnson no longer represented a good value.
By trading Johnson on Monday, the Cardinals rid themselves of a declining asset and added a premier playmaker in the process. The addition of Hopkins to a wide receiver group that already includes Larry Fitzgerald and Christian Kirk should make Arizona a fun fantasy team to watch in 2020.
Moreover, the Johnson trade proves that running backs are a terrible big-money investment. Ironically, Todd Gurley's name came up as a possible trade candidate on Monday, and Rams fans are all-too familiar with his expensive extension.
The Falcons finally moved on from their own expensive mishap by cutting Devonta Freeman. The Cowboys are stuck in a dicey cap situation having already paid Ezekiel Elliot—a move that will likely prevent them from re-signing Amari Cooper. Throw in Le'Veon Bell and his massive payday and it's easy to see why paying running backs often comes back to bite teams.
Swapping Johnson for Hopkins is a steal, but it should also serve as a cautionary tale on paying running backs second contracts. Luckily for the Cardinals, Bill O'Brien runs the Texans.