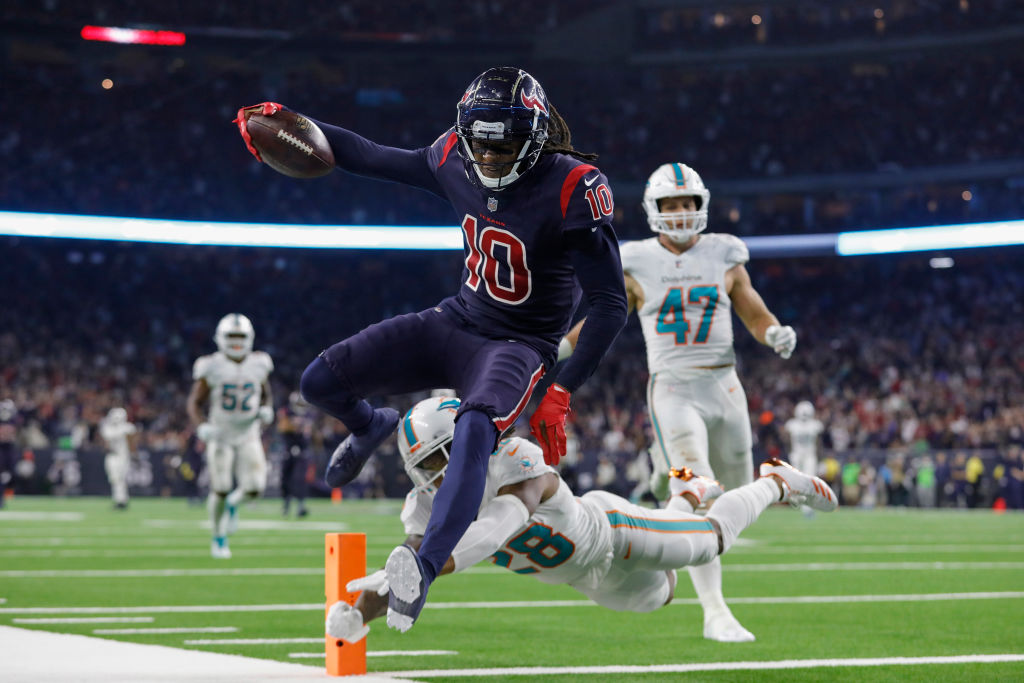 Is the DeAndre Hopkins Trade One of the Worst in NFL History?
The Houston Texans traded DeAndre Hopkins to the Arizona Cardinals on Monday. Is this one of the worst trades in NFL history?
Last year, after the New York Giants traded wide receiver Odell Beckham Jr. to the Cleveland Browns, we detailed six of the worst trades in NFL history. Well, another bad trade can now be added to that list. On Monday, the Houston Texans shocked the NFL world when they traded wide receiver DeAndre Hopkins to the Arizona Cardinals. Is this really one of the worst trades in NFL history?
DeAndre Hopkins is one of the best receivers in the NFL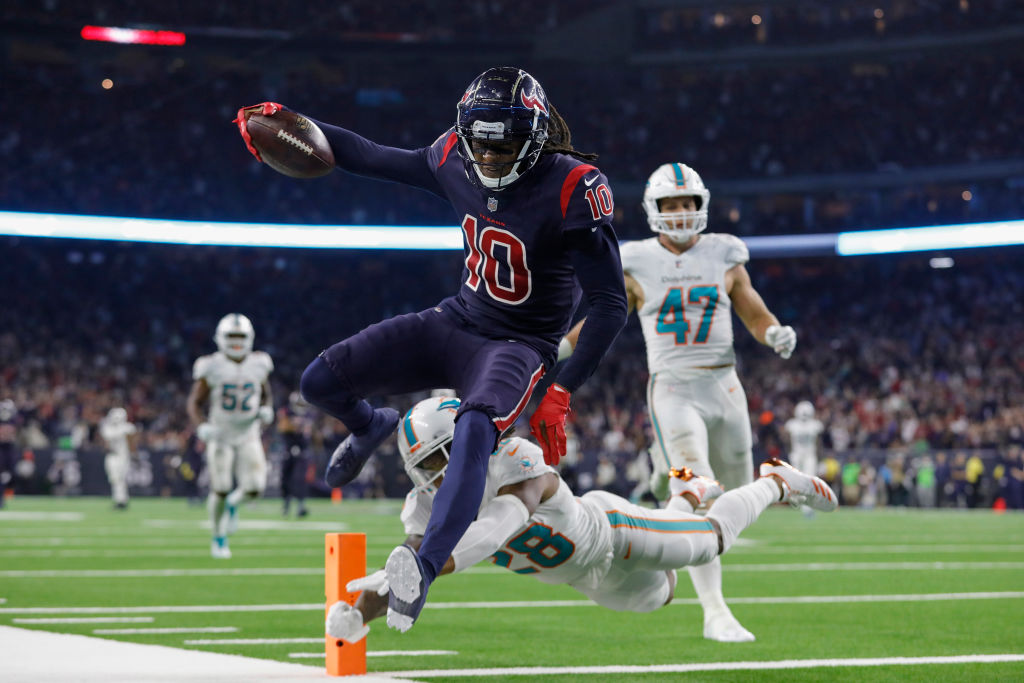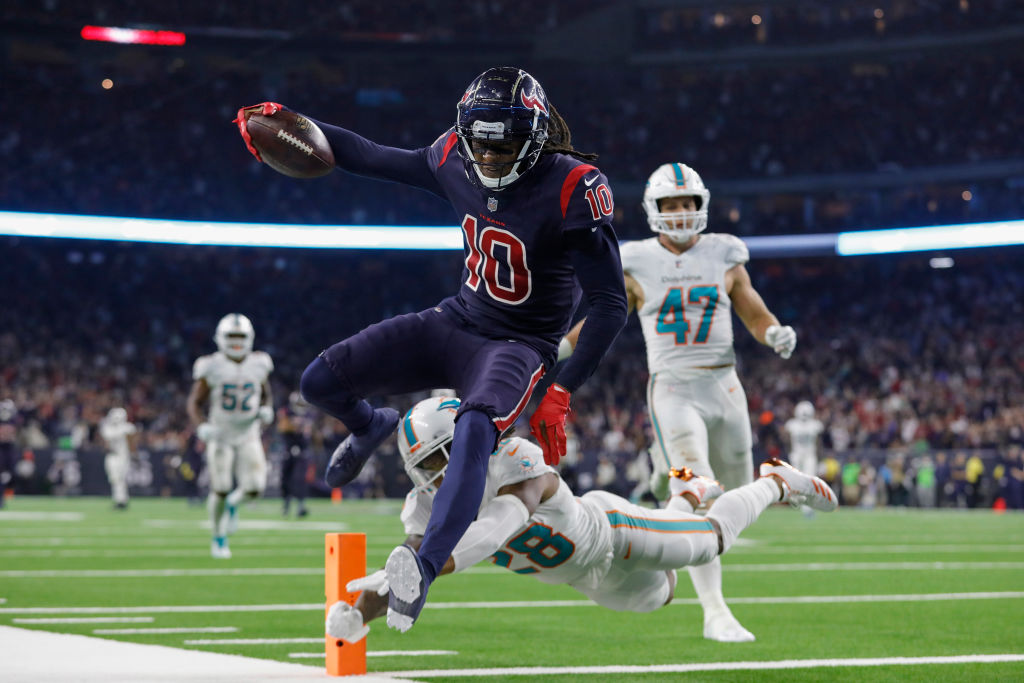 In college at Clemson, Hopkins was one of the best receivers in the entire country, especially his sophomore and junior years. After catching 52 passes for 637 yards his freshman season, Hopkins was electric the next two seasons. In his sophomore year, Hopkins caught 72 passes for 978 yards and five touchdowns. Then in his junior year, he caught 82 passes for 1,405 yards and 18 touchdowns. This led to the Houston Texans selecting Hopkins with the 27th overall pick in the 2013 NFL draft.
Since his rookie season in 2013, Hopkins has been Mr. Reliable for the Texans, starting in every game but two. Hopkins has been a Pro Bowl selection four times and he is a three-time first-team All-Pro. Hopkins has also gained over 1,000 receiving yards in all but two seasons throughout his career, one of them being his rookie year.
He did that with below-average quarterbacks most of the way too. These are all of the quarterbacks Hopkins played with from 2013 through 2016: Matt Schaub, Case Keenum, Ryan Fitzpatrick, Ryan Mallett, Brian Hoyer, T.J. Yates, Brandon Weeden, Brock Osweiler, and Tom Savage.
The Texans finally drafted a great quarterback in 2017 in Deshaun Watson. However, Watson only started six games his rookie season as he missed most of the year due to injury. Hopkins ultimately also played with Savage and Yates again that season. The past two seasons, though, Hopkins has played with Watson in every game he has played in.
Last year, Hopkins caught 104 passes, third in the NFL, for 1,165 yards and seven touchdowns. In 2018, Hopkins caught 115 passes, third in the NFL, for 1,572 yards, second in the NFL, and 11 touchdowns. He has caught 96 or more passes for 1,100 or more receiving yards each of the last three seasons. Additionally, his catch percentage in 2018 was 70.6% and last season it was 69.3%, proving he has great hands. Hopkins is easily one of the best receivers in the entire NFL.
Details of the Hopkins trade
DeAndre Hopkins being traded went from a bizarre rumor to actually happening within hours on Monday. Surely the Texans would not trade one of the best receivers in the game? Well, they did.
The Cardinals received Hopkins and a 2020 fourth-round draft pick from the Texans, according to ESPN. For Houston, they received running back David Johnson, a 2020 second-round pick, and a 2021 fourth-round pick.
Did the Texans get enough in return for one of the best receivers in the game?
Yes, this is one of the worst trades in NFL history
It is always hard to determine how trades involving draft picks will pan out. However, it is probably safe to say that it will be hard to find someone who can be as valuable as Hopkins has been. He helped carry the Texans' on offense for years when they had guys like Ryan Mallett and Brian Hoyer playing quarterback.
Additionally, getting David Johnson is not enough either. Johnson had 2,118 yards from scrimmage, 1,239 rushing yards, and 20 total touchdowns in 2016. However, in 2017 he only played in one game due to injury. Then in 2018 he only had 940 rushing yards and only 1,386 yards from scrimmage. Last season he only started in nine games, only played in 13 total, and only had 345 total rushing yards. Johnson was a great player at one point in his career, but he is not that player anymore.
So, when looking at the trade in its entirety, the Cardinals got a draft pick and one of the best receivers in the game. The Texans, on the other hand, got two question marks in those draft picks, and a washed-up running back. This is easily one of the worst trades in NFL history. I guess we need to add it to the list.