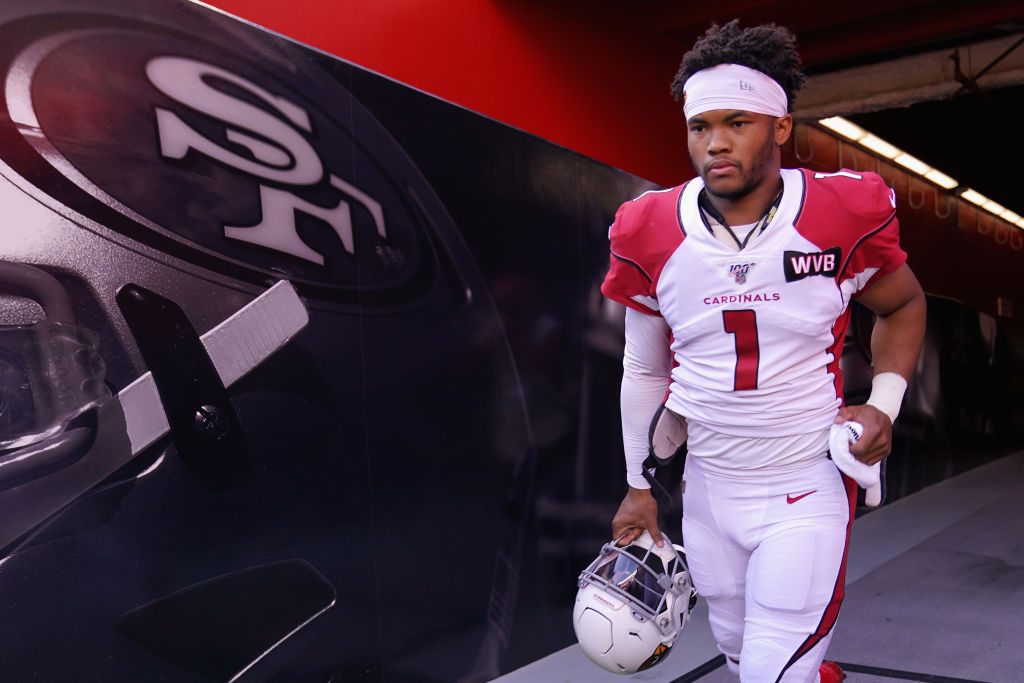 Here's Why the Arizona Cardinals Will Rule NFL Free Agency in 2020
The Arizona Cardinals found their franchise quarterback in Kyler Murray. With ample cap space, they should be the NFL's most aggressive team in free agency in 2020.
The Arizona Cardinals entered the 2019 season with a ton of uncertainty. New head coach Kliff Kingsbury had to prove his Air Raid offense could translate to the NFL. Kyler Murray had to silence critics who thought he should stick to baseball. Even general manager Steve Keim had to prove he could find core pieces in the draft.
With fresh faces at the two most pivotal positions, the Cardinals went from the league's worst team in 2018 to a respectable squad on the rise. Keim has already brought back the legendary Larry Fitzgerald for another year while also locking up left tackle D.J. Humphries to a long-term deal. As the free agency period rapidly approaches, the Cardinals should be a hot destination that offers a player-friendly coach, a young franchise quarterback and the opportunity to compete for a playoff spot in 2020.
Arizona Cardinals showed major improvement under Kliff Kingsbury
Make no mistake about it: The Cardinals were atrocious in 2018. From every statistical angle, Arizona graded out as one of the worst franchises in football, particularly on offense. But by placing their faith in Kingsbury, Arizona reaped the rewards of modern-day passing concepts.
Of course, the decision to hire Kingsbury certainly didn't come with its share of questions. After all, the former NFL quarterback left Texas Tech with an unimpressive 35-40 record, culminating with a 5-7 campaign in 2018. Though Kingsbury gained national attention for his pass-happy offense, his defenses routinely finished near the bottom of national rankings in points allowed.
The Cardinals ultimately finished last in total defense, but the unit made significant strides in the final quarter of the season thanks in large part to defensive coordinator Vance Joseph. Meanwhile, Kingsbury and Murray teamed up to take the league by storm. After finishing dead last in both points scored and total yards in 2018, the Cardinals jumped all the way to 16th and 21st, respectively.
Cardinals found franchise QB in Kyler Murray
Armed with the No. 1 overall pick, the Cardinals faced a unique decision. Just a year earlier, they spent the 10th overall pick on UCLA quarterback Josh Rosen. But after he failed to impress and with Murray finally available to Kingsbury, Arizona traded Rosen to Miami and made Murray the face of their franchise. That decision to hand the reigns to the 5-foot-10 dual-threat star looks like the best move Keim has made since taking over GM duties in 2013.
Transitioning from a pure pocket passer in Rosen to a do-it-all threat like Murray took some time. However, the wait was well worth it. The Heisman Trophy winner translated his unique skill set to the pro game and helped reinvigorate a dying offense. Murray's rare combination of deep-ball accuracy, athleticism and command helped the Cardinals finish with a 5-10-1 record. As a testament to the team's competitiveness, Arizona lost five of those games by seven points or less.
Murray took home Offensive Rookie of the Year honors after throwing for 3,722 yards and 20 touchdowns while completing 64.4 percent of his attempts. He also finished second on the team with 544 rushing yards.
Cardinals have cap space and draft capital to push for playoffs
Fitzgerald's comments after the season show just how positive the first year of the Kinsgbury-Murray era went. And his decision to come back for another year should be a message to free agents: Consider the Cardinals.
From a personnel standpoint, the Cardinals have most of the key pieces in place on offense. They are set at the two most important spots—quarterback and left tackle—and bring back an interesting mix of receivers in Fitzgerald, Christian Kirk and second-year pros Andy Isabella, Keesan Johnson and Hakeem Butler. Running back Kenyan Drake enjoyed a breakout season, but he will be an unrestricted free agent.
Arizona could look to bolster its offense with more established veterans in free agency. And this time around, there should be players interested in joining forces with one of the NFL's highest-upside offenses. Skill players should be lined up trying to find a spot in Kingsbury's spread attack.
The Cardinals have nearly $40 million in cap space—a figure that could grow much larger if they trade or cut declining running back David Johnson. That money could certainly be utilized to add a tight end like Austin Hooper, or even go towards improving the league's worst defense. They also hold the eighth overall pick in the draft and could add a premier talent to bolster their young roster.
The NFC West may be one of the NFL's most competitive divisions, but don't sleep on the Cardinals making some noise in 2020. If free agents consider all the factors at play—an open-minded head coach, a dazzling dual-threat QB and pieces in place on offense—then the Cardinals will do some serious damage when free agency opens next week.