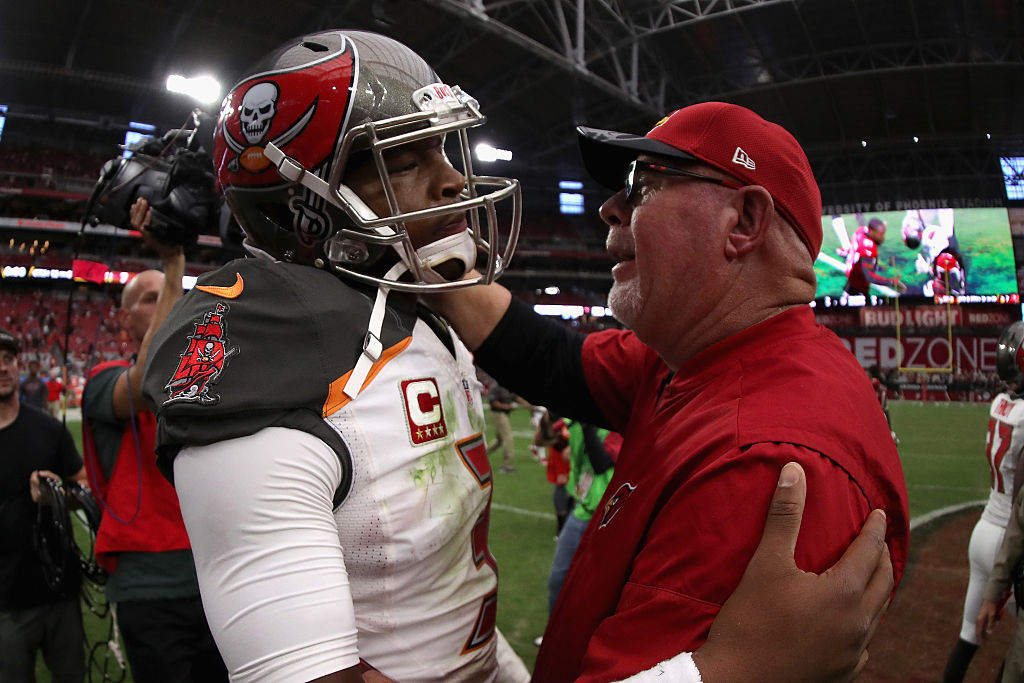 It Sure Sounds Like Buccaneers' Coach Bruce Arians Has Had Enough of Jameis Winston
The Tampa Bay Buccaneers spent the first overall pick on Jameis Winston in 2015. Five years later and many interceptions later, his future in Tampa hangs in the balance.
When it comes to Jameis Winston, you have to take the good with the bad. For every downfield strike to Mike Evans, there's a head-scratching interception into double coverage. For every perfectly placed ball to Chris Godwin, there's a turnover in crunch time.
After five years as the starter in Tampa, it appears the enigmatic former No. 1 overall pick may be looking for a new home in 2020. Bruce Arians endured one season of the Winston experiment. And it doesn't sound like the Buccaneers' head coach is eager to run it back.
Winston's turnover numbers could cost him a second contract in Tampa
Whether you are a little league coach or Bill Belichick, one motto is clear: Don't turn over the football.
Apparently Winston didn't get that memo.
Never short on arm talent, the flamboyant former Florida State standout has flashed Pro Bowl moments. But that's just it. Those moments are interspersed with frustrating interceptions and fumbles.
Despite leading the league with 5,109 yards and finishing second with 33 touchdowns, Winston also led the league with 30 interceptions. Only Brett Favre (29 picks in 2005) and Eli Manning (27 in 2013, 25 in 2010) come close to that total in this millennium.
It's not as if Winston didn't have weapons, either. Godwin exploded with 1,333 yards and nine touchdowns in a breakout campaign. Evans posted his sixth-straight 1,000-yard season despite missing three games.
Ultimately, Winston's astronomical numbers meant little as the Bucs finished the season with a 7-9 record and missed the playoffs for the 12th consecutive year.
They have just one winning season in Winston's five years in Tampa.
Bruce Arians has a long history of fixing flawed quarterbacks
Whether it was in Pittsburgh or Arizona, Arians has been able to make a dramatic impact as both a play-caller and quarterback developer.
During his five-year tenure as the Steelers' offensive coordinator, Arians helped a young Ben Roethlisberger become one of the better quarterbacks in the AFC. Pittsburgh took home the title in 2008, which just happened to be Arians' first year as OC.
In Arizona, the results were even more impressive. An aging Carson Palmer completely changed the narrative of his career once he got paired with Arians.
While injuries limited his longevity, Palmer put together the best year of his career in 2014 in Arians' downfield passing attack. The former No. 1 overall pick turned heads with 35 touchdowns and a 104.6 quarterback rating.
As similarly built, big-armed quarterbacks, both Big Ben and Palmer achieved significant success working with Arians. Unfortunately, Winston's eye-popping fantasy numbers didn't exactly impress his first-year coach.
"I loved him and I hated him," Arians said. "More love, I mean, you throw for 30-something touchdowns and 5,100 yards, there's a lot to love. The mistakes sometimes, you scratch your head.
Recent comments suggest Arians could be looking in another direction
Even the most ardent Winston supporters can't ignore his turnover conundrum.
Arians recently stated on SiriusXM NFL Radio that 10 of his quarterback's 30 interceptions weren't his fault.
That's kind, Bruce.
Even if that were true, 20 picks is still far too many for a player who the Bucs deemed as the best available in the 2015 NFL draft. Arians may be trying to take some heat off his quarterback from the media, but that doesn't excuse the fact that he simply has not been able to get rid of his bad habit for forcing balls into coverage and misreading defenses.
Can Arians and the Buccaneers convince themselves that Winston is worth bringing back on a long-term extension that could come in at $30 million per season?
I guess $1 million per interception is the going rate these days.