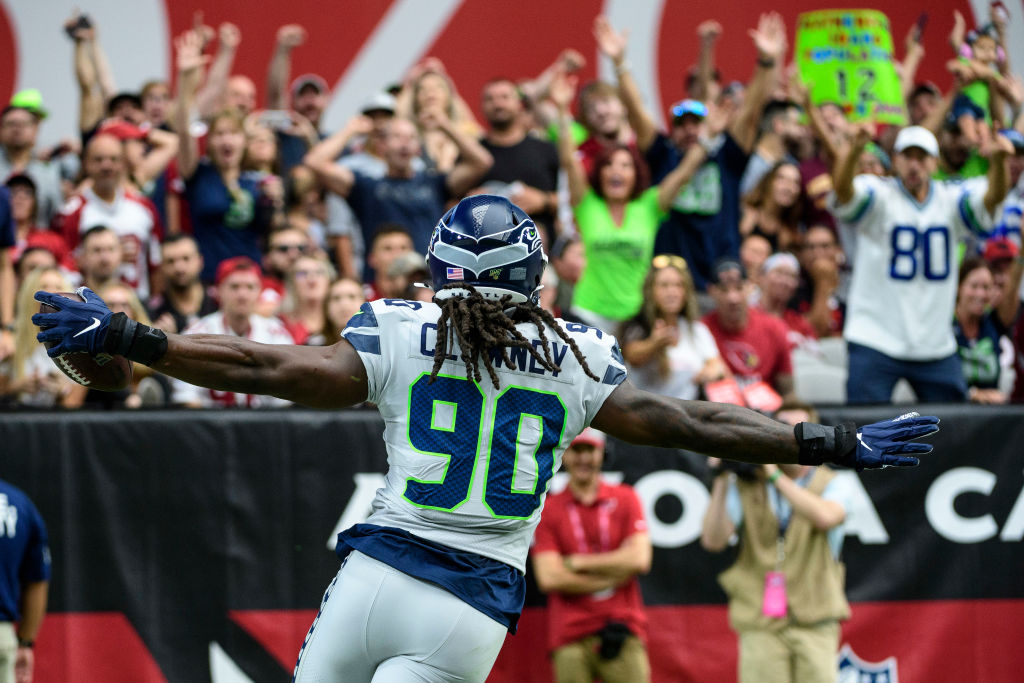 Why Jadeveon Clowney Is Not Worth a $100 Million Contract
The Seattle Seahawks traded for Jadeveon Clowney to fix their pass-rush problems. But is the former No. 1 overall pick worth keeping around?
Jadeveon Clowney supposed to be a can't-miss prospect. Some pegged him as a future Hall of Famer. He even garnered comparisons to Lawrence Taylor and Reggie White. Yet, six years into his NFL career, Clowney has not lived up to the pre-draft hype. He has missed significant time with injuries. He has yet to deliver a double-digit sack season. And he has made just one All-Pro team.
But as NFL free agency gets underway, Clowney might just be the most prominent name on the market not named Tom Brady. Whether he stays in Seattle or leaves for greener pastures, Clowney could command a contract north of $100 million. And unless he makes a significant leap in the seventh year of his career, that money will prove to be a poor investment.
Jadeveon Clowney was viewed as a generational prospect
A true generational talent should transcend scheme or situation. Early in his high school and collegiate career, Clowney certainly lived up to that billing. The former five-star recruit was an instant star at South Carolina, racking up 21 sacks in his first two years on campus. However, his numbers dropped across the board as a junior before he entered his name in the NFL draft.
Despite a lackluster junior campaign, Clowney still went No. 1 overall to the Houston Texans. His rookie season ended with microfracture surgery on his knee after just two starts and zero sacks. Clowney's numbers did steadily improve as he grew more comfortable in Houston's 3-4 scheme, but he didn't exactly light the world on fire.
Though he did develop into one of the top run-stopping outside linebackers, his pass-rush skills didn't translate to the NFL quite as smoothly. The former All-American managed just 29 sacks in 62 games with the Texans. Of course, sacks aren't the only way to quantify a pass-rusher's succcess, but in retrospect, the Texans would have done better to take Khalil Mack (61.5 career sacks) with the first pick.
Seahawks traded for Jadeveon Clowney to fix pass rush
Houston used the franchise tag on Clowney last summer but ultimately traded him away for cents on the dollar. Seattle Seahawks general manager John Schneider managed to wrestle away the former top draft pick for a pair of backup linebackers and a 2020 third-round pick. It seemed like a bargain for Seattle, who desperately needed to upgrade its pass rush.
Clowney played in 13 games for the Seahawks and totaled just 3.5 sacks and 13 quarterback hits. In his four healthy seasons in Houston, he averaged about seven sacks and 17 QB hits. He also missed time with a core muscle injury.
Seattle finished just 22nd in points allowed—its worst mark since the first year of the Pete Carroll era. Only the Miami Dolphins had fewer sacks than Seattle's total of 28. Considering they paid Clowney just $8 million for the season, the Seahawks probably weren't too disappointed. But with that number potentially more than doubling, they might feel differently at the negotiating table.
Should the Seahawks let Jadeveon Clowney walk in free agency?
Expected to command an average salary of more than $20 million, Clowney is going to become a rich man this offseason. With his draft pedigree, tangible physical skills and decent production, some team will hand him a record-setting deal.
But if the Seahawks are smart, they won't break the bank for one of the NFL's most overrated defensive players. Just five edge defenders have nine-figure contracts. That group includes: Mack ($141 million), Von Miller ($114 million), DeMarcus Lawrence ($105 million), Frank Clark ($104 million) and J.J. Watt ($100 million).
Mack and Miller are considered the gold standard for pass-rushing outside linebackers. Both have earned three first-team All-Pro selections. Miller has recorded double-digit sacks in seven of his nine seasons, with Mack hitting that mark in four of his six seasons. More importantly, the NFL's two highest-paid edge rushers have stayed healthy throughout their lucrative extensions. Mack has missed just two games in his career, and Miller just missed just one since signing his new deal in 2016.
Clowney, on the other hand, has missed extensive time with injuries dating back to his rookie year. He's played all 16 games just once (2017) and has never posted the same level of production as his peers. Simply put, Clowney's been more name than game to this point.
Paying Clowney starting quarterback money for his level of production and availability will be a franchise-altering decision for some team to make. Seahawks fans should just hope it isn't Schneider handing him that $100 million deal.