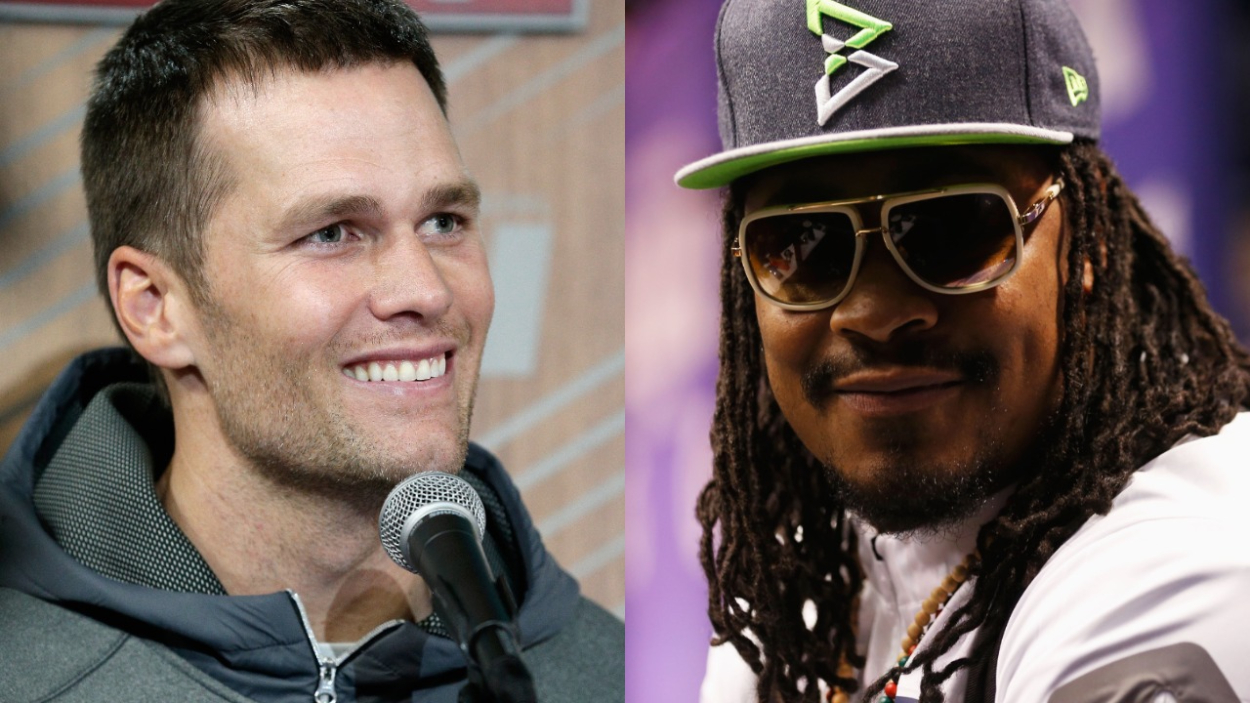 Tom Brady Admits to Admiring Marshawn Lynch's Infamous Media Move: 'I'll Do It Before I Retire'
Marshawn Lynch pulled one of the most infamous moves in NFL history several years ago when he decided to just say, "I'm here so I won't get fined." NFL GOAT Tom Brady, though, was actually a pretty big fan of it, and admitted that he wants to do it one day before he retires.
Many unforgettable sports moments occur while teams are on the field or court, competing in meaningful games. However, some iconic memories take place outside the lines, and that was the case with Marshawn Lynch's "I'm here so I won't get fined" press conference.
Fans will remember Lynch's famous (or infamous based on who you're asking) interview forever, and so will some of his fellow players. In fact, he actually inspired the NFL GOAT, who wants to eventually do the same thing one day: Tom Brady.
Marshawn Lynch had an iconic Super Bowl press conference
Ahead of Super Bowl 49 between the Seattle Seahawks and New England Patriots, the NFL threatened Lynch, the then-Seahawks running back, with a $500,000 fine if he didn't participate in his media obligations on Super Bowl media day.
According to ESPN, Lynch had been fined $50,000 for violating the NFL media policy in November of that 2014 season.
So, to fulfill his obligations, Lynch hung out at the podium for 4 minutes and 51 seconds on Super Bowl media day, which was more than an hour under the time his teammates and coaches spent with the media. He ultimately set a timer on his phone and didn't answer any questions, but, instead, just said, "I'm here so I won't get fined."
Once his timer reached 4:51, Lynch — who also caught a bag of Skittles during the interview — said "time" and walked away.
Brady was on the other side of that Super Bowl that Lynch and the Seahawks played in, and his team ultimately won 28-24. But Brady was actually inspired by his opponent's actions.
Tom Brady admired his fellow NFL star's press conference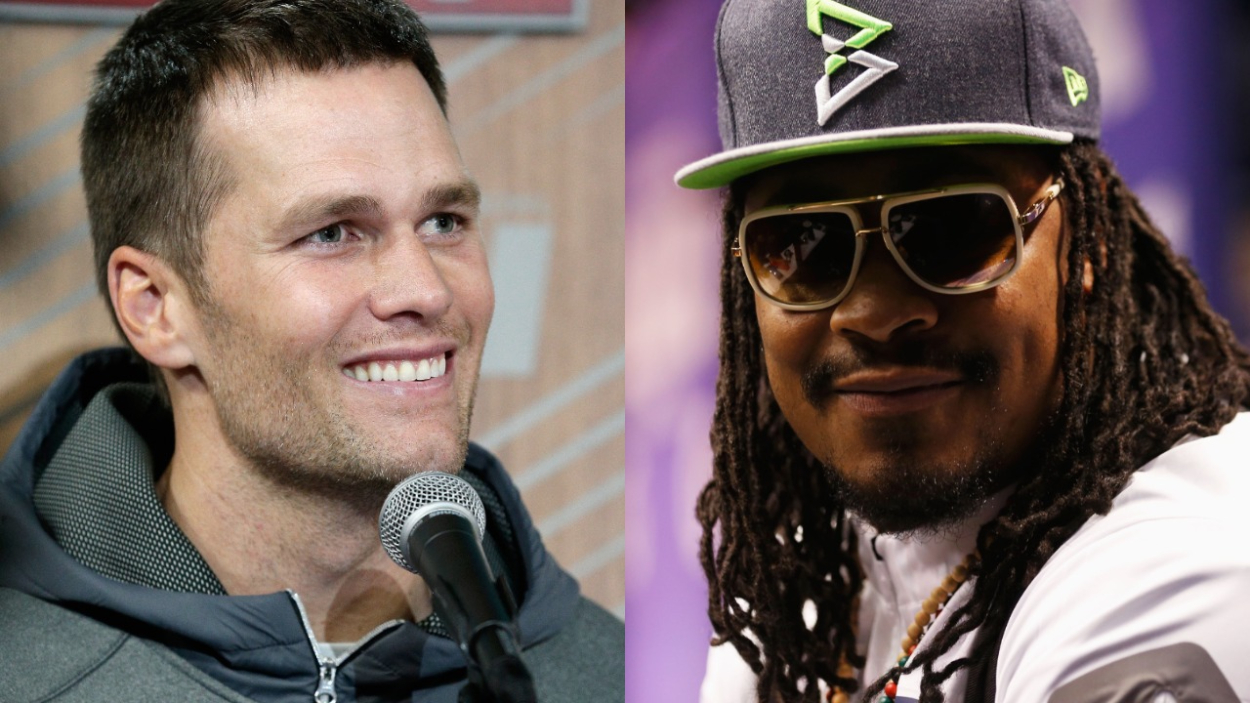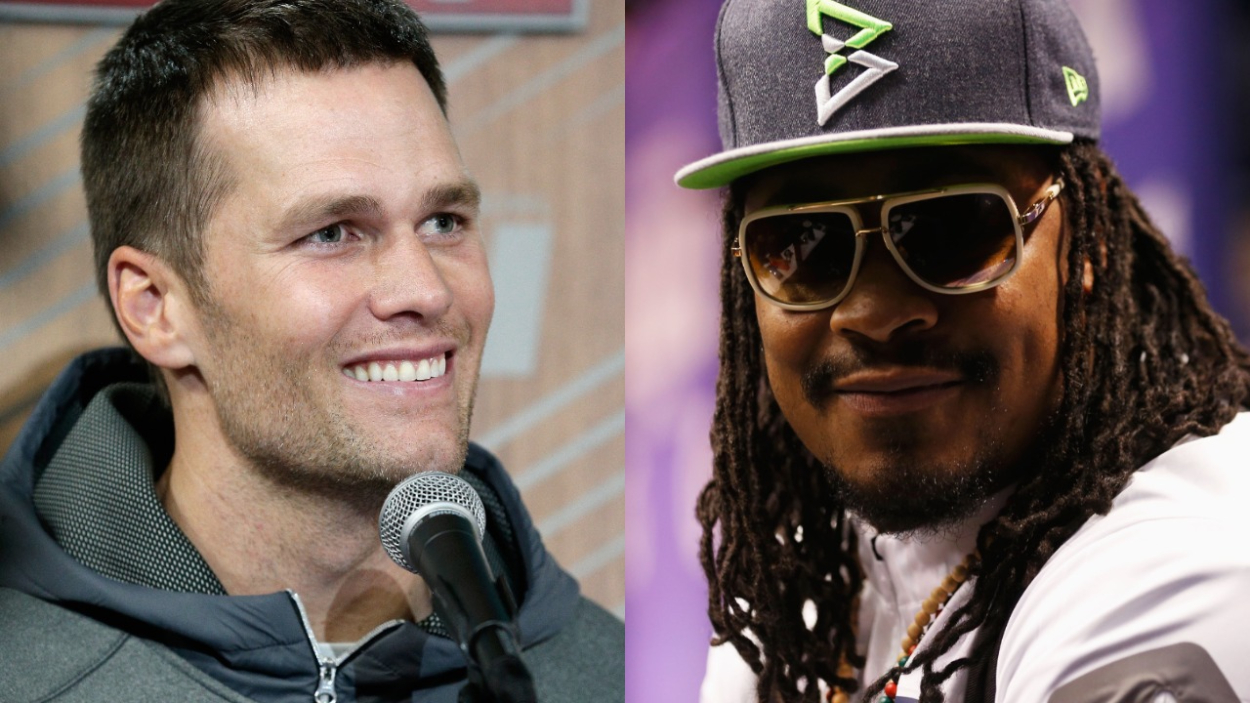 Brady recently appeared on the hit HBO series The Shop, and he was a part of a much bigger, more serious discussion regarding athletes and their relationship with the media, specifically tennis star Naomi Osaka.
Osaka announced last month that she would not participate in her mandatory French Open press conferences, as she said she felt that people had no regard for the mental health of athletes, per Bleacher Report.
The French Open then fined Osaka $15,000 for skipping her media obligations after a first-round win, which led to her withdrawing from the tournament and announcing that she was taking time away from tennis.
While discussing the topic of the media, Brady praised Lynch's less-serious way of dealing with his press requirements.
"That was the most beautiful thing," Brady said "'I'm just here so I don't get fined.' He put no mental energy into any question, and he didn't get fined for that. It was a very hard thing to do, and there's so many times I'm like, 'Oh, I wish I could just go, I'm just here so [I won't get fined].' I've said that 50 times and never done it; one day, I'll do it before I retire."
Lynch's 2015 press conference was certainly entertaining and even inspiring in some cases. But it also brought up a larger discussion about the media's relationship with athletes.
Tom Brady feels for Naomi Osaka
While Lynch's strategy ended up being rather humorous, Brady understands the more serious challenges the 23-year-old Osaka faces. Given that he has been a star athlete for over two decades, he is familiar with the struggles that come with fame.
"You feel for the 22-year-olds … there's a lot of things happening in their life, we all go through things," he said. "I went through a lot of things in my late teens, early 20s. I didn't know how to deal with a lot of the things that were coming because there was no training guide for how to deal with what was happening in my life."
He continued: "Now, as someone who's twice her age, you have compassion and empathy for that, and then you hope that she can deal with that because you wouldn't want that to take away from, if her true joy is actually playing tennis, you don't want something like that taking away from what her joy should be."
The media serves a purpose in pro sports. Journalists are there to hold athletes and others accountable for their actions on and off the field or court, and to report the news to fans. However, everyone must also remember that all athletes are humans, too, including Osaka, Lynch, and Brady, three icons who seem larger than life.
Like Sportscasting on Facebook. Follow us on Twitter @sportscasting19.