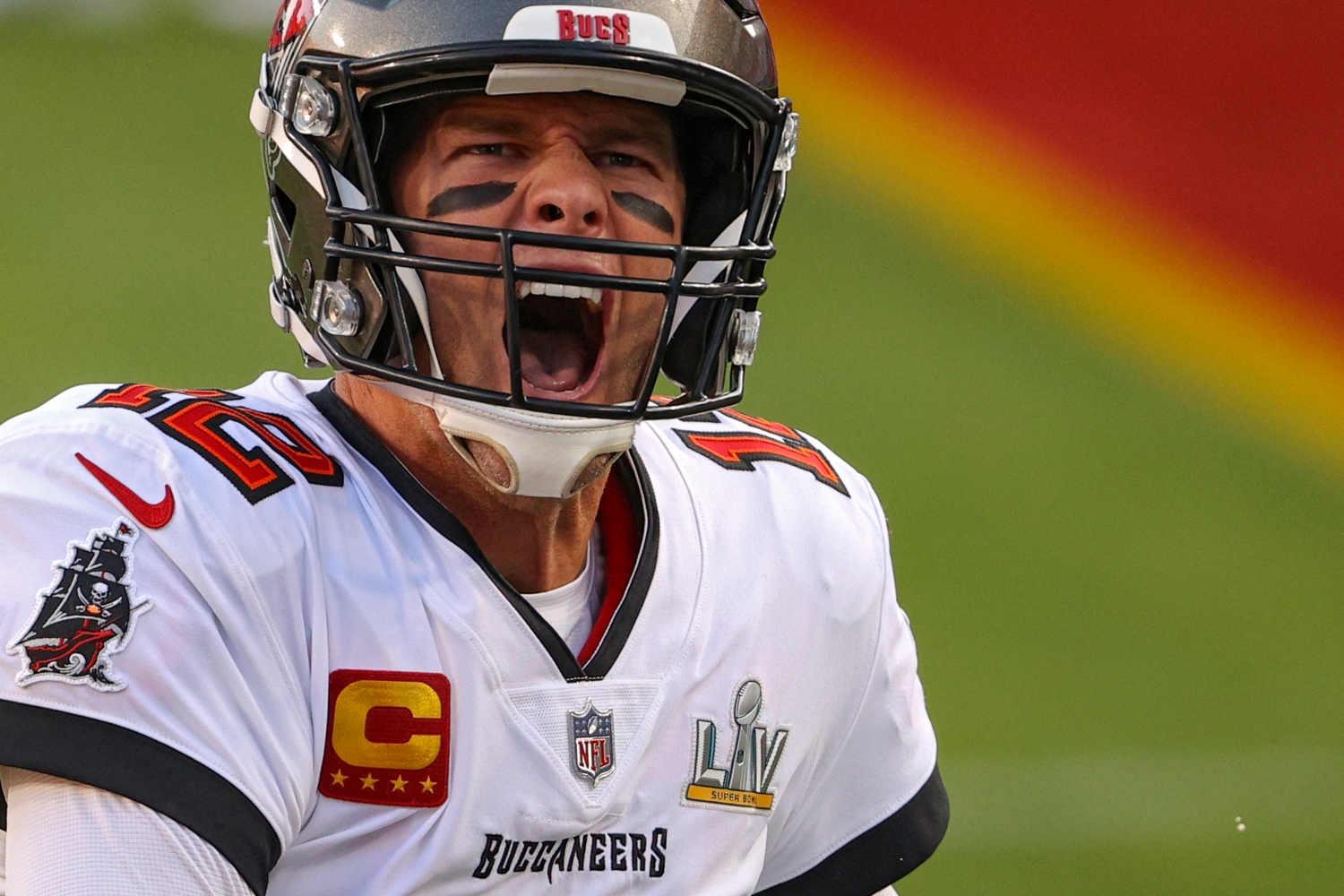 Tom Brady Openly Admits to Lying in Profanity-Laced, Eyebrow-Raising Appearance on HBO's 'The Shop'
Don't believe everything Tom Brady says about his opponents. At least, that's the takeaway fans should have after watching his profanity-laced confession on HBO's "The Shop."
Tom Brady wants people to believe avocado ice cream and resistance bands make a difference. Whether he's telling the truth about the power of pliability or the magic of a nightshade-free diet, though, fans can feel safe about Brady's level of honesty about one subject: lying.
During his profanity-laced appearance on HBO's The Shop, the legendary quarterback spoke candidly about a number of topics, including the difference between what he says and what he actually thinks about some of his opponents. And by admitting to lying with such ease, it's clear Brady no longer plays for the New England Patriots.
By taking his talents to the Tampa Bay Buccaneers, the seven-time Super Bowl champion freed himself from the strict culture established by Bill Belichick, and he now seems more relatable than ever before.
Tom Brady got quite talkative on 'The Shop'
Brady appeared on Friday's episode of The Shop alongside Golden State Warriors star Draymond Green, comedian Chelsea Handler, businessmen Maverick Carter and Paul Rivera, and Grammy Award-winning recording artist Kid Cudi. And the GOAT did not hold back one bit during what amounted to a highly entertaining and NSFW discussion about various subjects related to his NFL career.
In particular, Brady raised eyebrows by firing some veiled shots at an unnamed team for how it handled the opportunity to make an unparalleled upgrade at quarterback.
"There was a story in free agency. One of the teams, they were interested, and then all of a sudden they weren't interested at the very end. I was sitting there thinking, 'You're sticking with that motherf—–? Are you serious?!" Brady explained. "
He followed up by revealing how getting slighted made him felt. Let's just say the unidentified team should feel worried about having to face the Buccaneers and their seemingly ageless quarterback.
"When I look back I'm like, 'There's no f—— way I would've went to that team. But they said they didn't want me! And I know what that means. I know what that feels like. And I'm gonna go f— you up because of that,'" Brady said.
Brady openly admits to lying in NSFW appearance
As if Brady's profanity-laced tongue-lashing of one unfortunate NFL franchise didn't generate enough attention, his open admission about lying certainly did. During a discussion with Green about staying politically correct, the future Hall of Famer told the truth about his personal public relations approach.
"What I say vs. what I think are two totally different things," Brady revealed. "I would say 90% of what I say is probably not what I'm thinking. Which is challenging, you know? And I really admire people that actually can do that, and say what they think, because they invite a lot of other things into their life. And I think there's part of me that doesn't like conflict. So in the end I just always try to play it super flat."
Given the need to maintain a clean public image, it makes sense for one of the world's most well-known athletes to take that PR route. Lying in front of the cameras to keep potential problems at bay seems like a necessary part of the job. But for Brady, his football-related PR strategy serves a different purpose.
"From a strategic standpoint, I never want to give away like what we're doing, you know what I'm saying? Like, I usually say the opposite," he explained. "Like if they've got a s—– corner, I'll be like, 'That guy's unbelievable! I don't know how they even complete balls over there!' In my mind, I'm going like, 'I'm going at that motherf—– all day!' You know? Because I don't want to give them any [strategic plans]."
Leaving New England has unlocked a completely different side of the legendary quarterback
Although Brady said he doesn't believe he has the freedom to say what's on his mind, he sure seems different than the buttoned-up version of TB12 that had to exist in New England. During his days with the Patriots, Brady had to put his own brand and personal feelings on the backburner for Belichick and his team-first, business-only mentality. That obviously paid off in terms of Super Bowl rings and career earnings, but it's refreshing to see a different side of Brady now that he no longer calls Foxborough home.
His general demeanor, dedication to the game, and excitement level about playing football took a sizable leap once he joined forces with Bruce Arians and the Buccaneers. Brady has gotten back to attending all offseason practices, and he seems more motivated than ever to prove he still has what it takes to win titles.
Considering he spent two decades dealing with Belichick, he deserves to have fun, let loose, and enjoy the final few years of what's been a thoroughly brilliant career.
If he wants to toss the Lombardi Trophy, let him.
If he needs help getting off the victory parade boat because he had too much avocado tequila, the Buccaneers have plenty of offensive linemen who can take care of their beloved quarterback.
And if he wants to drop f-bombs while calling out the team that foolishly elected not to sign him, nobody should have a problem with it, either.
Given his contributions to the game, Tom Brady's definitely earned the right to speak his mind about anything NFL-related.