The Patriot Way Has Officially Rubbed Off on Bill Belichick's Biggest Offseason Gamble
Bill Belichick took a major risk by placing his faith in Trent Brown. But based on the offensive lineman's offseason plans, it seems like the Patriot Way is still running strong in New England.
Once Tom Brady officially moved on from the New England Patriots, it looked like the Patriot Way had little chance of surviving. Yet, despite losing the legendary quarterback and locker room leader, Bill Belichick doesn't seem to have a team culture problem at all.
In fact, his riskiest offseason addition has already proven that some of the key principles that helped propel the Patriots to six Super Bowl titles from 2001-19 remain alive and well. And if Trent Brown rediscovers his prime form in his second stint in New England, Belichick might even the score with Brady by adding another Super Bowl ring to his own impressive collection.
Bill Belichick made a few risky moves this offseason
While the Patriots definitely improved their overall talent level this spring, it remains to be seen if Belichick signed the right cast of players to compete for a championship. After all, most of the team's offseason additions come with question marks.
Will outside linebacker Matthew Judon provide enough pass-rush production to justify his four-year, $56 million contract? He never totaled double-digit sacks in any of his five seasons with the Baltimore Ravens, so it's fair to wonder whether the Patriots overpaid for a player who may have been the product of a well-designed defensive system.
Belichick also paid a steep price to upgrade the passing game. However, the Patriots didn't sign a true No. 1 receiver. Instead, they took a huge risk by giving Nelson Agholor $16 million guaranteed on his two-year, $22 million deal. Between his struggles with the Philadelphia Eagles and his resurgent season with the Las Vegas Raiders, he carries a ton of boom-or-bust potential. Plus, tight ends Hunter Henry and Jonnu Smith have to quiet concerns about their solid but unspectacular production and durability issues. Signed to deals averaging $12.5 million per season, they face enormous expectations to fill the void left behind by Rob Gronkowski.
Ultimately, though, Belichick's biggest offseason gamble was taking another leap of faith on Brown. Though the Patriots acquired him on the cheap (they sent a 2022 fifth-round pick to the Raiders for Brown and a 2022 seventh-rounder), the 28-year-old tackle will count $7.6 million against the 2021 salary cap. Considering he's only played 16 games the last two seasons, Brown doesn't seem like a strong bet to stay healthy. Plus, he doesn't have a strong track record of reliability outside of his lone season with the Patriots back in 2018. But based on New England's current depth chart, Belichick sure seems to have faith that his former left tackle will get back to dominating defensive linemen and linebackers without any trouble.
Trent Brown is back to following the Patriot Way
Belichick reaped the rewards of betting on Brown in 2018. Thanks in large part to the 6-foot-8, 380-pound tackle's consistent play, the Patriots ran the ball with authority down the stretch. And by season's end, Belichick and Brown got to call themselves Super Bowl champions.
The partnership worked out well largely because Brown committed himself fully to the Patriot Way. He earned the respect of legendary offensive line coach Dante Scarnecchia, who helped unlock the best out of a player who possesses Pro Bowl-caliber traits. Unfortunately for Brown, his success did not continue once he left New England for Las Vegas. So at this point, he remains a rather big question mark.
But if Belichick's biggest offseason gamble sticks to his plan, it looks like the Patriots will have the best version of Brown again. During his most recent press conference, the veteran said he will spend the next six weeks in Foxborough working with the team's strength and conditioning and athletic training staff. Brown said he followed the same protocol in 2018, which coincidentally (or not) led to the best season of his NFL career.
By choosing to commit to his craft instead of going on vacation or returning home, it's clear Brown has bought into the Patriot Way for a second time. He faced criticism for his work ethic in San Francisco and Las Vegas, but that hasn't happened in New England. With his football future on the line, Brown is doing the best thing for himself and the team by staying in the area. He can get in the best possible shape, work on any areas of weakness, and prepare himself for a major role this season. That will put him in a position to succeed, which will make New England's offensive line even better. And in the grand scheme of things, Brown sacrificing his summer shows how much Belichick's beliefs of putting the team first and doing what's necessary to excel at your job still hold true.
The Patriots need Brown just as much as he needs them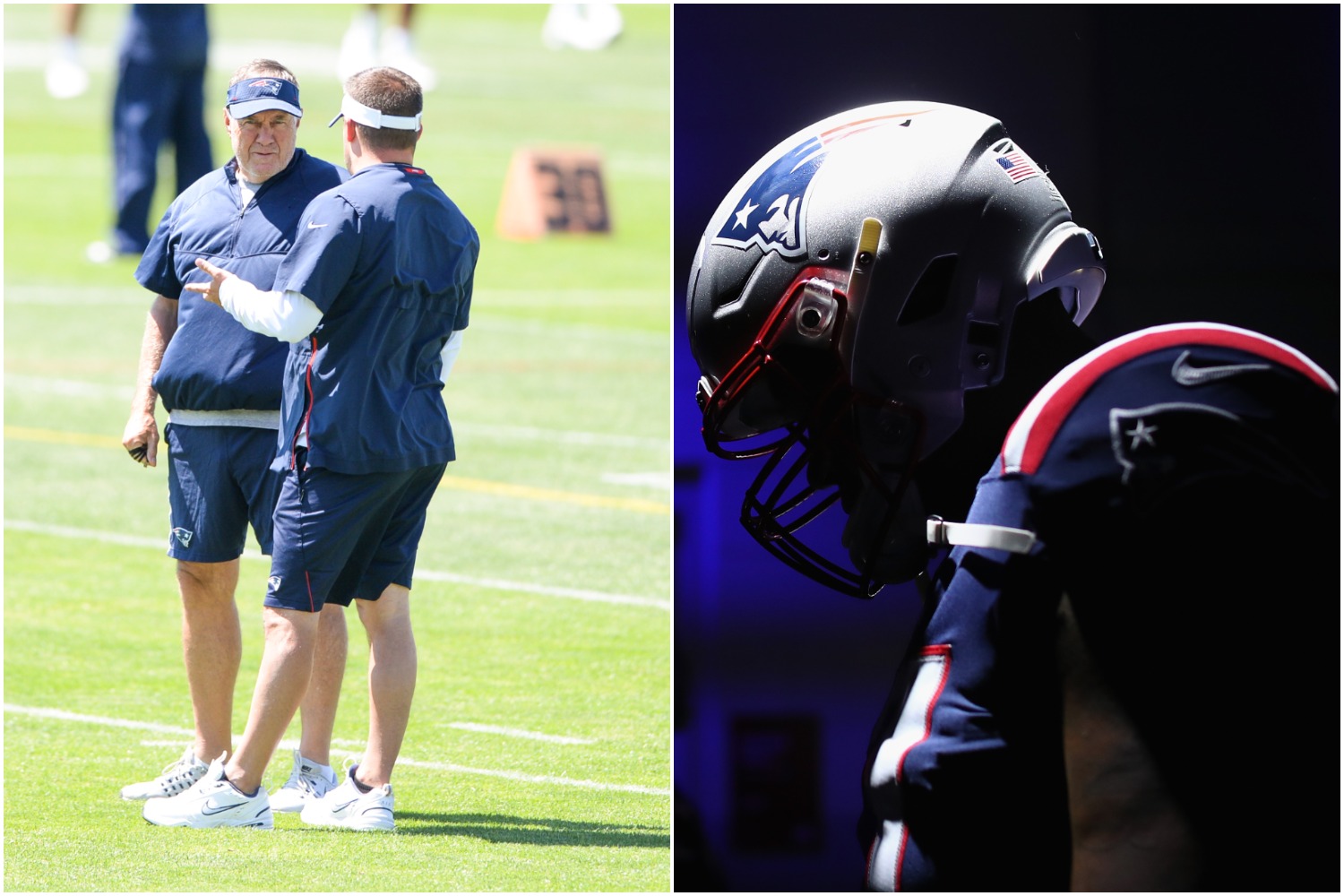 In reality, the Patriots need Brown as much as he needs them. They figure to run the ball a ton with Damien Harris and Sony Michel, which will require the offensive line to generate consistent movement. Brown's size and strength make him a force as a blocker, and without him the last two seasons, the Patriots haven't looked nearly as imposing when running the ball.
Plus, given projected starting left tackle Isaiah Wynn's injury issues — he's played 18 games since entering the league as a first-round pick in 2018 — it's safe to say Belichick doesn't have a sure thing at one of the most important positions on the field. If Wynn gets hurt, Brown may have to slide from right to left tackle. So either way, he will be counted upon to play a key role.
Brown will also have plenty of motivation to perform at a high level again.
Set to hit free agency next offseason, he needs to rehab his value and remind everyone why he's regarded as one of the most talented tackles in the NFL.
And if his reunion with the Patriots works out well, Brown may break the bank again thanks to joining forces with Belichick.
Oh, and buying into the Patriot Way helps, too.