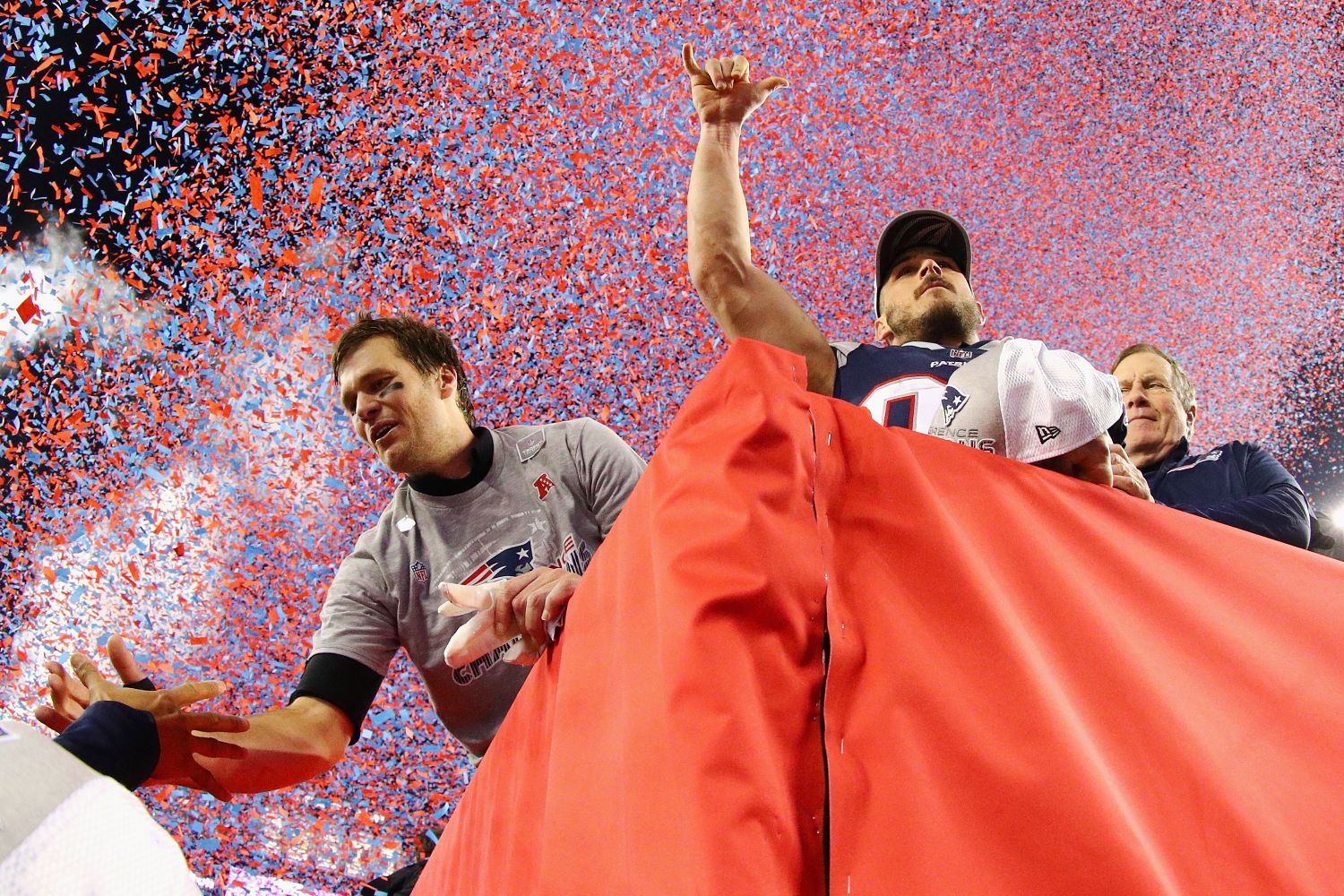 Danny Amendola Fires Massive Shot at Bill Belichick With Powerful Statement About Tom Brady and the 'Patriot Way'
Former Patriots WR Danny Amendola fired a massive shot at Bill Belichick with a powerful statement about what Tom Brady meant to New England.
For five years, Bill Belichick paid Danny Amendola to get open and catch passes from Tom Brady. However, it's clear that the former New England Patriots receiver does not view his old boss in quite the same light as the rest of the NFL.
And that's putting it nicely.
As Belichick figures out how to fix a flawed roster that got badly exposed this season, his longtime quarterback has a chance to add a seventh Super Bowl ring to his collection. Of course, he won his first six working alongside a coach who many regard as the greatest to ever live.
Yet, when the topic of the "Patriot Way" gets brought up, many point to Belichick as the driving factor behind the winning culture in New England.
Just not Amendola. In fact, the veteran wideout fired a massive shot at his former coach with a powerful statement about Brady and the true meaning of a term that has become engrained in the minds of fans of Robert Kraft's team over the years: the Patriot Way.
Danny Amendola won two Super Bowl rings in New England
In 2013, Bill Belichick signed Danny Amendola to a lucrative free-agent contract to replace Wes Welker as New England's starting slot receiver.
Unfortunately for the former undrafted free agent, he suffered a serious groin injury that limited him to only 12 games. Still, he showed plenty of toughness and dependability by hauling in 54 passes for 633 yards and two touchdowns in his first season with the team.
Ultimately, Amendola never became the go-to man in New England's offense. Instead, Julian Edelman emerged as Brady's favorite target not named Rob Gronkowski.
However, the 5-foot-11, 185-pounder still caught 230 passes in 69 regular-season games. More importantly, Amendola stepped up when it mattered most.
In 13 playoff games with the Patriots, he racked up 57 receptions for 709 yards and six touchdowns. Despite his lack of elite physical traits, Amendola routinely came up with clutch catches in key moments, including a 4-yard TD grab against the Seattle Seahawks in Super Bowl 49.
Belichick did force the sure-handed receiver to take several pay cuts in order to remain in New England. But after posting 152 receiving yards in a crushing loss to the Philadelphia Eagles in Super Bowl 52, Amendola took advantage of free agency and signed a two-year contract with the Miami Dolphins.
Former Patriots WR fires massive shot at Bill Belichick with his powerful statement about Tom Brady
Danny Amendola caught passes from Tom Brady and got coached by Bill Belichick for five years. Needless to say, he has plenty of first-hand knowledge on what each man brings the table.
Naturally, the topic of the "Patriot Way" has come up now that Brady has a chance to win a Super Bowl title in his first year after leaving New England. The fact the Patriots fell to 7-9 certainly did little to help Belichick's case as being the driving force behind the team's unprecedented run of success.
On Monday, Amendola took things to another level by firing a massive shot at his former coach in his powerful statement about Brady and what the "Patriot Way" actually means.
"When you see 'Patriot Way' in the dictionary, it's gonna have Tom Brady's name next to it," Amendola said. "None of those coaches threw any passes, none of those coaches caught any passes, none of those coaches made any tackles. They get guys in the right position because they watch a lot of film and they spend all their time at the facility."
As if that wasn't a strong enough statement of support for his former QB, the two-time Super Bowl champion left no doubt with this line.
"Tom Brady is the 'Patriot Way,' and that's the reason why Tom Brady's in the Super Bowl right now and the Patriots aren't," Amendola said.
Who deserves more credit for the most successful dynasty in NFL history?
So who deserves more credit for the winning culture established in New England over the last two decades?
Clearly, it depends who you ask.
On one hand, Danny Amendola raised a valid point by highlighting the fact that neither Bill Belichick nor any of his coaches made a single catch, tackle, pass, kick, or block. At the end of the day, players get paid to perform on the field, and coaches get paid to put those players in a position to succeed.
However, that doesn't mean Belichick deserves less credit for establishing the "Patriot Way" culture.
Winning football games requires more than throwing a perfect ball to Gronk to set up the only touchdown drive of Super Bowl 53. It takes more than a well-timed strip-sack from Dont'a Hightower to complete the greatest comeback in Super Bowl history. And creating a winning environment goes well beyond Malcolm Butler's game-clinching interception.
Because without those players on the field, those monumental Super Bowl moments never would have happened. And while Tom Brady certainly did more than his fair share of the heavy lifting, even the greatest quarterback of all time needed help from his teammates to win six rings.
In reality, Belichick deserves credit for setting the tone from the moment he became head coach. He identified traits he desired, drafted and developed key contributors, and brought in battle-tested veterans (or unwanted cast-offs) to fill specific roles.
Along the way, Brady went from being a game manager to a game changer. And over the years, he certainly masked many of Belichick's brutal personnel mistakes.
It may seem like an obvious answer, but in reality, both NFL legends deserve credit for establishing the "Patriot Way" over the years.
But will that culture survive?
With Brady gone, that's up for Belichick to decide.
All statistics courtesy of Pro Football Reference.