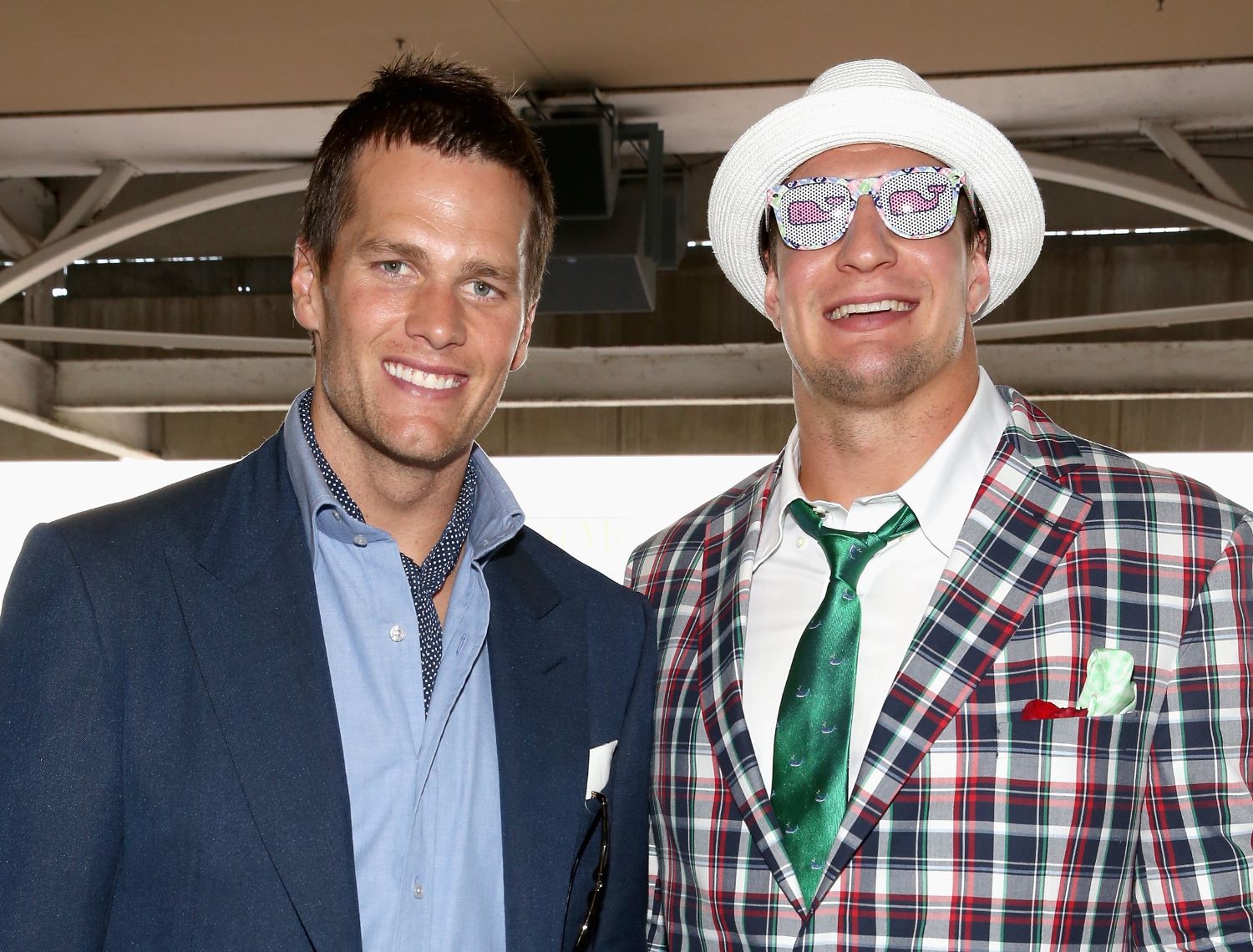 Rob Gronkowski's Favorite Memory With Tom Brady Involves Horses and Alcohol
Tom Brady and Rob Gronkowski have shared plenty of memorable moments, but Gronk's favorite memory with Brady involves horses and alcohol.
Tom Brady and Rob Gronkowski got to know each other quite well during their time together with the New England Patriots.
On the field, the greatest quarterback of all time and the supremely skilled tight end routinely hooked up for big plays in the passing game. And thanks to their brilliant chemistry, the two future Hall of Famers helped the Patriots capture three Super Bowl titles during the last decade.
Of course, the dynamic duo has gotten a second chance to work together down in Florida. In their first season outside of New England, Brady and Gronkowski both proved they're far from finished.
Although they certainly won't remain in Tampa as long as they did in Foxborough, they should make at least a few more memorable plays before they retire for good. Recently, though, Gronkowski revealed his favorite off-field memory with the legendary quarterback. And surprisingly (or perhaps not) his choice involves a hilarious trip involving horses and alcohol.
Tom Brady and Rob Gronkowski gave Patriots fans plenty of happy memories
Tom Brady may have entered the NFL a decade before Rob Gronkowski, but he didn't earn the GOAT title until he got some help from arguably the most dominant matchup weapon in NFL history.
Thanks to Bill Belichick taking a calculated gamble in the 2010 NFL draft, Patriots fans got to watch their star quarterback and his larger-than-life tight end torch defenses for almost a decade.
In just his second year in the league, Gronkowski played all 16 games (something he never did again in New England) and caught 90 passes for 1,327 yards, and 17 touchdowns.
Over the next seven seasons, Brady and Gronk continued to rack up ridiculous numbers. In 115 regular-season games with the Patriots, Gronkowski totaled 521 catches for 7,861 yards and 79 touchdowns.
Brady completed 541 touchdown passes in 283 starts. He finished 429 yards shy of 75,000 passing yards after arriving as a sixth-round pick in 2000.
Their individual success played a significant role in New England appearing in five Super Bowls from 2011-2018—three of which ended in championship glory.
In Super Bowl 53, Brady and Gronkowski pulled off one more miraculous play when it mattered most. With time winding down in the fourth quarter, the aging tight end made a clutch diving catch to set up the game's only touchdown.
Talk about leaving Patriots fans with a lasting memory.
Making new memories with the Buccaneers
Although he retired after winning his third Super Bowl ring, Rob Gronkowski only spent a year away from football. After Tom Brady took his talents to Tampa, his favorite target came out of retirement and subsequently got traded to the Buccaneers.
In his age-31 campaign, Gronkowski surprisingly stayed healthy and didn't miss a single game. He racked up 45 catches for 623 yards and seven touchdowns.
Meanwhile, Brady made Belichick look foolish for doubting him. In his age-43 season, the six-time Super Bowl champion completed 65.7% of his passes for 4,633 yards and 40 touchdowns—a mark he hasn't hit since his record-breaking 2007 season.
With Brady still playing at a high level, the Buccaneers finally ended more than a decade of bad memories for their fans. For the first time since 2007, Tampa earned a postseason berth. Still, Brady and Gronk have a long way to go to provide a new fan base with a Super Bowl memory of its own.
Recently, though, the former Patriots tight end shifted his focus away from the football to discuss his favorite off-field memory with the GOAT.
And ironically, it involves animals…plus alcohol.
Gronk's favorite Brady memory involves horses and alcohol
In speaking with the media on Wednesday, Rob Gronkowski fielded a question about his favorite memory with Tom Brady that doesn't involve football.
Given their decade-long relationship, there certainly had to be plenty of moments for Gronk to choose from. Ultimately, though, he settled on a hilarious trip to Churchill Downs that included his health-conscience quarterback letting his guard down for a brief moment.
"My favorite memory? Going to the Kentucky Derby and seeing him take a shot and just seeing his face after, like in digust," Gronkowski said laughingly about his 43-year-old teammate. "Like, 'I'm putting this alcohol in my body?'"
Gronkowski playfully imitated Brady's grossed-out facial reaction before relaying the quarterback asked, "Ugh, how am I going to throw next week?"
Obviously, that fateful Fireball shot didn't stop Tom Brady from continuing to dominate on the football field.
Maybe avocado ice cream helped clear the alcohol from his system.
All statistics courtesy of Pro Football Reference.