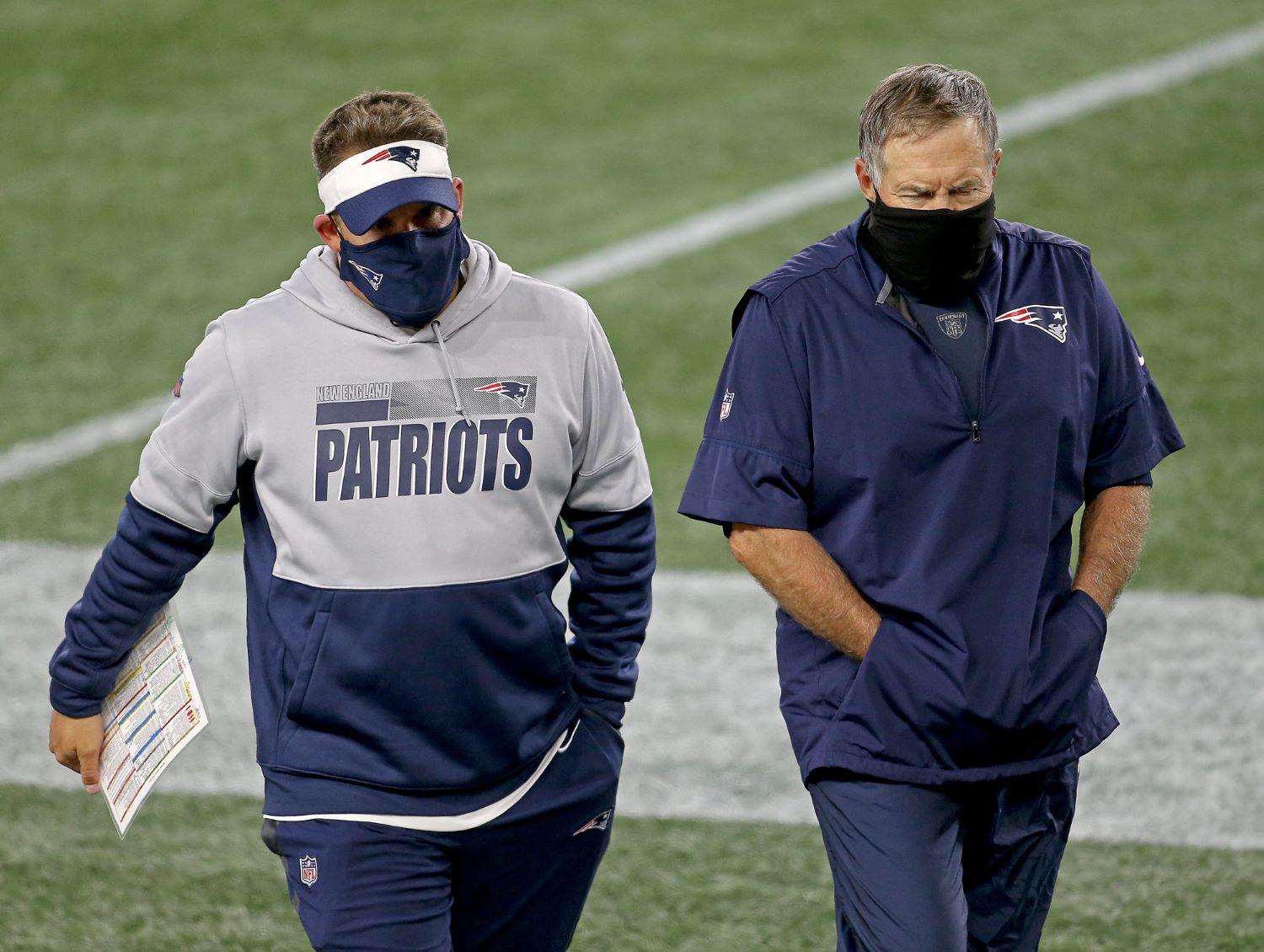 Josh McDaniels Just Increased His Chances of Eventually Replacing Bill Belichick
Josh McDaniels just inched closer to eventually replacing Bill Belichick, but will an NFL team still try to steal him from the Patriots?
For years, Josh McDaniels has been considered one of the top head-coaching candidates in the NFL. Yet, the 44-year-old still works for the New England Patriots in the same role he's held since 2012.
Of course, he had a chance to run his own team (again) before he pulled a late 180 on the Indianapolis Colts. But with several NFL teams in need of a new head coach, McDaniels doesn't appear to be going anywhere anytime soon.
In fact, he just increased his chances of replacing his longtime boss thanks to a team that ironically just poached away a valuable member of Belichick's inner circle. And if longest-tenured head coach in the league doesn't turn things around quickly in New England, McDaniels may very well get the promotion of a lifetime from Robert Kraft.
Josh McDaniels has been by Bill Belichick's side for all six Super Bowl titles
Tom Brady and Bill Belichick typically get all the credit for the Patriots winning six Super Bowl titles. However, while the two future Hall of Famers certainly did most of the heavy lifting, Josh McDaniels has actually been a part of every championship, too.
Of course, the former John Carroll University wide receiver didn't begin calling plays until after New England had established itself as a dynasty. McDaniels got promoted to offensive coordinator in 2005. And while the Patriots didn't win a Super Bowl in his first stint as OC, he boosted his stock significantly after a record-setting 2007 season that saw Brady and Randy Moss break touchdown records for their respective positions.
A failed stint as the head coach of the Denver Broncos left McDaniels' stock at an all-time low. In 2012, he returned to New England. Since then, he has continued to serve as OC and QB coach. With McDaniels and Brady back together, the Patriots won three more titles in a five-year span.
For an organization that cycles through so many players and coaches, it speaks volumes that Kraft made sure McDaniels remained in New England when he nearly bolted for the Colts in 2018. Plus, Belichick has benefitted from having a coach who can handle one side of the ball totally on his own.
His stock seems lower than ever
Unfortunately for Josh McDaniels, his stock seems to have dropped significantly since he left the Colts waiting at the altar. Then again, it's not like the Patriots have impressed on offense in recent years.
After finishing first in total yards and second in scoring in 2017, New England fell to fifth and fourth in those respective categories in 2018. Although they won Super Bowl 53, the Patriots only scored 13 points.
In 2019, the offense seemingly hit rock bottom by finishing 15th in yards and seventh in scoring. But this season, a Cam Newton-led offense finished 27th in both categories. Obviously, though, Belichick gave his offensive coordinator little to work with in terms of starting-caliber skill players.
Between the Patriots' recent struggles on offense and his widely-criticized decision to spurn the Colts, McDaniels clearly isn't drawing nearly the same interest as he did just a few years ago. In fact, his market appears to be eerily quiet, if not completely silent.
The Patriots offensive coordinator just increased his chances of replacing his longtime boss
On Thursday, longtime Texans reporter John McClain delivered a succinct statement about Houston's interest in New England's offensive coordinator.
"Josh McDaniels will not be the Texans' head coach," he tweeted.
The idea of Houston hiring McDaniels seemed not only logical but perhaps likely. After all, the Texans just signed Nick Caserio—McDaniels' former college teammate—to a six-year, $30 million deal to be their new general manager. Plus, former Patriots character coach Jack Easterby has become a powerful figure within the organization.
Still, Houston will not make McDaniels its next head coach.
And based on his lack of attention from other teams and the recent news that the Texans won't pursue him either, Belichick's longtime sidekick just increased his chances of replacing his boss.
Will Robert Kraft eventually promote McDaniels to head coach?
At this point, Josh McDaniels seems destined to return to New England for another season as offensive coordinator. But it wouldn't be surprising to see his job title change sooner than later.
Belichick turns 69 in April, and the Patriots need more than a year to fix their flawed roster. Does he have the energy and patience to continue coaching into his 70s? Plus, given his recent string of personnel whiffs, Belichick's job could be on the line if New England continues to struggle in the post-Brady era.
The Krafts can make a swift and seamless transition by finally promoting McDaniels. He already showed his loyalty to the Patriots by reneging on his commitment to the Colts. He's never complained about New England's lack of talent on his side of the ball…which boils down to his boss's failures. And in 2020, he coaxed far more production out of former third-round running back Damien Harris and former undrafted free agent receiver Jakobi Meyers than former first-round picks Sony Michel and N'Keal Harry.
Ultimately, not getting hired (or even pursued) by the Texans only strengthens McDaniels' chances of remaining with the Patriots since they seemed like the most logical landing spot for the veteran coach. We will have to wait and see if he's back just for 2021 or well into the future.
But if Bill Belichick can't quickly rebuild New England's roster and get back to winning, don't be surprised if he gets replaced by someone who's been by his side for all six of the Patriots' Super Bowl titles.
All statistics courtesy of Pro Football Reference.