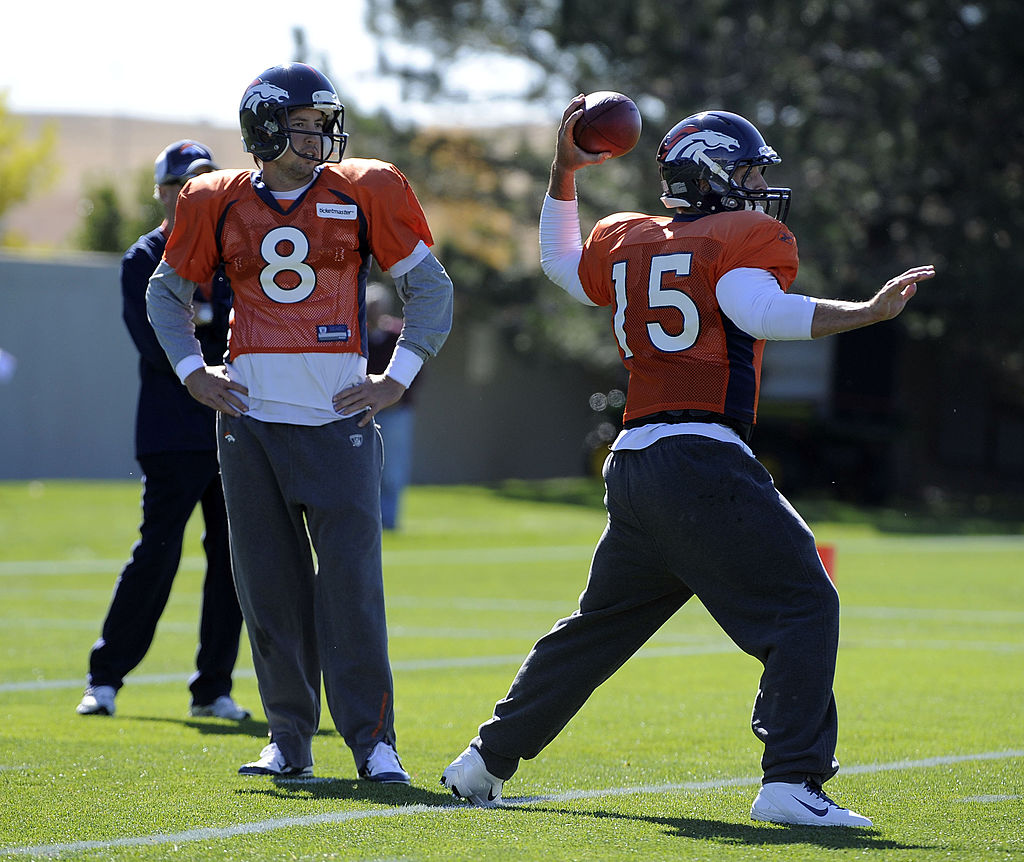 Tim Tebow Got Fined Daily by Broncos Quarterbacks For a Controversial Billboard
Tim Tebow got fined by Broncos quarterbacks for something he had no control over. The former Heisman winner never lived up to the hype.
Most people knew Tim Tebow had fatal flaws in his game. Yet, the Denver Broncos still selected the former Florida Gator in the first round. Despite his status as a college football legend, his glaring lack of accuracy caused great concern about his ability to become a starting-caliber NFL quarterback.
With all eyes on his every throw, Tebow already faced a ton of pressure from fans and the media. But as it turns out, he also got a heavy dose of financial pressure from his fellow Broncos QBs thanks to a controversial billboard.
Tim Tebow went from an SEC legend to a first-round pick
Before Cam Newton and Johnny Manziel arrived, Tim Tebow made SEC football must-see TV. Built in the mold of a linebacker, the southpaw QB went from a freshman role player on a championship squad to arguably the greatest player in college football history. Florida experienced unprecedented success with Tebow as the face of its program.
As a true sophomore, he got his chance to run Urban Meyer's offense. It's safe to say nobody quite expected him to do it so perfectly. Tebow threw for 3,286 yards and 32 touchdowns. A devastatingly physical runner, he also accounted for 895 yards and 23 TD. He won the 2007 Heisman Trophy thanks to his historic dual-threat production.
Tebow's junior season didn't quite measure up from an individual standpoint. However, the captivating leader propelled the Gators to their second national title in three years. Tebow's senior season turned out to be his least productive, but that didn't stop Josh McDaniels from selecting him with the 25th overall pick in the 2010 NFL draft.
Quarterback controversy led to fines
Before Tim Tebow arrived, McDaniels had just acquired Kyle Orton a year earlier. Denver's new head coach shipped the perennially disappointing Jay Cutler to Chicago for the veteran QB. But with the two-time national champion in the fold, the Broncos certainly sent a message that Orton no longer had a stranglehold on the position.
While McDaniels wore out his welcome after just a year-and-a-half on the job, Orton still remained the team's starter heading into the 2011 season. Head coach John Fox faced a dilemma: Roll with Tebow or stick with the veteran?
Ultimately, the Broncos waived Orton in November. Prior to his release, though, the team's QBs fined Tebow for something he had no control over, according to Jeff Darlington.
Four days after a billboard in Denver on 58th Avenue one block east of Interstate 25 publicly called for coach John Fox to bench Orton in favor of No. 15, the quarterbacks decided to begin fining Tebow every day that it remained up.

According to the story, Tebow got fined for six days until Orton got released and he took his starting job. He drew criticism for not criticizing the fans who put up the controversial billboard. Of course, Tebow himself wouldn't last long as the Broncos' starting quarterback.
Tebow never lived up to the hype in the NFL
Tim Tebow did go 7-4 after taking over for Orton. He even led the Broncos to a playoff victory with an unforgettable touchdown strike to Demaryius Thomas. That represented the peak of the mountain for the former SEC star.
Despite leading Denver to its first playoff victory since 2005, Tebow got traded to the New York Jets in the offseason. He lasted just a year there spent the summer of 2013 with the New England Patriots. Two years later, the Philadelphia Eagles took a flyer on the former first-rounder, but he never ended up playing another NFL down.
Since his football career ended, Tim Tebow has become a motivational speaker and college football analyst on ESPN. Incredibly, he took up baseball and has been in the New York Mets' minor league system since 2016.
Statistics courtesy of Sports Reference