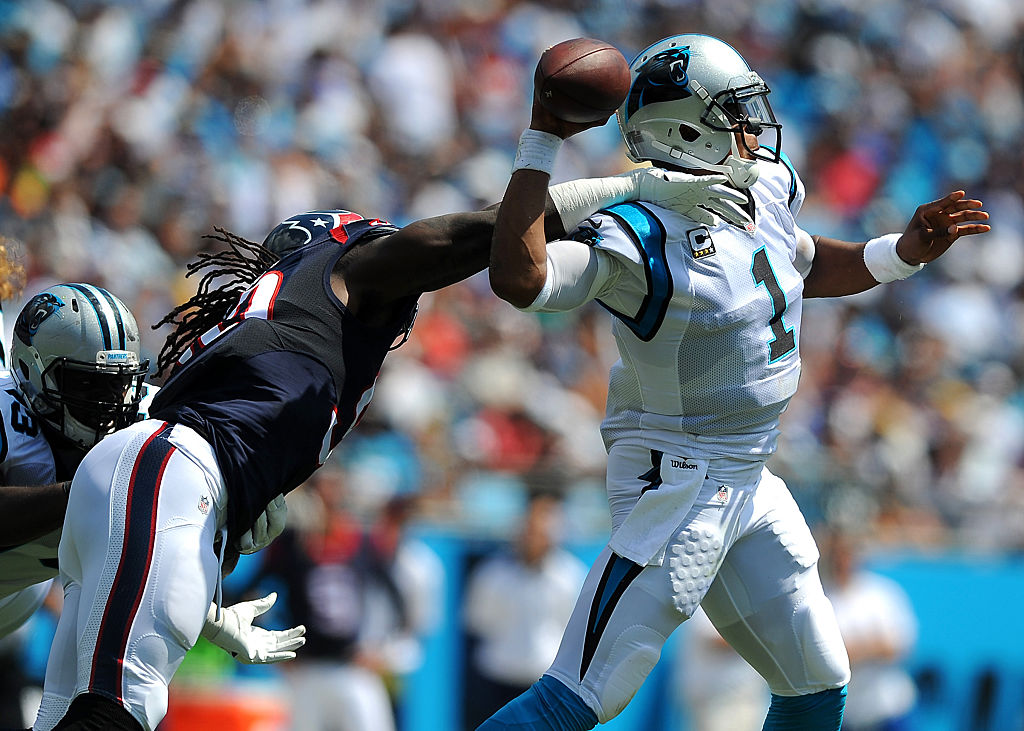 Cam Newton and Jadeveon Clowney Went From No. 1 Picks to NFL Ghosts
Jadeveon Clowney and Cam Newton have freakish ability, but the former No. 1 overall picks have yet to find new NFL homes this offseason.
Jadeveon Clowney and Cam Newton became No. 1 overall picks after dominating the best conference in college football. Freakishly athletic with unbelievable tools, they both entered the NFL with a ton of hype. In Clowney's case, many expected him to become the league's most devastating pass rusher. And for Newton, his unique skillset seemed perfectly suited for a new age of offensive football.
Yet, as the summer approaches, the former top overall draft picks have yet to find new NFL homes. Injuries and a lack of consistency have led to surprisingly quiet free-agent markets for both Clowney and Newton, who have tumbled from top overall draft picks to NFL ghosts.
Jadeveon Clowney hasn't delivered on Hall of Fame hype
Coming out of South Carolina, Jadeveon Clowney generated a ton of buzz as the best defensive end prospect in decades. Tipping the scales at 6-foot-5, 266 pounds, he ran a blazing 4.53 40-yard dash and seemed capable of becoming the next Julius Peppers. Unfortunately for Texans fans, Khalil Mack turned out to be the best edge player from that 2014 draft class.
Clowney couldn't stay healthy throughout his five-year run in Houston. While playing just 62 of a possible 80 games with the Texans, he totaled just 29 sacks and 67 quarterback hits. Mack, on the other hand, didn't miss a single game until his fifth season. He totaled 40.5 sacks and 84 QBH in 64 games with the Raiders.
Last season, the Seattle Seahawks traded for the former No. 1 overall pick. Sacks don't always tell the whole story, but it's still concerning that the highly-hyped pass rusher managed just 3.5 takedowns on 605 snaps. Clowney also started just 11 games and has not come close to finding the $100 million deal he expected when free agency began.
Cam Newton went from the face of the Panthers to a QB without a home
Before Clowney became a viral sensation, Cam Newton took the SEC by storm. In just one year at Auburn, he won the Heisman Trophy and led the Tigers to a national title. A dual-threat quarterback built in the mold of a defensive end, Newton went No. 1 overall to the Carolina Panthers in 2011. He looked great as a rookie, earning Pro Bowl honors.
Yet, Newton's tenure as the Panthers' starting quarterback can only be described as inconsistent. Sure, he won the 2015 NFL MVP award and led Carolina to a Super Bowl berth. However, the 6-foot-5, 245-pounder never ironed out his accuracy issues. In nine seasons, he went 68-55-1 with a 59.6 completion percentage and zero Pro Bowl selections since 2015.
In addition, Newton failed to stay healthy. He underwent two shoulder surgeries and missed essentially the entire 2019 season with a Lisfranc fracture. Carolina cut him this offseason and signed Teddy Bridgewater to a lucrative deal.
Somehow, the man selected ahead of perennial All-Pros like Von Miller, Julio Jones and J.J. Watt has watched far-lesser talented quarterbacks like Mike Glennon and Andy Dalton get scooped up as he still sits unsigned.
Where will Clowney and Newton play in 2020?
It's incredible to think that two former No. 1 overall picks haven't signed free-agent deals to this point. Perhaps that's a reflection on how the NFL draft is a total crapshoot. Others would argue that it shows the league isn't willing to meet the asking price for either veteran. Eventually, though, some NFL team will take a chance on Jadeveon Clowney. He just turned 27 in February, so there's still a chance he could resurrect his career and become a star in a new system.
Apparently the Cleveland Browns have expressed serious interest in the defensive end. According to Adam Schefter, Cleveland has made an aggressive pursuit for Clowney. However, the three-time Pro Bowler hasn't taken the Browns up on their offer. At this point, it's fair to wonder if he'll have to settle for a short-term deal and try to hit free agency again next offseason.
As for Newton, his market is a total mystery. There doesn't appear to be a single starting job up for grabs. The New England Patriots have an unknown quantity in Jarrett Stidham. But thanks to Tom Brady's $13.5 million dead-money hit, Bill Belichick doesn't have the cap space to sign a significant free agent.
Ultimately, he'll likely have to wait for an injury to open up an opportunity. For now, though, Jadeveon Clowney and Cam Newton continue to linger as former top picks who have yet to find landing spots.
Statistics courtesy of Pro Football Reference