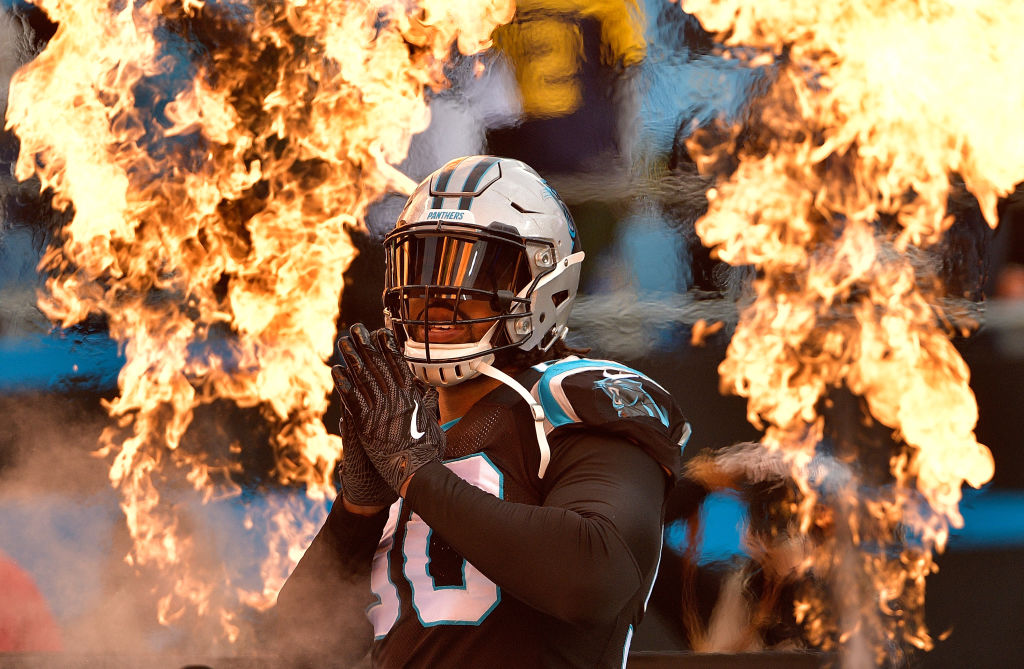 Was Julius Peppers the NFL's Best Athlete?
Julius Peppers was a multi-sport star before joining the NFL. Is he the greatest athlete in the history of the league?
When Julius Peppers finally retired last year, it marked the end of an era for arguably the NFL's best athlete. For almost two decades, the 6-foot-7, 295-pound athletic freaked tortured offensive tackles and quarterbacks to the tune of 159.5 sacks. But before he ever lined up in a three-point stance, Peppers had already established a reputation as an elite athlete in other sports.
From his early days as a high-school running back to his high-flying college basketball career at North Carolina, there simply wasn't anything Peppers couldn't do. And after getting named to his second NFL All-Decade Team on Monday, it's abundantly clear Julius Peppers was the best athlete in NFL history.
Julius Peppers played running back in high school
Before he ever got in a three-point stance, Julius Peppers dominated on the track and the basketball court. As a freshman at Southern Nash High, Peppers tipped the scales at 6-foot-4, 225 pounds but did not play football. Instead, he utilized his freakish size-speed combo as a member of the school's 4×400-meter relay team. Besides helping his relay team earn a championship, the future NFL star also took home second place in the state triple jump competition.
Also a standout high-school basketball star, Peppers finally took his talents to the gridiron. Only he didn't really stand out on defense. Rather, the 6-foot-7, 250-pounder lined up in the backfield and punished would-be tacklers. In three seasons on varsity, the North Carolina native racked up 3,501 rushing yards and 38 touchdowns.
Peppers earned the North Carolina High School Athletic Association Male Athlete of the Year award in 1997-98 before taking his prodigious athletic talents to nearby University of North Carolina. That only set the stage for future success on the court and on the field.
NFL star was a multi-sport phenom at North Carolina
As a decorated high-school recruit in both basketball and football, Julius Peppers became a rare multi-sport athlete for the North Carolina Tar Heels. The long-limbed flyer played in 56 games for the school's basketball program. Though he didn't get a ton of playing time, Peppers did average 4.5 points and 3.5 rebounds as a freshman. As a sophomore, he saw a minor uptick in production, averaging 7.1 points and 4.0 rebounds. His explosive leaping ability helped him block 23 shots and records 32 steals in his two-year NCAA basketball career.
Peppers truly emerged as a dominant force on the football field. In three years, he started 33 games for Carl Torbush and John Bunting. A physical mismatch who played with a killer instinct, Peppers left North Carolina as the second-leading sack artist in school history with 30.5 quarterback takedowns. The adept playmaker stuffed the stat sheet with 53 tackles for loss, five interceptions, five forced fumbles and 13 passes defended.
By the time he wrapped up his collegiate career, Peppers had won both the Chuck Bednarik and Lombardi Awards. He also earned unanimous All-American honors in 2001 and was named Sporting News' top two-sport athlete. Entering the 2002 NFL draft, Peppers looked like a can't-miss prospect with tantalizing tools and incomparable athletic ability.
Peppers earned two NFL All-Decade Team selections
Anyone who watched Julius Peppers in high school and college could attest to his elite athleticism. But once he arrived in the NFL, he took his game to another level. Carolina selected the talented pass-rusher with the second overall pick and Peppers promptly won the NFL Defensive Rookie of the Year award after recording 12 sacks. Over the next seven seasons with the Panthers, the powerful defensive end earned five Pro Bowl selections and established a reputation as one of the league's most difficult players to block. For his dominant run in Carolina, Peppers earned a spot on the 2000s NFL All-Decade Team.
After signing with Chicago in 2010, the prized free agent went on to carve out another decade of dominance. In four years with the Bears, Peppers earned three Pro Bowl trips and recorded 37.5 sacks. He suited up for NFC North rival Green Bay for three seasons, accumulating another 25 sacks and his final Pro Bowl selection. Julius Peppers returned to the Panthers to close out his career. And at age 37, he still managed to rack up 11 sacks for a squad that featured players who grew up watching him dominate earlier in his career.
Besides his gaudy sack numbers, Peppers also proved to be a game-wrecking force on special teams and in coverage. He blocked 13 kicks in his career and also racked up 11 interceptions—an absurd number for a defensive lineman. Most recently, Peppers made the 2010s NFL All-Decade Team and he should be a first-ballot Hall of Fame selection after gracing the NFL with his elite athletic ability for 17 years.