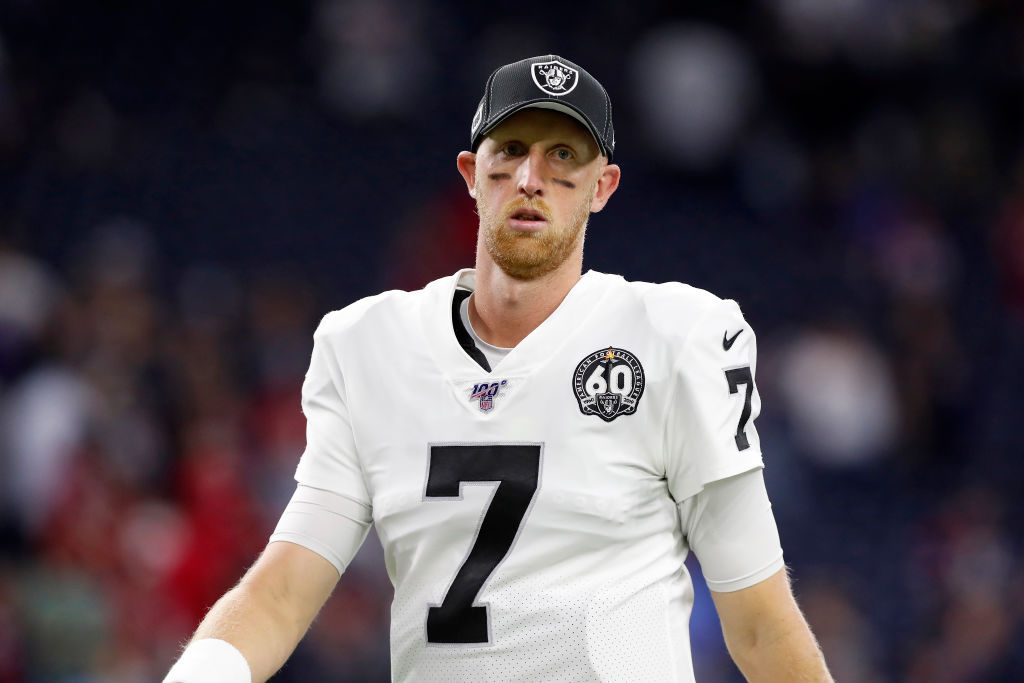 Jaguars QB Mike Glennon Has Stunningly Made $4.5 Million Per Win
Mike Glennon joins the Jaguars after making $4.5 milllion per win. He's spent years as a well-paid backup for several NFL teams.
It pays to be a backup quarterback, especially if you're Mike Glennon. At one point, he looked like the future of the Tampa Bay Buccaneers. But after just 18 starts, he got replaced and has spent the majority of his NFL career on the sidelines. Still, that hasn't stopped Glennon from cashing in. And on Friday, the Jacksonville Jaguars became the fifth team to employ the veteran backup. Mike Glennon may not make much of an on-field impact, but he's managed to break the bank despite a pitiful starting record.
Mike Glennon lost his starting job to Jameis Winston in Tampa
The Buccaneers made Mike Glennon the third quarterback off the board in the 2013 NFL draft. That quarterback class ranks as arguably the worst of the decade, as the Buffalo Bills made E.J. Manuel the lone first-round signal-caller. The 6-foot-7, 225-pound Glennon immediately became Tampa Bay's starter. Unfortunately, his 59.4 completion percentage and paltry 6.3 yards per attempt didn't impress anyone. Buccaneers fans watched their team go 4-9 with the rookie under center.
Glennon actually got replaced twice in Tampa. First, the Bucs inserted veteran Josh McCown in 2014. However, the team turned back to their second-year signal-caller after McCown suffered an injury. Glennon went just 1-4 and once again completed less than 60 percent of his passes.
Jameis Winston became the new face of the franchise the following year. In fact, Glennon didn't play a single snap in 2015, as the team turned the reigns over to the No. 1 pick. Glennon appeared in two games in 2016 before testing the free-agent waters in the offseason.
Bears signed former Buccaneers starter to $45 million deal in 2017
Despite getting benched twice in favor of an aging QB and a brand new one, Mike Glennon managed to earn himself a heck of a deal. Showing no care in the world about Glennon's thin resume, Chicago Bears GM Ryan Pace handed the uninspiring quarterback a three-year, $45 million deal that included $18.5 million guaranteed. That represented a major raise for the disappointing former third-round pick, who earned just under $4 million in four seasons in Florida.
In what should be a lesson to other GMs in fiscal responsibility, the Bears inexplicably then traded up to draft Mitchell Trubisky. Apparently Pace didn't care that he had just handed one quarterback a starter-level deal. And once again, Glennon found himself in an awkward situation. Chicago opened the 2017 season with Glennon as its starter, but that experiment didn't last long.
The Bears replaced their high-priced offseason acquisition after Glennon lost three of his first four starts. He threw five interceptions and managed just 101 passing yards in his only victory. Trubisky went 4-8 as the Bears' new starter. Chicago cut Glennon in March after paying him $16 million for one win.
Glennon found a new home with the Jaguars
Relocating out west, Glennon spent the 2018 season with the Arizona Cardinals. He completed 71.4 percent of his passes in limited action. But just one year into his two-year, $8 million, the Cardinals cut him. Jon Gruden signed Glennon to a one-year, $1.95 million deal to serve as Derek Carr's backup last season. The 30-year-old threw one touchdown on 10 attempts.
Officially earning the journeyman label, Mike Glennon found a new home on Friday by signing a one-year deal with the Jaguars. He's expected to serve as a veteran mentor to promising second-year starter Gardner Minshew. While the terms of Glennon's deal haven't been disclosed, it's not like he's hurting for money.
Since entering the NFL as the 73rd overall pick in 2013, Mike Glennon has made $26,896,782. With just six wins under his belt, that averages out to about $4.5 million per victory. Somehow, someway, the newest member of the Jaguars keeps banking despite a thoroughly uninspiring resume.