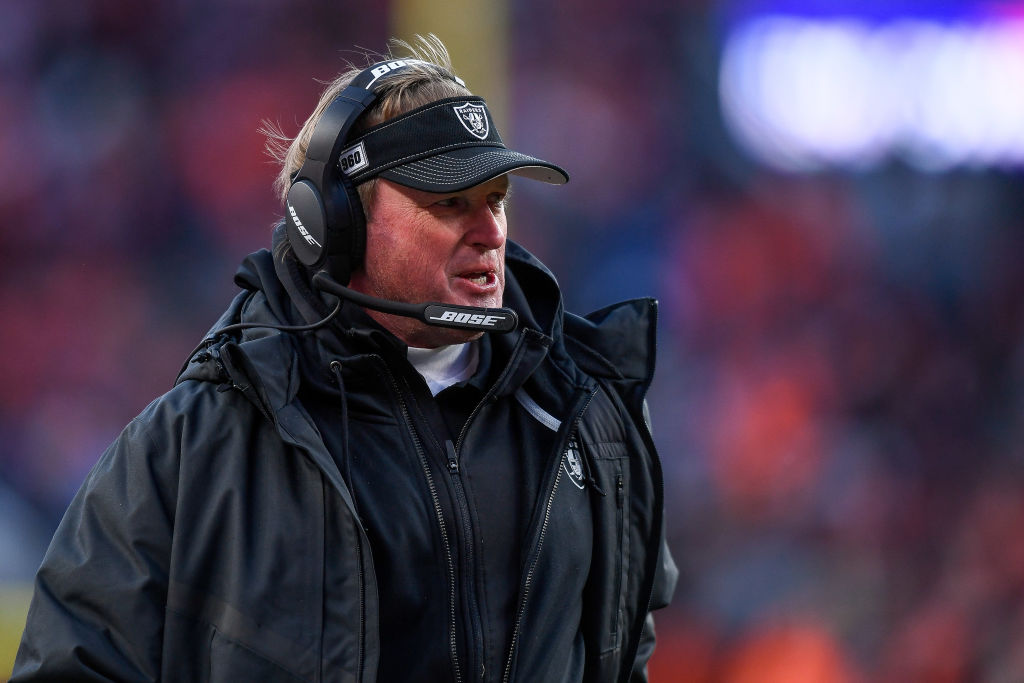 Jon Gruden's Draft Misfires Prove Raiders Made $100 Million Mistake
Jon Gruden may have signed a $100 million contract with the Raiders, but his latest NFL draft picks prove that was a massive mistake.
When the Raiders signed Jon Gruden to a 10-year, $100 million contract in 2018, they tied themselves down to one of the most confusing and overrated coaches in the league. On the one hand, Gruden did win a Super Bowl as the head coach of the Tampa Bay Buccaneers. However, he failed to sustain success in Tampa due in large part to poor NFL draft selections, and he only rejoined the league after spending nearly a decade in the broadcast booth.
In typical Gruden fashion, he boldly traded the team's best player, Khalil Mack, to the Chicago Bears for a package of first-round picks. And after sending former top-five pick Amari Cooper to the Dallas Cowboys, Gruden had assembled a massive arsenal of valuable NFL draft picks that conceivably could help the Raiders rebuild ahead of their move to Las Vegas. Instead, the overrated and overpaid head coach managed to blow that quintet of first-round picks and prove that he's a $100 million mistake.
Jon Gruden started Raiders tenure by trading Khalil Mack
Nothing like rebooting your NFL coaching career by getting rid of your most talented and respected player. That's exactly what Jon Gruden did in his first year sitting on the throne. Instead of building around one of the premier players in the NFL, the former Buccaneers coach shipped Khalil Mack to Chicago for a package of picks that included two first-rounders. Strangely, the Raiders sent a second-round pick to the Bears along with one of the league's preeminent pass rushers.
After ranking 24th in the league in sacks in 2017, the Raiders plummeted to dead last without Mack in the lineup. Meanwhile, Mack transformed Chicago's defense into a dominant unit. He recorded 12.5 sacks, six forced fumbles and 18 quarterback hits in his first season with the Bears. The seemingly unaware Gruden laughably went on record, saying, "It's hard to find a great pass rusher."
Raiders didn't get great value with 2019 draft haul
With Mike Mayock on board as general manager and Jon Gruden at head coach, the Raiders entered the 2019 NFL draft with a trio of first-round picks. The team shockingly took Clelin Ferrell at No. 4 despite him being viewed as a top-25 prospect rather than a top-five one. Ferrell recorded just 4.5 sacks and eight quarterback hits on 648 snaps. Just three picks later, the Jacksonville Jaguars landed a star in Josh Allen, who posted 10.5 sacks and 23 quarterback hits in essentially the same number of snaps. Brian Burns, who went 16th overall to the Carolina Panthers, recorded 7.5 sacks and 16 quarterback hits on just 478 snaps.
Oakland then proceeded to draft running back Josh Jacobs at 24 and safety Jonathan Abram at 27. The former turned out to be a huge hit as a rookie and nearly upset Kyler Murray for Offensive Rookie of the Year honors. However, utilizing a first-round pick on a running back is simply a poor use of draft capital. And for a team desperate for a franchise quarterback, the move seems eerily similar to the Giants taking Saquon Barkley at No. 2 just a year before. Abram got injured in Week 1 and missed the rest of his rookie season.
Gruden's $100 million contract will go down as a franchise-altering mistake
Surprisingly, the Raiders got much better contributions from their mid- and late-round picks. Yet, Gruden's team went 7-9 and missed the playoffs yet again. Armed with two more opportunities to land blue-chip prospects, Gruden flopped yet again in the opening frame of the 2020 NFL draft. Holding the 12th overall pick, the team selected an Al Davis special in wideout Henry Ruggs. Sure, he boasts electrifying speed and scored touchdowns at a prolific rate in college, but smaller, faster receivers don't exactly have a great track record of panning out in the NFL. Ruggs wasn't even the best receiver on his own team, as Jerry Jeudy put up a far more impressive career under Nick Saban. The former high-school basketball star has a skill set that doesn't exactly mesh well with check-down king Derek Carr.
In a move that truly shows Gruden's complete incompetence and misunderstanding of NFL draft value, the Raiders made a massive reach at No. 16 with cornerback Damon Arnette. The Ohio State product became the second Buckeyes corner to go in the first round despite being viewed as a Day 2 talent. Somehow, the Raiders turned five first-round picks into a run-stopping, athletically limited defensive end, a running back, a strong safety, a one-dimensional speed receiver and a cornerback who wasn't considered a top-five prospect at his position.
Jon Gruden still hasn't found an answer at the most important position. He inexplicably decided Monday Night Football flameout Jason Witten was worth $3.5 million guaranteed. And he somehow thought the best way to push Carr was to sign the middling Marcus Mariota. The Raiders may have moved to money-pumping Las Vegas, but that won't make up for the fact that Jon Gruden is a $100 million mistake. Let's just see how long this marriage lasts when the Raiders miss the playoffs again.