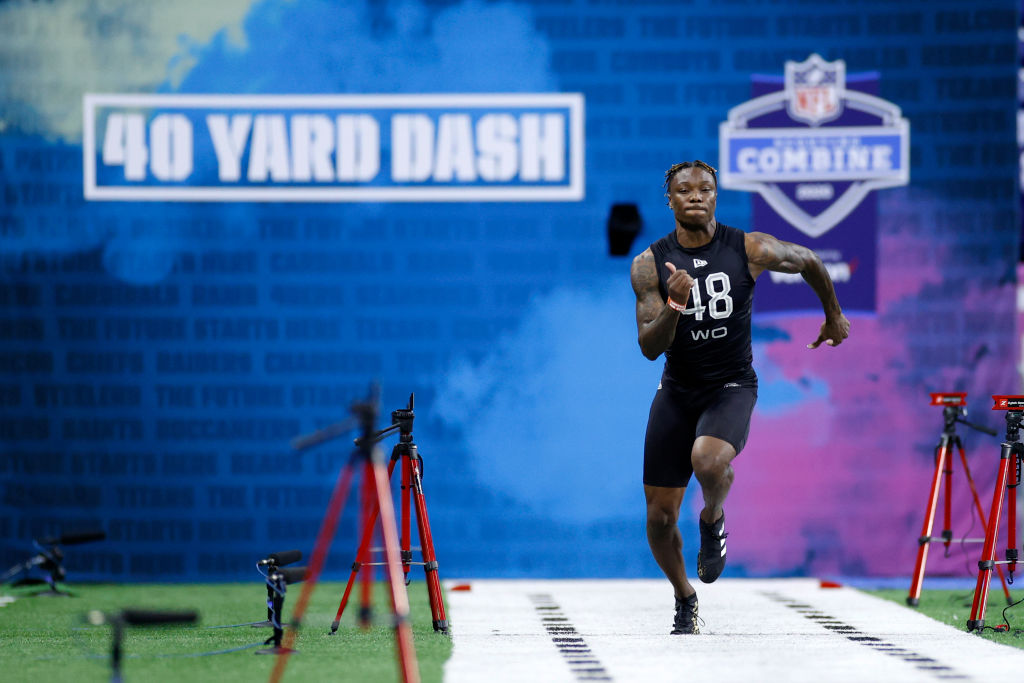 Alabama's Henry Ruggs Was the Best Dunker at the NFL Combine
Alabama receiver Henry Ruggs tore up the NFL combine and locked in his status as a first-round pick.
If football doesn't work out for Henry Ruggs, the NBA should come calling.
Before he torched SEC defenses at Alabama, Ruggs made a name for himself on the basketball court. The high-flying 188-pounder has an insane high school basketball highlight tape that will leave you feeling pretty bad about your 20-inch vertical.
While Ruggs' future doesn't lie on the hardwood, his elite athleticism should serve him well on Sundays. After posting the top 40-yard dash at the combine, he has positioned himself to possibly be the first receiver off the board in the 2020 NFL draft.
That would be quite the accomplishment considering he wasn't even regarded as the best receiver on his team entering the 2019 season.
But like he did on the court and the field, Ruggs flew by the competition.
Ruggs lived up to four-star billing at Alabama
Like many of his teammates, Ruggs joined the Crimson Tide as a premier recruit. However, he wasn't even the highest-ranked receiver in Alabama's 2017 recruiting class.
Astoundingly, Nick Saban signed four of the top-12 receivers in 247Sports' rankings. While Ruggs checked in at No. 11, fellow classmates Jerry Jeudy (No. 3) and DeVonta Smith (No. 9) were ranked even higher.
As true freshmen, all three played contributing roles in Alabama's national title run. Ruggs made the most of limited opportunities with six touchdowns on just 12 catches.
While Jeudy grew into Tua Tagovailoa's go-to target, Ruggs showed off big-play ability with 11 receiving TDs as a sophomore and seven more as a junior. On just 100 career offensive touches, Ruggs scored 26 touchdowns.
Not bad for a guy considered to be the third-best receiver on his own team.
Ruggs put together a combine performance to remember
Though there was plenty of speculation that Ruggs could break John Ross' 40 time record, he ultimately came up short.
But not by much.
The 6-foot, 188-pounder ran a blazing time of 4.27 seconds—the best at this year's scouting combine. He also showed off his hoops skills with a ridiculous 42-inch vertical and nearly 11-foot broad jump.
On the other hand, Jeudy ran a 4.45 while posting a vertical jump of 35 inches and a broad jump of 10 feet.
That athleticism is evident on film, as Ruggs shows excellent explosion and the ability to take a routine slant to the end zone. In a league that puts a premium on the passing game, Ruggs is exactly the type of modern-day weapon that offensive coordinators can scheme open and let him torment overmatched defensive backs.
Ruggs' dunk highlights rival NBA stars
I'm no NBA scout, but just watching a few second of Ruggs' dunk reel is a thing of beauty.
It's one thing to run a great time or record a great vertical jump. But to put it into practice is another.
Ruggs' dunk tape shows off his vertical explosion—a trait that should serve him well in the NFL, too.
The way he emphatically finishes over inferior opponents demonstrates his competitive nature. That attitude served him well at Alabama, where he managed to stand out even while surrounded by elite talent.
Heading into the draft, Ruggs is in a close battle to be the first receiver selected. And if his past performance on the field and on the court is any indication, he will fly by the competition and finish on top.