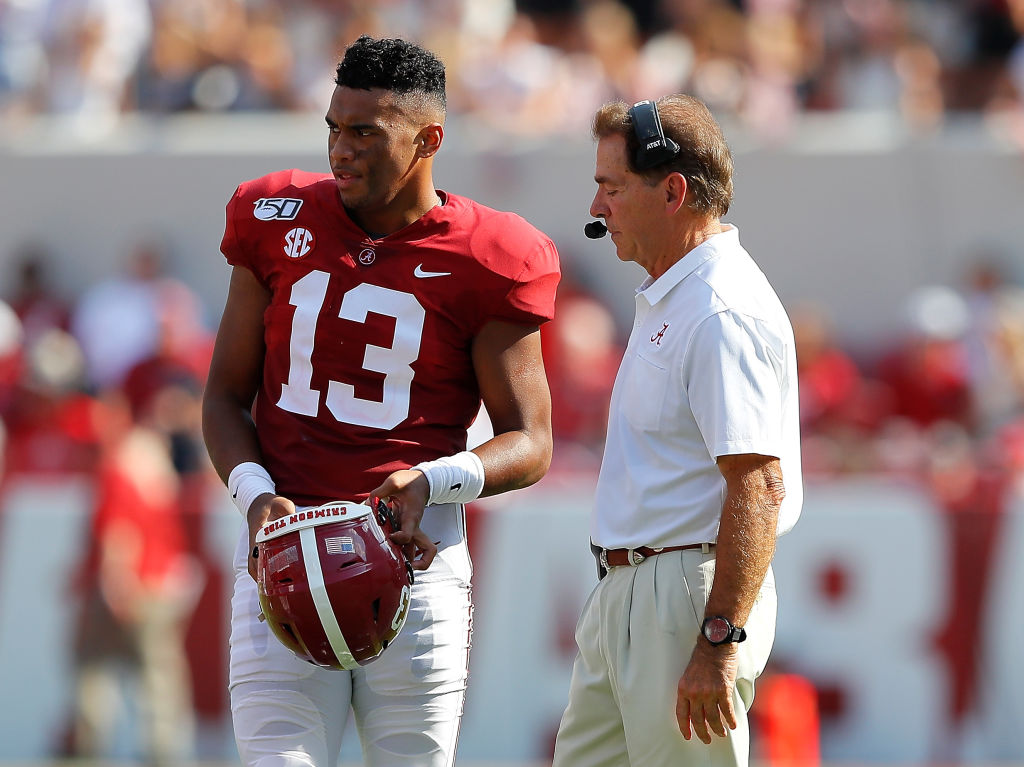 Why Nick Saban Believes Tua Tagovailoa Is 'a Lot Like Drew Brees'
Tua Tagovailoa is yet to take a single NFL snap, but Nick Saban is already comparing the quarterback to Drew Brees and Aaron Rodgers.
If you're an NFL team looking for long-term success, your best bet is drafting a franchise quarterback. While Joe Burrow has stolen most of the spotlight, this year's draft is looking pretty deep. Alabama's Tua Tagovailoa, for example, has elite talent, but there are concerns over his durability.
Crimson Tide head coach Nick Saban, however, has nothing but positives to say about his quarterback. In fact, the coach went as far as comparing Tagovailoa to Drew Brees and Aaron Rodgers.
Tua Tagovailoa's football career
Growing up in Hawaii, Tua Tagovailoa played football from an early age. When most Pop Warner quarterbacks struggled to throw more than a few yards, the quarterback was uncorking 30-yard passes. He continued to shine at St. Louis High School, where he started earning national attention as the next Marcus Mariotta.
Tagovailoa committed to the University of Alabama and headed to the mainland. While he began his college career as a back-up, the Crimson Tide's dominance meant he appear in several blowouts throughout the season. That experience served Tua well, as his late-game heroics carried Alabama to the 2017 National Championship.
When the next season began, Tagovailoa was the Crimson Tide's starting quarterback. He posted a strong year under center, throwing for almost 4,000 yards and 43 touchdowns; the sophomore narrowly missed out on the Heisman Trophy but still finished the year with plenty of silverware.
While Alabama's 2019 campaign looked to feature more of the same, everything changed on November 16. During a game against Mississippi State, Tagovailoa was tackled from behind; he suffered a dislocated hip and posterior wall fracture, ending his season. The quarterback still entered the NFL draft, however, looking to but the injury behind him.
Nick Saban's lofty comparisons
During his 50 years on the gridiron, Nick Saban has seen plenty of football talent. The Crimson Tide head coach thinks Tua Tagovailoa compares favorably to some of the best to ever put on a helmet.
I think he's a lot like Drew Brees. I always thought Aaron Rodgers was a lot like that as a player, too," Saban told SI.com's Albert Breer. "Not overly big, accurate with the ball, really good judgment, decision-making. Those guys are the style of player. I would never say the expectation should be he would accomplish what those guys have, I'd never wanna put that on a guy. But that's the style of player he is."
"Really can rid of the ball quickly, and his accuracy is unbelievable, which, to me, is the most compelling thing a quarterback can have," Saban continued. "It's good judgment about where you throw the ball, get it out of your hand when you need to get it out of your hand, and be accurate with it so the people that are catching it can catch it and run with it. That's what he is. He makes a lot of really, really good throws in tight windows, which is the biggest difference between college quarterbacks and pro quarterbacks."
Tua Tagovailoa has the talent, but can he stay healthy?
Based on his college football career, no one is doubting Tua Tagovailoa's NFL talent. The quarterback's health, however, is still a bit of a concern.
During his three seasons with the Crimson Tide, Tagovailoa had plenty of injury issues, ranging from a broken finger to issues with both ankles; while most of his problems seemed to stem more from bad luck than anything else, his track record is a bit concerning. If a team goes all-in on drafting a franchise quarterback, they won't want their leader to spend half the season in the trainer's room.
If Nick Saban is to believe, Tua Tagovailoa will be a star wherever he lands. Only time, however, will tell us if that's the case or not.