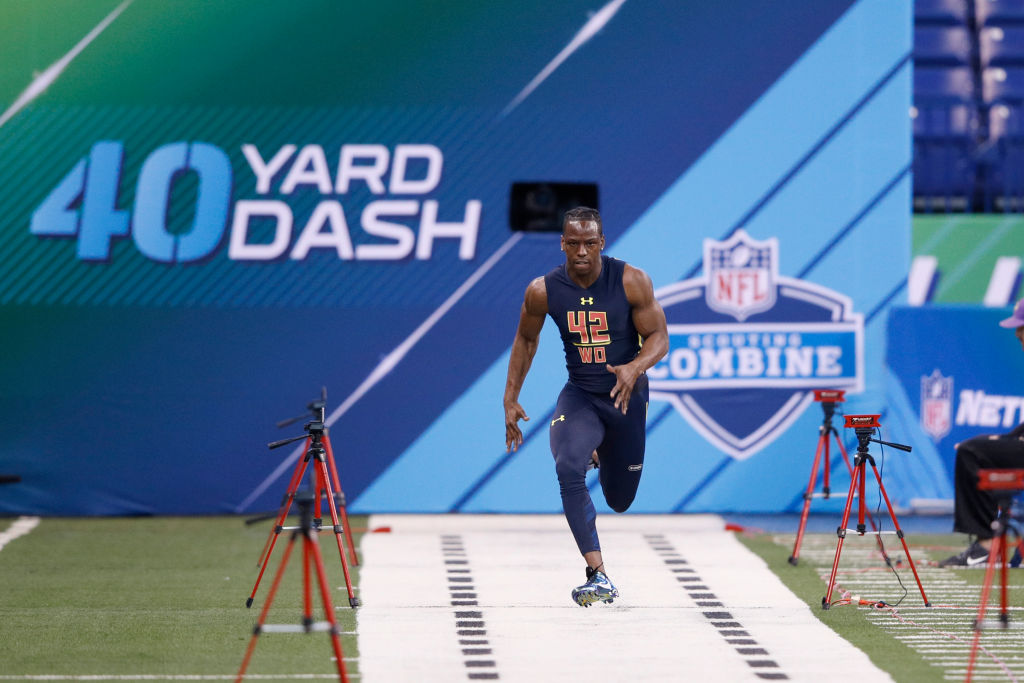 Who Set the NFL Scouting Combine Record in the 40-Yard Dash?
The 40-yard dash is one of the most closely watched tests at the NFL Scouting Combine. A current NFL receiver holds the record for the fastest time.
The future stars of pro football go through every imaginable test of speed, strength, and agility at the annual NFL Scouting Combine in Indianapolis, but no event gets more attention from fans than the 40-yard dash.
That's despite the fact few running or passing plays in games cover 40 yards and that the players who do go that distance are generally running backs like Saquon Barkley of the New York Giants or receivers like Tyreek Hill of the Super Bowl-champion Kansas City Chiefs. It's rare to see run-stuffing linebackers tested at that distance on any particular play, let alone linemen.
The 40-yard dash remains a key NFL metric
Times in the 40-yard dash do tell NFL teams about a prospect's explosiveness, so it remains a staple of the annual combine in Indianapolis even as other tests have come and gone. And though it does apply primarily to players at the skill positions, there are relatively large linebackers and safeties who are asked to get down the field in punt and kickoff coverage.
Lest we forget, there are quarterbacks like Lamar Jackson of the Baltimore Ravens whose speed is every bit the weapon as their throwing arm.
The 40-yard dash is important enough that players begin practicing their starts just like they work on pass patterns or run-blocking technique as soon as the college season ends in order to do their best in front of the NFL scouts.
Who holds the record for the 40-yard dash?
Timing has become more sophisticated at the NFL Scouting Combine over the years. Track and field fans learned long ago to disregard the hand-timed recording of performances because those clockings depend upon the reaction time of the men holding the watches.
Auburn great Bo Jackson was credited with a time of 4.12 seconds in 1986 and Florida State's Deion Sanders put up a time of 4.27 seconds three years later, but purists discount those showings because they were hand-timed.
The NFL finally introduced electronic timing like that used in track and field in 1999. Wide receiver Rondel Menendez of Eastern Kentucky and cornerback Champ Bailey of Georgia immediately establishing the benchmarks of 4.24 and 4.28 seconds, respectively.
Menendez, who spent time in five NFL camps but never made it into a regular-season game because of a knee injury suffered in training camp as a rookie, remained the sole standard for speed until running back Chris Johnson of East Carolina matched his time in 2008.
It would be another nine years until the record was broken by receiver John Ross from the University of Washington. Ross, who just finished his third season with the Cincinnati Bengals, who drafted him ninth overall, has 49 catches for 10 touchdowns and an average gain of 14.6 yards in 24 NFL games.
Ross put on such a burst in his record-setting run that he is said to have strained both calves, knocking him out of some of the other testing at the combine.
Who'll be the 2020 speed king of the NFL Scouting Combine?
Last year's speediest prospect in Indianapolis was Mississippi safety Zedrick Wood, whose time of 4.29 seconds ranks inside the all-time top 20. It helped Wood land a free-agent contract with the Jacksonville Jaguars – only to see him announce his retirement on the first day of rookie camp.
Fans looking for the candidate to beat everyone to the finish line in the 40-yard dash this week at the NFL Scouting Combine can keep an eye on two receivers. Alabama's Henry Ruggs III reportedly ran under 4.30 during the school's 2019 pro day and Texas Christian's Jalen Reagor put up a time of 4.29 seconds under similar circumstances last year.