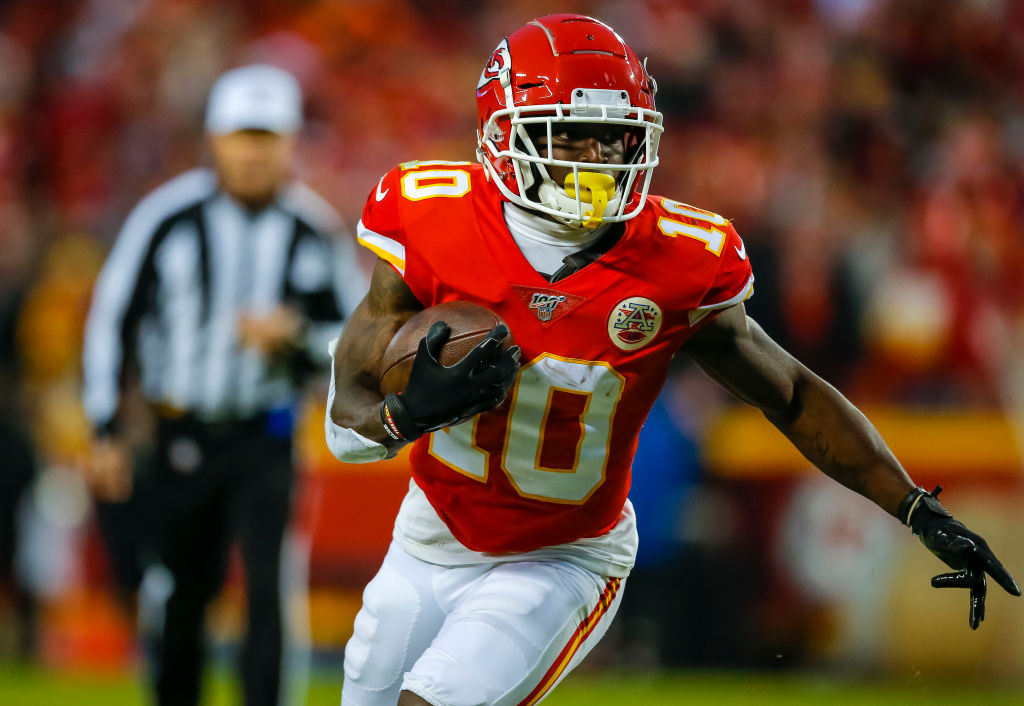 Is Tyreek Hill Good Enough to Win an Olympic Medal?
Tyreek Hill was an outstanding high school sprinter and told reporters at Super Bowl LIV that he would like to take a run at competing in the Olympics.
Tyreek Hill pulled a fast one on the media in the week leading up to Super Bowl LIV. But don't misunderstand; the Kansas City Chiefs wide receiver didn't do anything wrong.
Instead, Hill was having a little bit of fun while speculating about a career change and giving reporters something to write about during the lead-up to Super Bowl LIV in Miami between the Kansas City Chiefs and San Francisco 49ers.
On the other hand, Hill would be an intriguing candidate to pull off some career moonlightling instead of just pulling our (anchor) leg.
Tyreek Hill puts his blazing speed to good use
Tyreek Hill is a dangerous threat in the Kansas City Chiefs offense led by quarterback Patrick Mahones. The fourth-year receiver out of West Alabama caught 58 passes for 860 yards and seven touchdowns during the regular season and has another eight catches and two TDs in two playoff games.
Hill, 25, is already over 4,100 yards with 32 touchdown receptions in his four seasons, compensating for his modest 5-foot-10 frame with insane speed that's helped the All-Pro player also take four punt returns and one kickoff return to the end zone.
Hill is reputed to be the fastest player in the NFL, and his 4.24-second clocking in the 40-yard dash on his pro day before the 2016 draft is still talked about in football circles. Even before that, he was running times in the 100 and 200 meters that were among the fastest in the country by high school athletes, and he qualified for the U.S. Olympic Trials as a half-lapper.
Will Tyreek Hill trade championship rings for Olympic gold?
Tyreek Hill is talking about lacing up his running shoes, settling into the starting blocks and dashing off to the track and field competition at the 2020 Olympic Games in Tokyo.
Hill even wondered aloud whether he could round up some Chiefs teammates to form a relay. That assumes the speediest members of the team have anything left after a long NFL season.
From a practical standpoint, Hill making it to Tokyo has "false start" written all over it. The trials are June 19-28 in Eugene, Oregon, and Hill would have to train non-stop and enter multiple meets featuring fields good enough to push him to a qualifying time.
Even before that, it would require Hill to drop at least 15 pounds from the 190 or so he carries during football season. That couldn't possibly be acceptable to the Chiefs.
What Hill is suggesting isn't so outlandish
There's a track record of football players succeeding in both disciplines. Bob Hayes juggled the sports in college before winning two gold medals in the 1964 Olympics – coincidentally in Tokyo. He would go on to average an impressive 20 yards a reception and score 71 touchdowns in a decade-long career with the Dallas Cowboys.
Michael Bates was drafted out of the University of Arizona in 1992 but delayed his arrival to the Seattle Seahawks in order to focus on the Olympics. He edged all-time great Carl Lewis for the final U.S. spot on the 200 meters roster during the trials in New Orleans and earned a bronze medal from the inside lane in Barcelona before beginning a decade-long career in the NFL.