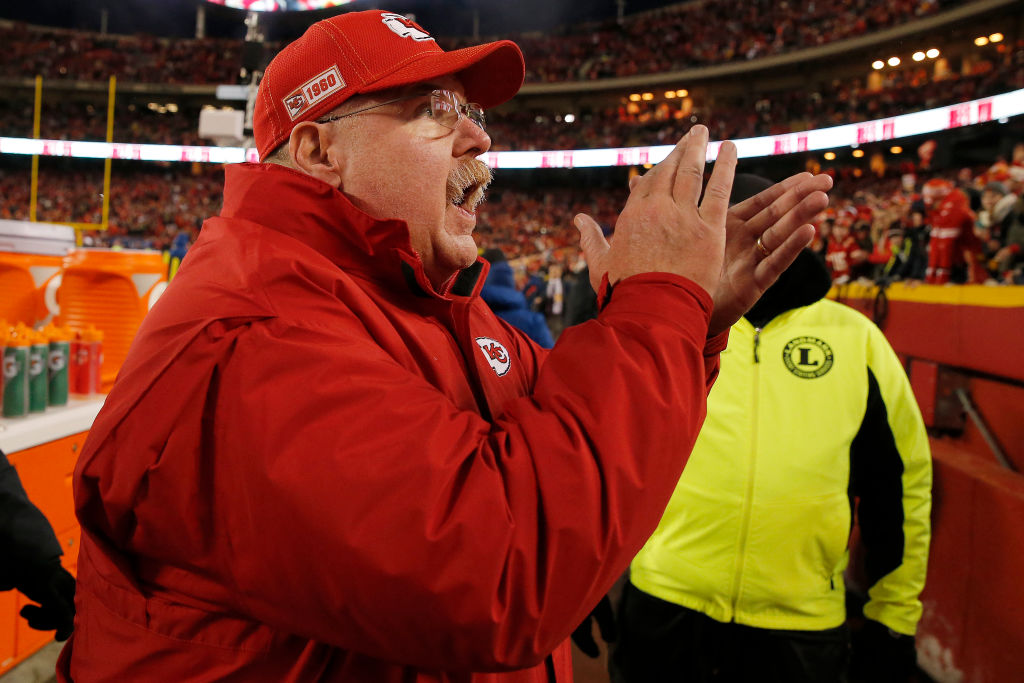 Why Andy Reid and the Kansas City Chiefs Need to Finally Win the Big Game
Both Andy Reid and the Kansas City Chiefs have a history of playoff struggles. This season, however, they can change the narrative.
While it's not exactly fair, sports careers are defined by postseason performances. No matter how good a player or coach is during the regular season, everyone will remember their playoff failures; similarly, a lack of postseason success will start to weigh on any franchise. Both the Kansas City Chiefs and their head coach, Andy Reid, know that reality first hand.
On Sunday afternoon, the Chiefs will host the Tennesee Titans in the AFC Championship game. Both the club and Reid will be hoping that this is the chance to get the monkey off their backs.
The Kansas City Chiefs' postseason struggles
The Kansas City Chiefs have an illustrious history, highlighted by some all-time great players. That history, however, hasn't included a great deal of recent playoff success.
During their early days of the franchise, the Chiefs shone in the American Football League, winning the AFL title in 1962, 1966, and 1969. The 1966 victory earned them a spot in Super Bowl I, where they lost to the Green Bay Packers; in 1969, they secured their only Super Bowl victory, as Hank Stram famously led the club past the Minnesota Vikings.
Since then, though, Chiefs fans have come to dread the postseason. No matter how talented the team was in a given year, they seemed to find a way to lose. Even when Kansas City managed to secure home-field advantage, things didn't change; Arrowhead stadium has seen missed field goals, self-passes, and fourth down failures, all ending in postseason defeats.
While things have changed a bit under Patrick Mahomes, the Chiefs will see this season as a perfect chance to exercise their demons for good. No playoff campaign is ever easy, but it's rare to avoid both the Patriots and the number one seed.
Andy Reid will also be desperate for a Super Bowl ring
The Kansas City Chiefs won't be the only ones feeling the weight of history on Sunday, though. Their head coach, Andy Reid, will also have something to prove.
Reid has spent 21 seasons as an NFL head coach, establishing himself as one of football's top offensive minds. For all of his wins, however, Big Red has struggled to get over the hump in postseason. He's piled up 207 regular-season victories—the seventh-most in league history—but has a 13-14 record in the playoffs; Reid is 1-5 all-time in conference championships and has never lifted the Lombardi Trophy as a head coach.
While Reid won't be thinking about anything beyond the AFC Championship game on Sunday, the remainder of this campaign could shape his long-term legacy. If the Chiefs can win the Super Bowl, Reid will have proven that his offense can lead a team to a title; if they fall short, he'll just be that coach who mismanages the clock and chokes in the big moment.
Whether it's fair or not, this is where legacies are shaped
While it's not exactly fair to throw out a much larger sample size in favor of postseason, playoff wins and losses are what sports fans remember. On Sunday, Andy Reid and his Kansas City Chiefs will have a chance to change the narrative.
While the Tennessee Titans aren't a great match-up—Derrick Henry is capable of dominating any defense and can help keep Patrick Mahomes off the field—the Chiefs will have to like their chances. No playoff game is ever easy, but, in an ideal world, you'd dream of advancing to the Super Bowl with wins over the fourth and sixth seeds.
Both the Kansas City Chiefs and Andy Reid have struggled in the playoffs. Sunday is their chance to change the narrative.