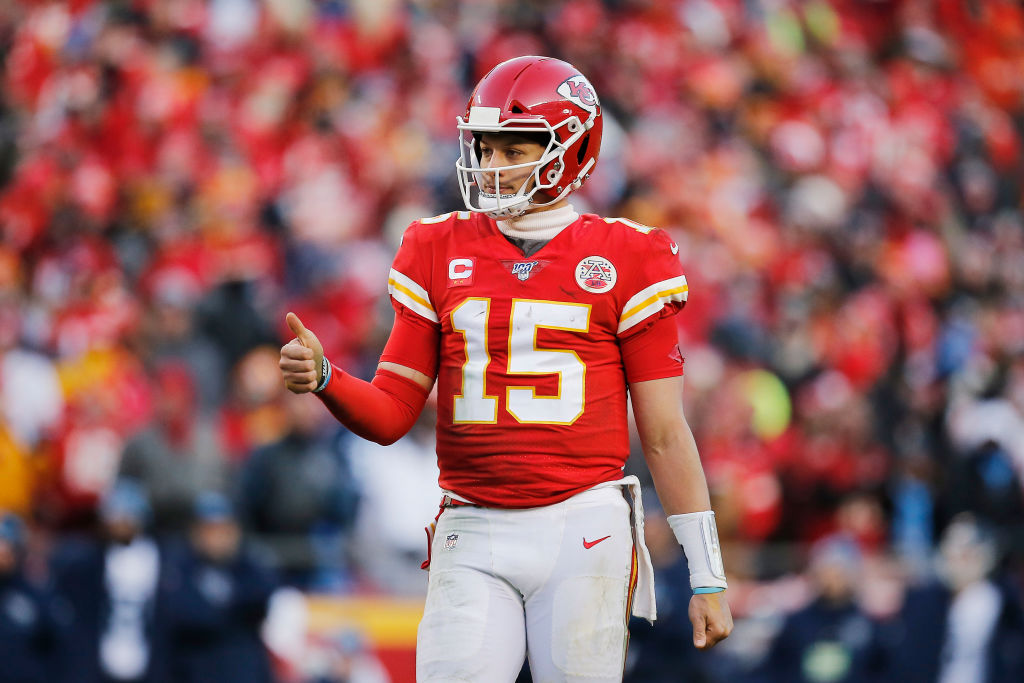 Did This 1 Habit Save Patrick Mahomes and the Kansas City Chiefs' Season?
Did one of quarterback Patrick Mahomes' personal habits save the Kansas City Chiefs' Super Bowl-bound season?
The 2019 NFL season was a roller coaster for Kansas City Chiefs' fans. While the campaign started optimistically, everything seemed doomed when Patrick Mahomes suffered a scary knee injury. Fortunately, everything worked out; the quarterback came back sooner than anyone expected and, when all was said and done, led the Chiefs back to the Super Bowl.
While it's tough to pinpoint one moment that changed the course of a campaign, Mahomes' timely return from injury has to be near the top of the list. One specific habit, though, might have saved the Chiefs' season.
Revisiting Patrick Mahomes' knee injury
While it might seem like ages ago, Patrick Mahomes' knee injury could have changed the course of NFL history.
At the time, the Kansas City Chiefs were in a bit of a funk. After racking up four straight wins to start the season, they dropped back-to-back games at home. The club then headed to Denver, looking to get back on track. They did just that but paid a major price for their victory.
Early in the Thursday night game, Patrick Mahomes called his own number on a quarterback sneak. When the dust cleared, however, there was a problem; the reigning NFL MVP was in pain and had to be helped off the field with a leg injury, which was later diagnosed as a dislocated kneecap.
Thankfully, an MRI confirmed that there was no damage to any knee ligaments beyond the dislocation. What could have been a season-ending, if not career-altering injury, turned out to be a minor speed bump in a historic season.
Did one habit save Patrick Mahomes and the Kansas City Chiefs?
While everyone expected Patrick Mahomes' knee injury to keep him on the sidelines for quite some time, the quarterback recovered quickly. He was back in practice less than a week later and only missed two starts.
Retrospectively, it seems like a perfect convergence of various factors helped Mahomes get back on the field quickly. The young quarterback has loose knee ligaments, which helped avoid any serious structural damage; he also spent the offseason training his body to feel natural in even the most uncomfortable positions. The Chiefs' training staff also gets an assist as they popped his kneecap back into place immediately, preventing further damage.
Mahomes himself also has one habit that helped him get back on the field in a matter of days, rather than weeks: prolific napping.
"Patrick is the most prolific sleeper in professional sports," Mahomes' trainer, Bobby Stroup, told the Washington Post. "He gets 10 hours of sleep a night and naps all day. There's not even another species that does that, outside of lions, I think. … If sleeping was on a video game, he'd be rated 100."
After this season, the Kansas City Chief will let their QB nap any time
No matter how he recovered, the Kansas Chiefs are definitely glad that Patrick Mahomes managed to make a full recovery. After losing his first game back in action, the team rattled off six-straight wins to end the season; they have, of course, added another two Ws in the playoffs.
While no one could possibly underestimate Mahomes, his postseason performances have underscored his value to Kansas City. For decades, the Chiefs desperately needed a quarterback; now, they have one who's capable of producing historic comebacks without batting an eye.
Mahomes was already a hero in Kansas City. If he leads the Chiefs to a Super Bowl title, however, he'll be able to nap anywhere, any time, no questions asked.