Booger McFarland Reveals the 1 Way That Defenses Can Stop Lamar Jackson
While the old cliche says that defense wins championships, certain offensive players are almost impossible to stop. Take, for example, Lamar Jackson. The Baltimore Ravens quarterback is a true double-threat; he's an elite runner and a more talented passer than you might think. Booger McFarland, however, might have an idea to stop him.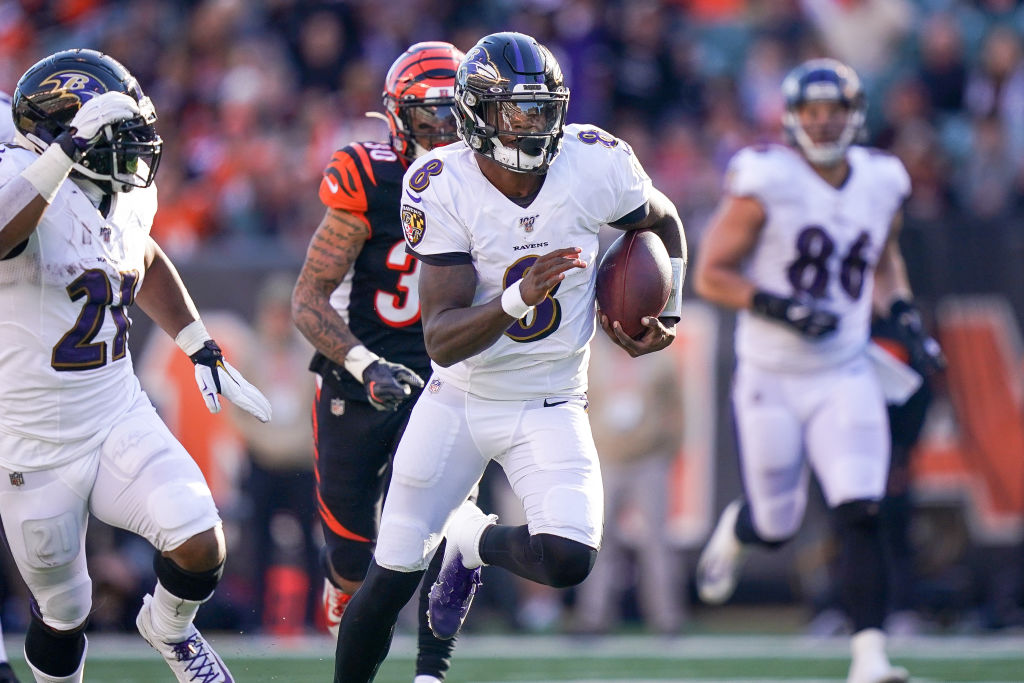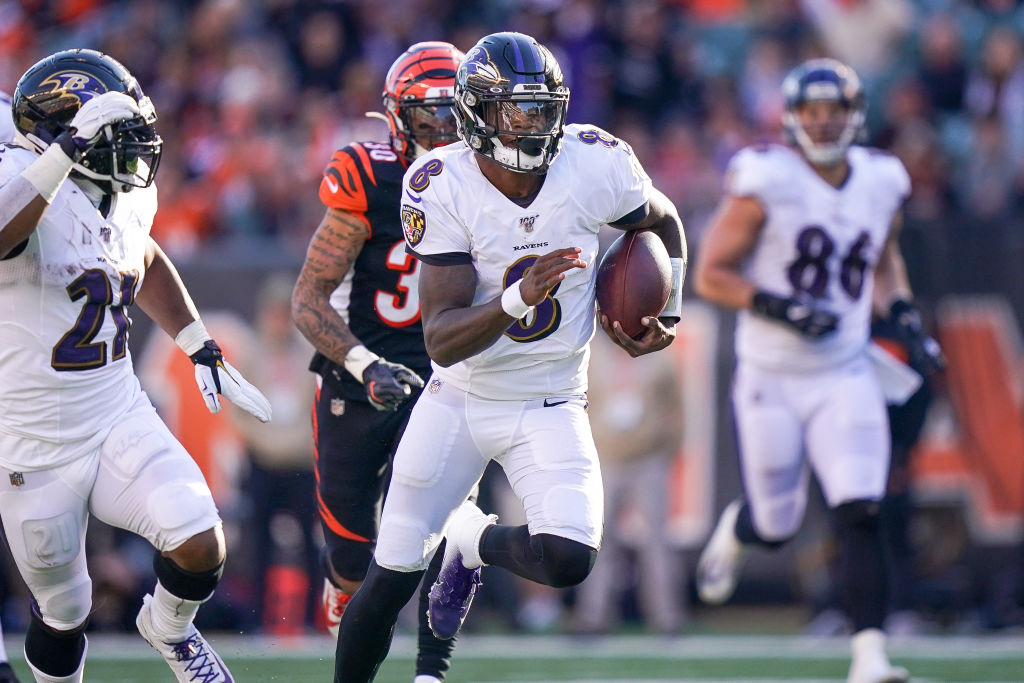 As a former defensive lineman, McFarland has plenty of experience with tackling talented players. So how would he slow down Lamar Jackson and the potent Ravens' offense?
Lamar Jackson and the Baltimore Ravens offense
While NFL fans might still associate the Baltimore Ravens with a stifling, Ray Lewis-led defense, times have changed. They're currently one of the NFL's elite offenses, thanks in large part to Lamar Jackson.
Jackson's rushing ability obviously gets most the attention, and that's with good reason. Despite lining up under center, the QB is outpacing most running backs; through 10 games, he's racked up 781 yards and six touchdowns while averaging 6.7 yards per carry. He's also a better passer than most fans would assume, which forces defenses into picking their poison.
While everything starts with Jackson, he's not a one-man show. Mark Ingram and Gus Edwards also line up in the backfield, while tight end Mark Andrews and wide receiver Marquise Brown provide big-play threats for the passing game. The Ravens are a defensive coordinator's worst nightmare; no matter which aspect of the offense you focus on, the other parts can step up.
Booger McFarland's defensive experience
While Booger McFarland's name probably conjures up images of some crude behavior or his infamous "Booger Mobile," the commentator actually had a solid playing career.
In 1999, the Tampa Bay Buccaneers selected McFarland with the 15th overall pick of the draft. The big defensive lineman stepped into NFL life without a hitch; during eight seasons in Florida, he recorded 211 combined tackles, 141 solo tackles, and 20 sacks, helping the club win Super Bowl XXXVII.
In 2006, McFarland was traded to the Indianapolis Colts, where he reunited with Tony Dungy. Booger and Raheem Brock lined up in between Dwight Freeney and Robert Mathis; that defensive strength, combined with the unstoppable trio of Payton Manning, Marvin Harrison, and Reggie Wayne helped the Colts take home the Lombardi Trophy.
How would Booger McFarland stop Lamar Jackson?
On Monday Night Football, Aaron Donald and the Los Angeles Rams will become the latest team to try to stop Lamar Jackson and the Baltimore Ravens offense. Booger McFarland has an idea as to how they might accomplish the seemingly impossible feat.
"Well, it's not about one or two guys. It's about 11 guys. That's the quandary it puts you in, because the Ravens cover all 53 yards [of the football field] in width," McFarland told the Baltimore Sun. "So not only do you have the running backs and the tight ends, but if you've got [Marquise] "Hollywood" Brown out there, if you don't get up and get a hold of him, he'll beat you deep. Just ask the Miami Dolphins."
"So it's not just one or two guys, as far as getting disruption," he continued. "You've got to have 11 guys that are ready to tackle not only Ingram, but they'd better be ready to tackle Jackson also."
On the surface, McFarland's plan sounds simple, but executing it is another matter. The Rams' first priority will have to be collectively stopping the Ravens run game; from there, they can take their chances against the pass. Based on what we've seen from Lamar Jackson, though, it won't be easy.