Lamar Jackson's Stats: Does the Ravens QB Deserve More Respect as a Passer?
Baltimore Ravens quarterback Lamar Jackson has been a revelation this season. But does he get enough respect as a passer?
When you think of an NFL quarterback, certain things probably come to mind. Historically, guys like Johnny Unitas, Joe Montana, and Tom Brady stood tall in the pocket and passed down the field. Baltimore Ravens quarterback Lamar Jackson, however, does things a bit differently.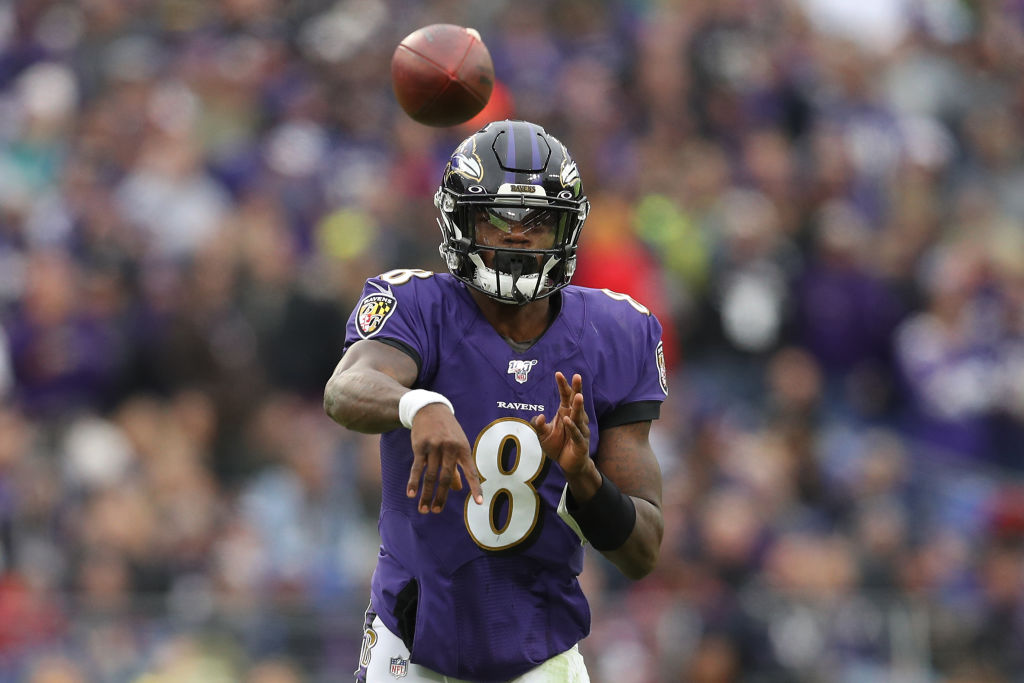 This season, Jackson had done a great deal of work with his legs, as well as with his arm. But does the Ravens QB actually deserve more credit for his passing ability?
Lamar Jackson's young career
While Lamar Jackson's career is still young, the quarterback has already built up quite a resume.
After playing football and running track in high school, Jackson enrolled at the University of Louisville. He started eight games as a freshman and put up solid numbers, but the best was yet to come. During his sophomore season, Jackson exploded; he threw for 30 touchdowns and rushed for 21 more, becoming the youngest player to win the Heisman Trophy. The quarterback would play one more season for the Cardinals before declaring for the NFL draft.
While some questioned Jackson's ability to play quarterback at the highest level, the Ravens selected him with the 32nd overall pick of the 2018 draft. He started the season as Joe Flacco's back-up but took over the starting role after the veteran went down with a hip injury. When the 2019 season began, Jackson was under center; 10 games into the season, he hasn't slowed down.
Jackson's rushing and passing
When you watch the Baltimore Ravens, Lamar Jackson's athleticism and running ability come to the forefront. Football fans simply aren't used to see a quarterback rushing with that level of efficiency.
This season, Jackson has carried the ball 116 times in 10 games, racking up 781 yards and six touchdowns. He's averaging 6.7 yards per carry, which leads the NFL, and has the 11th most rushing yards in the league. While there's obviously a bit of a sample size issue in the former category, no one can deny Jackson's running ability.
While Jackson's passing numbers aren't as prolific, they're far from atrocious. The quarterback has only thrown for 2,258 yards this season, but that's at least partially due to the Ravens' offensive scheme; Jackson is actually averaging 8.1 yards per passing attempt, which is in the top third of the league. His passer rating and completion percentage are also respectable.
Does Lamar Jackson deserve more respect as a passer?
Lamar Jackson's strength lies in his rushing ability. That doesn't mean that he's a bad passer, though. While his passing numbers may not be eye-popping in their own right, they're more than respectable. When you can run as well as Jackson can, you just need to keep the defense honest and ensure that they can't pack the box; his throwing ability is more than good enough to do that.
While Jackson is probably a better passer than he gets credit for, reducing him to either a passer or a runner somewhat misses the point. Lamar Jackson is the Baltimore Ravens quarterback; his job is to help the team's offense function, whether that's by passing, rushing, or handing the ball off. By that metric, he deserves a great deal of respect.